JAG PANZER's "Ample Destruction" will ever be one of my all-time Metal favorites. And after their strong comeback in 1996, their new one "The Age Of Mastery" delivers again perfect pure Metal for all lunatics out there. So, it was a real pleasure for me to make this interview with Mark Briody, sometimes supported by new guitarist Chris Broderick, bass player John Tettley and drummer Rikard Stjernquist on their European headline tour in Wil/Switzerland. No further introduction is needed - it's time for Metal heroes: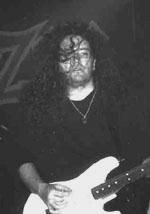 How is your first European headlining tour going?
"It's going pretty good. Some of the crowds are small, but the shows are going good and it's a lot of fun. We can play a lot more songs than we usually play as a support band."
What happened with the ICED EARTH European tour in September on which you were scheduled as a support act. Are the problems with your label gone?
"They didn't want to support us on it. So, we would have lost a ton of money which we could not afford. We would had liked to done that tour. Century Media have been pretty good on this tour, I haven't talked to anybody of the label for a long time, so I don't know. I think the album is selling good, so they are happy about that."
Do you play some of your classics from "Ample Destruction" on this tour, for instance "The Crucifix" or "Reign Of The Tyrants"?
Not those two. We were thinking about doing "The Crucifix", but we are doing "The Moors" and "Judgement Day", so we are doing two of the newer epic songs."
"The Moors" sounds like a symbioses of BLIND GUARDIAN and THERION.


"Yes, that's what a lot of people said. We like BLIND GUARDIAN. But I like to take each song in its own direction instead of saying the whole band is going on this direction. I think you have to look at it song by song, for that song that works out really good with the big choirs. I don't want to do that on every song. I certainly like that kind of Heavy Metal personally. You know, you have to get input from everybody in the band."
You re-recorded six of your old songs on the new album, three from "Chain Of Command" and three old demo-tracks, and only five new tracks. It seems your song-writing process is rather slow.

"We originally wanted to do an EP with the five or six new songs. Then Century Media told me the price they sell an EP for is one or two German marks less than a full length album. That was too much money for few songs. So, then they said why don't you just put some older songs on there. I said, no, I don't want to re-record them, I want to re-arrange them and they have to be songs that have never been released. A lot of people asked me, will those songs ever be released? They were released by the bootleggers. None of those songs were officially released. But a lot of people liked them on the demo, so we thought, let's re-record them and let's put them out. People want to hear songs like "Viper" or Lustfull And Free", they don't have to buy the bootleg for 50 bucks and a terrible sound."
Why don't you re-release the complete "Chain Of Command" album?
"Century Media didn't want to do it. We asked them and they said "no". I like all the songs on "Chain Of Command" but the label doesn't."
Are you still in contact with your old singer Bob Parduba?
"Yes, I talked to him right before the tour. He wants to sing on an album, so he said if I know any bands to let him know."
On a JAG PANZER album?
"No, no. He's a great boy and a good singer. Cool guy."
What about a re-release of "Ample Destruction" on Century Media?
"Oh, they keep changing the day on me. They supposed to do it last summer and they didn't do it. Now they are telling me March 1999. They bought the rights two years ago, so they can release it whenever they want. We signed a contract with them to re-release the album."
Have you ever seen any money from Azra Records which released a plenty of picture discs and vinyl albums of "Ample Destruction"?
"No. We haven't seen any money from any record label except for a tiny bit from Century Media and a tiny bit from Metal Blade, no one else."
Dave Richards from Azra Records said that you were their biggest seller with DARK ANGEL.
"Really? Very strange. Haha."
"Ample Destruction" was already released in 1983. It lasted till 1994 that you toured with OVERKILL in Europe. What were the reasons for that?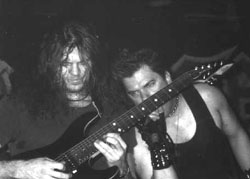 "We couldn't get a record deal for "Ample Destruction" in Europe when it was released. When it was released in America, we got some good reviews and in Europe it was selling very well as an import. Metal Forces magazine had an excellent review and Aardshok in the Netherlands as well. It was doing really well. All the critics liked it over here. We were only signed for America, so I called up all the record labels back in 1983 and 1984. I said to them, are you interested in "Ample Destruction"? And they said "no". I called them back the next week and I said you can have it for free, just put it out. And they said "no, not interested". And so we didn't have a release in Europe and the promoters weren't interested in a tour. And that doesn't make any sense to me. I remember calling up the British label Heavy Metal Records, and I said, can you please just put out our album and they said "no". And they said it wouldn't sell, but we were voted fifth best album of the year in Metal Forces." (After this sincere answer from Mark, I was so upset that I wasn't able to ask a new question for one minute. Can you believe that all the promoters were deaf AND dumb in 1984? - Heinz)
Did you gig a lot in the States at that time?
"Yeah, that time we played all the time. We did a lot of opening slots, for GRIM REAPER, ARMORED SAINT, MEGADETH, HELLOWEEN; FATES WARNING, DANZIG, ENTOMBED, we played with anybody. I can remember the gig with FATES WARNING, Ray Alder and Jim Matheos came on stage and did "Warfare" with us, that was really cool."
When did Harry Conklin leave the band?
"He quit the band in 1985 and joined RIOT. We were huge RIOT fans and RIOT was much bigger that us. It was a good move for him. And by the time he was out of RIOT, we did have another singer. We were still friends and Harry joined SATAN'S HOST and then TITAN FORCE."
How did you find Bob Parduba?
"We had a guy named Cris Cronk who was in FATES WARNING for a while, too. He was in our band for about four months and he was in FATES WARNING for two months before Ray Alder. Then we had Bob Parduba for a few years. We just wanted somebody who could sing Metal and who is into it. We didn't try to find anybody who copied Harry. Especially in Colorado we couldn't find anybody."
"Dissident Alliance" sounded heavier and was criticized as a PANTERA copy.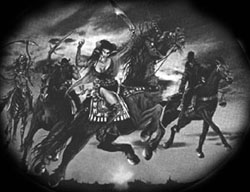 Mark: "Yes, everybody criticizes it. I tell them to look at "Chain Of Command" which sounded more melodic. When we have a different singer and different musicians, it's a different sound. The band is not Mark Briody's JAG PANZER. I mean, it's five guys and when you get two different guys in 1986 it sounded like "Chain Of Command". When we had Cris Coska and Daniel Conka, it sounded like "Dissident Alliance". We didn't say, let's try to sound like PANTERA or any bands like that. Cris Coska likes music like that".
John:" We were proud of the songs on "Dissident Alliance". The only bad point on that album is that Rising Sun Records didn't give us enough money to record it and the production is really bad."
Mark: "The production is horrible, it's a terrible sounding album. When we toured with OVERKILL in Europe, most people coming to the shows, were there to see OVERKILL. But the tour went pretty good."
After releasing "The Fourth Judgment" in 1996, which was a very strong comeback album, you toured with GAMMA RAY and HAMMERFALL. Why did you open the package and not the newcomers HAMMERFALL?
Mark:" It was great, the crowds were good. But most of the people came to the shows to see HAMMERFALL. 60 % of the crowd was for HAMMERFALL."
John: "They had the publicity and they were hyped and were selling more records. It was only fair, but the tour was a great exposure for us. There was a lot of die-hard JAG PANZER fans. There was an excellent tour to be on, definitely."
Mark: "Before we came over, we had the contract that we would switch slots with HAMMERFALL every night. But then we got over here, you see kids who think that they are going to play right before GAMMA RAY. I didn't want to see anybody to spend 30 DM for a ticket and then come too late for them. So, we said we play first the rest of the tour."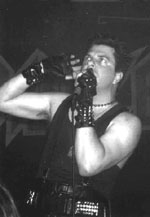 What is your personal view of the Metal scene in the States? Is it dead?
"No, it's different in the States. There is not a mainstream Metal scene like there is over here. The average person on the street in America, when you ask him what Metal is, will say MARILYN MANSON or KORN. But there is a small following for bands like BLIND GUARDIAN and GAMMA RAY. The good part in America is, there's so few shows like that, that anybody will go when a band plays there. If this tour package with us and ANGEL DUST would play in some of the bigger American cities, we get more people than we have in Europe. There are so many concerts in Europe, in Colorado we had one Power Metal show the whole year, that was HAMMERALL and DEATH and that's it. If we went play in Chicago, five hundred people would be there."
At least the American Metal bands could tour in their home country, couldn't they?
"You need a record company support for things like the tour bus and stuff. Otherwise it becomes very difficult, because the promoters look at the charts and look at the major magazines. If you are a promoter in Europe, a band like ICED EARTH is huge, they could fill the hall. If you are a promoter in America, you probably never heard of them. So, you need the record company's support."
What do you say about this current tour package with ANGEL DUST, GB ARTS and GLADIATORS? "I like all the bands. Everybody is really good in a different way. ANGEL DUST reminds me of an American band, they have really good musicians and players in the band, they can play anything from anybody. Play some RISING FORCE, play anything. I like GB ARTS, because they have a MARILLION influence and I really like this kind of music. GLADIATORS are cool, because of their basic twin guitars, early 80's German Metal sound."
Your internet home page is cool. Can it help?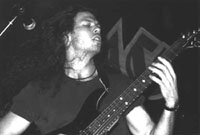 "The internet, particularly in America, is huge for Power Metal, I mean, take a band like BLIND GUARDIAN, they don't have a deal in America until now they have a distribution deal with Century Media, so you couldn't find a BLIND GUARDIAN record everywhere. With the internet people in America can see that this band is huge in Europe and they want to hear them, realize that they kick asses, and then they want to get their records. It really helps. The other good thing about the internet is things sort of become more equal. If you just buy Rock Hard, some bands have more articles and advertisements, but when you get to the internet, we have the same possibilities as anyone."
Can you remember your best or worst gig you ever played?
"The gig with MEGADETH was very good, I always heard terrible things about MEGADETH, and they were the best band to work with. We could have a soundcheck, and most bigger bands, when you open for them, they don't even want to give you a soundcheck, and we had one for an hour and a half. We told the sound engineer to give more power and he did it and they gave us an extra dressing room. When we played with bands like LIFE OF AGONY, no soundcheck, no dressing room, we had to stay outside in the winter. MEGADETH was the exact opposite. The gig here in Wetzlar on this tour was very good. The crowd went crazy. We played everything we can play, haha. Opening for DANZIG was terrible. We were booked one time to do a show in about four hours from my house in Southern Colorado, very big show and a large PA, we got down there and the PA company did not give us any cables. And then we could not play. It was horrible."
Are you still Metal fans or has your musical background changed through the years?
Mark:" I love BLIND GUARDIAN for instance."
John:" I like WITCHFYNDE, GAMMA RAY and even the BLIND GUARDIAN stuff. Concerning our band, we have an underground following in the States, but it is not big enough yet. We hope it's gonna get bigger, much bigger over there. In Colorado there's a small underground scene."
Hi Chris (Broderick - new amazing guitarist), would you consider yourself a full band member of JAG PANZER?
Chris: "Yes, I consider myself a band member, as far as they consider me a band member."
Rikard: "We want to have a band, that's why we play together."
Do you have a Metal background or is your style more like VAI or MALMSTEEN?
Chris: "Very long list. Starting with VAN HALEN, Paul Gilbert, there are so many good players."
What about a live album in the near future?
"I haven't really thought about that. We are going to Greece in March 1999 where everybody seems to like to do live albums. We will see how it goes there. Definitely not enough people at the shows on this tour to do anything in this way. We would like to do a real live record."
Not like JUDAS PRIEST's "Unleashed In The East".
"No, you can hear all the mistakes."
Do you have any?
"Yes, hahah."

Heinz Konzett