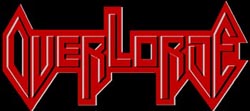 Upon seeing EXHIBITION at Powermad last year in their first live performance, I was surprised to hear vocalist Bobby Lucas was out of SEVEN WITCHES. Knowing how much our readers love that traditional Metal band, I decided to get in touch with Bobby when he vacationed last Halloween in my home state of Massachusetts.

We had a lengthy discussion about his Metal past, his views on the scene as well as anything else that came to my mind. This was one of my favorite interviews to do as Bobby has a passion for Metal that bleeds much like the staff at Snakepit.
BOBBY LUCAS speaks from the metal soul
Describe growing up in Perth Amboy, NJ and your evolution from listening to music until your cousin Alan helped you discover Heavy Metal- what were the first bands, albums and songs that captured your attention?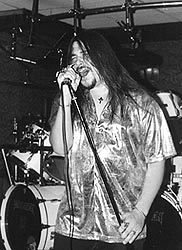 "Well my cousin Alan introduced me to Heavy Metal when I was in grammar school still. It was the 7th or 8th grade and I was being turned on to stuff like ALICE COOPER, KISS, LED ZEPPELIN and BLACK SABBATH. I was into the heavier sounds so by the time I got to Perth Amboy high school it was a very segregated school- a lot of blacks and Hispanics. The whites who loved Heavy Metal would hang out at a place called The Ramp- that's where you'd hear the boomboxes blasting the latest Heavy Metal. "Killers" by IRON MAIDEN had just come out, "Point Of Entry" by JUDAS PRIEST- I remember listening to ANVIL "Metal On Metal" and ACCEPT. I used to go to L'Amours every weekend and see a show- I was 16 or 17. I'd see FATES WARNING with John Arch singing- ARMORED SAINT/ W.A.S.P./ METALLICA- which was my first introduction to ARMORED SAINT and they blew the other two bands off the stage. I met KING DIAMOND back then- ATTACKER as well. Growing up was going to Rock and Roll Heaven plus partying in the woods. There wasn't much else to do."
By your freshman year of high school you joined your first band HARLOT, a cover act that chose to play IRON MAIDEN, ACCEPT, TWISTED SISTER and AC/DC covers among others. How was the band and what are your memories concerning shows and experiences you gained?
"We had a great time- they were all juniors and seniors in high school and I was a freshman. The way I got together with them was I was heavily into Rob Halford and I was screaming "Victim Of Changes" in the locker room. The drummer Johnny Blade looked at me and asked if I could sing that on a microphone. So I went to their garage and met Angelo and Ronnie, the guitar players- plus Tommy on bass. We did songs like "Under The Blade", "Shoot 'Em Down", "Another Piece Of Meat", "Wrathchild", "Killers", we'd pull out a couple of SABBATH tunes, "Mothra" from ANVIL, plus "Buried Alive" from VENOM which we played at a Battle Of The Bands. We'd practice two times a week- we played some battle of the bands. HARLOT lasted two years if I'm not mistaken. The seniors graduated and the girlfriends came into the picture which broke up the band."
Tell the readers about Johnny Z's "Rock And Roll Heaven" stand at the flea market you used to frequent in the early 80's. How important was his table towards your Metal tastes and do you believe he helped spearhead the American Metal movement especially on the East Coast?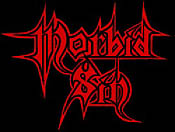 "Definitely. Johnny Z was very important in getting the Metal out to the people. We'd get the latest album by recommendation from Johnny Z at the time. He'd tell us to check out MEGADETH- I remember hearing the MEGADETH demo at Rock and Roll Heaven. Johnny Z pointed us the right way. I remember meeting David Defeis of VIRGIN STEELE- he was doing an autograph signing promoting the first VIRGIN STEELE album at the flea market. Johnny had to move to Clark later. That's where I discovered ANVIL, RAVEN, METALLICA, OVERKILL- prior to him forming Megaforce Records."
You stayed with HARLOT for two years before forming your own band MORBID SIN- why did you move on and tell us how the lineup of MORBID SIN formed? What were you hoping to accomplish that you couldn't with HARLOT?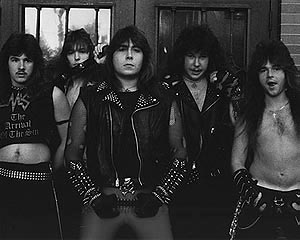 "MORBID SIN was a band that was actually put together out of a dare. A friend of mine Larry Diablo (who I would later hook up with), he was in a rival band called METAL STORM and they had just won a couple Battler Of The Bands. They were riding high on the success- Larry bet that I couldn't put together a band that could beat his band in these battles. We were 17 years old and we were having pipe dreams. So I put together the band in two weeks- I was playing only guitar, Chris Mase was on lead guitar, Brian on vocals, Andy on bass and Julius on drums. We learned some cover songs, played our first Battle Of The Bands and beat METAL STORM. MORBID SIN wanted to do originals though- so that's what we did. We got another drummer John Cosak who recorded our first demo with us. Then we got Steve Decker and he was prior to us getting Brian Vincent. The lineup was steady- I dropped guitar and started singing when everyone complained that our singer sucked. When Brian got in the band we also had Wade Tyler who took over on guitar for me."
MORBID SIN became infamous in your local area for putting on a theatrical show a la KING DIAMOND- can you describe some of the shows and what the music was like? How many demos did the band record and what were the sales?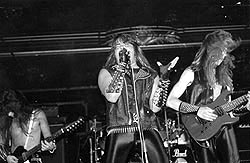 "The demos- we did two. "Arrival Of The Sin" was in 1988, we got 500 demos and they are all gone. We got 500 of the second one in 1992 called "Cauldron Of The Souls" and sold out that, made another 500 and most of those are gone. We did very well- we were notorious for a good stage show. We started out all wearing makeup and we were more of a KING DIAMOND Thrash band. We pared that down to me just wearing makeup- we acquired a coffin somehow and cemetery gates that our roadies would lug me on stage with in this coffin. We'd have the coffin in the bathroom of Club Bene- they'd climb it on stage and women would scream in horror. We'd get 100 people to see us back then- I'd pop up and start singing. We opened for HADES, CELTIC FROST, MANOWAR, VICIOUS RUMORS, BLOODFEAST. We were supposed to open for SAVATAGE and the club burned down two weeks before the show."
MORBID SIN consumed your life for almost ten years- yet you never got signed. What do you think the band lacked to get signed, especially considering the attention other NJ acts were getting like ATTACKER, HADES and DEADLY BLESSING to name a few?
"Unfortunately we became so popular in our local area we became satisfied with being local legends. We were focused on partying and getting ladies- that's why I left. We should've gone for the record deal. We'd play places like Escapades in Jersey City, Club Bene, Obsessions, and The Rock Horse- plus Studio One in Newark. We did a lot of shows- one bogus label tried to get us called Rodell Records. They wanted us to pay for songs to appear on a compilation but we didn't buy into it. The music was very strong throughout our career."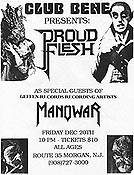 Next came PROUD FLESH, a Doomier band that included former MORBID SIN members Brian Vincent and guitarist Wade Tyler. Describe the band's sound and how the shows/ demo went during this phase of your career?
"This was just prior to me joining SEVEN WITCHES. Wade Tyler, Al and myself put together the band. We loved SABBATH and wanted to put together a Doomier band. Wade was from MORBID SIN- and Brian was our second drummer in PROUD FLESH. The first drummer was the son of ex TWISTED SISTER drummer Tony Petri. JJ was his name he was a great drummer on single bass. The Rock and Roll guys didn't agree with our Heavy Metal ethics- so that's why Brian came in. Al wanted to be more Rock and Roll so I left because I love Metal and want to pursue that direction. I'd like to shop that material and get it released because it's really strong. You'll hear some SEVEN WITCHES sound on it- but it has a SABBATH type feel. We have one demo done with JJ on drums that was never released- that had more of a Rock and Roll feel to it than Doom Metal. That was in the early stages of PROUD FLESH. The other demo I'd like to see released as an album."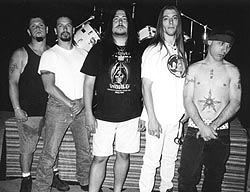 A key turn in your life occurred when PROUD FLESH opened for FATES WARNING on their "Pleasant Shade Of Grey" tour in NJ, where you would speak with Jack Frost from FROSTBITE who were also on the bill. Tell us about this night and your initial conversation which led to the start of SEVEN WITCHES?
"It wasn't much of a conversation- I finished our set and Jack had also finished his set with FROSTBITE. We talked for a couple minutes- he complimented me on my voice and he asked me if I was interested in singing with him, he had some label contacts and wanted to start up another band. He told me I should be making records- which is what I had been saying all along through the years, so I gave him a call."
How soon after that first meeting did you get together to jam with Jack, and how quickly did the songs for the SEVEN WITCHES demo come together- the three songer that includes "Seven Witches", "Second War In Heaven" and "Scarlet Tears"?
"We got together a month after that gig. Jack wanted Larry and Brian as well. It was supposed to be a full fledged band and not the project it turned out as. The songs flowed- we came up with the basic riffs for "Second War In Heaven" and "Scarlet Tears" the first time we jammed. It went well."
What do you remember about the demo recording, the studio used- and why did Larry leave the band before the recording to be replaced by bassist Scott (last name unknown)?
"We went to Sound Spa Studios- at that time Larry left because he didn't see eye to eye with Jack. Scottie was someone Jack got to do the bass tracks. The recording went smooth- we knocked out the three songs and a month later Massacre Records contacted us wanting a deal."
A month after the demo's release you received a record deal from Massacre. Were there any other labels interested and were the terms of the deal satisfactory?


"I found out through Jack that Brian Slagel of Metal Blade had heard the demo after SEVEN WITCHES signed to Massacre- he tried to get the label to sell the rights and Massacre wouldn't give us up. That would've been awesome. That was the only offer. Massacre advanced us $10,000 to record the album, they treated us well. We met Bernie who was working for Massacre- it felt like a decent deal for a beginning band."
Your debut album "Second War In Heaven" was an amazing release in 1999- a fine traditional Metal album in the vein of classic JAG PANZER, SAVATAGE and ACCEPT in my mind. Tell us about your sessions at Woodhouse Studios- your favorite songs and how you chose the FLEETWOOD MAC and MANOWAR covers?
"The FLEETWOOD MAC cover was one I wanted to do in PROUD FLESH. Jack wanted to also do this in FROSTBITE- so we wound up doing that. MANOWAR "Metal Daze" was my idea- I love that song. I heard Eric Adams screams when I was younger and I was blown away. The sessions were great- Siggi Bemm and Woodhouse Studios were awesome. We got to work with a genius- he has a great way of motivating people to give 110%. He'll tell you you've got a better take in you- or if it's crap he'll let you know. It was a shame we didn't get to work with him on the second album. I love "Bewitchment" and "Dying Embers" the most."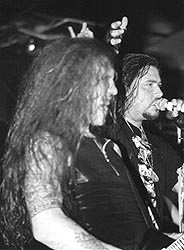 When did SEVEN WITCHES play their one and only show in New Jersey? Did the band get other offers to tour after the album's release, and did Jack's other projects interfere with this?
"Yes- our first show was at the Birch Hill opening for MANOWAR- 1,200 people in attendance. It was my best show of my life- the audience was very accepting. We were going to do "Metal Daze" but we didn't due to MANOWAR. We did a lot of songs off "Second War In Heaven" and "Atlantis" off the second album as a treat for the fans. We had a lot of promises that were unfulfilled- Jack got involved in his other bands and I didn't want to stand in his way. As a result SEVEN WITCHES was always on the backburner."
You played guitar on "Bewitchment"- why didn't Jack allow you to play more in the studio (especially considering the songwriting you did on the debut)?
"I really didn't want to because guitar playing is always a hobby to me. I get more satisfaction out of writing a riff and watching another guitarist bring it to another level with my vocals. I'm a good rhythm guitarist but I suck at leads (laughs). That's why I want to do a solo project and show off a little of my guitar playing."
The second album "City Of Lost Souls" was recorded in the winter of 1999 at Impuls Studios in Germany, co-produced by Jack Frost. How were these sessions, as I understand that only 45 minutes of music appeared yet other songs were ready to be included on the album but Jack wanted to save them for the third album?
"The other producer JP did 60% of the work- but I don't think the production was as good as the first album. Massacre and Siggi had a falling out- originally we were supposed to record at Midas Touch Studios in Hagen, Germany, That studio was on a farm- the equipment wasn't that great and the guy who ran the studio gave us an attitude so Jack got us quickly into Impuls Studios. We left for Hamburg to record that album. "The Answer", "No Man's Land" and "We Are The Coven" are my favorites. I had a song called "Children Of War" ready to go on there, that was supposed to be on there as well as "Blood Of The 7th Cross"- but those will be on my solo project. "Pounding Metal" was my choice because EXCITER is my favorite Power Metal band of all time."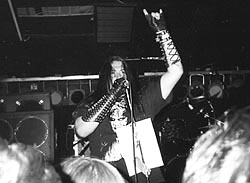 Considering the European magazine/ fanzine acclaim for these two records, were you shocked that Massacre wasn't willing to give you tour support to further the sales of these albums? Also, why wasn't a US company willing to license these albums?
"Supposedly Jack was talking to Pavement about licensing our albums in the states. I don't know whatever became of that- eventually SEVEN WITCHES will get a distribution deal stateside. Again we had rumors from Massacre that we'd be going out with DIO or U.D.O. for two-three weeks- that never materialized because the METALIUM thing came up."
What were your feelings on Jack's sidework with the BRONX CASKET COMPANY, SPEEED and then the offer to tour with METALIUM which led to him joining the band?
"I'm not one to hold anyone back- he tried to get his name out there. Billy was more upset by it than I was- he wanted SEVEN WITCHES to play more. Billy moved to another band once Jack joined METALIUM."
Which European festivals did SEVEN WITCHES have to turn down? Did it frustrate you to see people buying the CD's and sending you tons of email/ fan mail without ever getting the chance to hear the band's material in a live setting?
"This is the thing- a lot of the business aspect was really shared with us on a need to know basis from Jack. Jack handled the business, did all the interviews, talked to all the labels. It was not like a band situation- in SEVEN WITCHES it was the Jack Frost situation. I would rather be involved- a band should share information. Massacre appointed Jack as the boss of the band."
Tell us the events that led to you joining EXHIBITION- and the ensuing problems that arose from Jack's side with you starting another band. Why would he have a problem while he was off with METALIUM for you to do EXHIBITION- a band that's obviously more Progressive oriented than SEVEN WITCHES?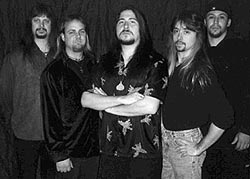 "It's the same thing I ask myself on many occasions- why he reacted the way he did considering all the projects he was doing. I waited two years before I joined another band- I didn't know if I could come up with enough songs for two bands. What happened is I heard stories about EXHIBITION- friends were telling me about them. One day I got a phone call from John my friend and I heard them on answering machine. I went to their studio and we jammed. I worked on their material and came up with melodies for two songs and then I joined EXHIBITION. SEVEN WITCHES wasn't a band that practice anytime- we only got together for two-three weeks before recording the albums. In EXHIBITION we rehearse three times a week, have band meetings and really hang out together."
You quit SEVEN WITCHES a day before EXHIBITION played its first show at Powermad 2000- tell me your thoughts on this gig and the impressive response you got from the Power/ Progressive Metal crowd for an early Sunday afternoon show?
"Again- a very strange situation. When I got in EXHIBITION Jack had come back from the METALIUM tour. He called my house after hearing a rumor that I had left SEVEN WITCHES for EXHIBITION and he flipped out on my answering machine. Jack always told me if I wanted to do something else, do it. I don't think he expected me to follow through with it. I heard in EXHIBITION a high caliber Progressive Metal band that could compete with DREAM THEATER or FATES WARNING. I need to explore other avenues- after talking to Jack and telling him it wouldn't affect our efforts in SEVEN WITCHES he seemed fine. Jack got really weird and we started drifting apart, as my birthday had come up and he didn't show up at my party. Two weeks before Powermad Jack told me they wanted SEVEN WITCHES. I said no problem, I'll sing for both bands. Two days later Jack calls and says don't worry about it because drummer John Osbourn couldn't fly in from Florida to play the show. We didn't want a sit in drummer- so Jack gave us the ok to play with EXHIBITION. Jack didn't come to my birthday party- so I emailed him and he was ranting about Billy and I not promoting SEVEN WITCHES at Powermad and only pushing our respective bands EXHIBITION and SINGLE BULLET THEORY. This floored me- I promoted to everyone that I am a part of SEVEN WITCHES. Read the fanzine "Transcending The Mundane" and people will see this. I don't know but I left SEVEN WITCHES the day before Powermad. The egos were getting problematic- I wanted things to be 50/50 and it turned into the Jack Frost band. I just want to set the record straight though that Powermad did not break up SEVEN WITCHES."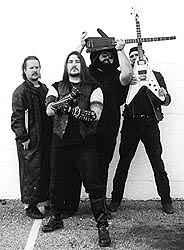 Now in addition to EXHIBITION you are now the lead singer for the cult 1980's legends (at least in the underground) OVERLORDE. What can people expect and what are your vivid memoried of singing for a band you grew up watching play in your previous act MORBID SIN?
"That was so freaky to see Mark and John at Powermad. I knew them and they were looking for a singer. They used to play Jersey City/ Escapades when I was playing with MORBID SIN. We played a few shows together. I told them I'd try out- EXHIBITION doesn't have a problem with me playing in another band. OVERLORDE were leery at first- they wanted me to hook them up with other singers. They had three people picked and Mark asked me if I wanted to audition. Being a fan of theirs I said yes- because through the years I had been amazed at John's bass playing and Mark's guitar sound which are quite unique. So we never have to have a two guitar lineup because John is the bass master general. I did the audition and the guys like what I did. I love Power Metal and I have fans that support me in this genre. Power and traditional Metal is what I grew up with- I'm having a ball. OVERLORDE practices once a week- everyone lives far away so it's more of a relaxed atmosphere. We've done a four song demo and there are 12 labels that have expressed interest. The OVERLORDE EP goes for over $100 on the internet. When I got into OVERLORDE the Europeans were excited to hear that I joined this band."
Eventually these unreleased songs that you've written will come out in another band called WYKKYD MYSTYK. Have you completed the lineup plus when will you find the time to record this project? Stylistically will it be a continuation of your work in SEVEN WITCHES?
"This will be done in the future with Larry and Brian and I'm going to demo three songs with them and see if someone will put the album out. This will be my gift to SEVEN WITCHES fans of songs that should have come out. It'll just be a one album project."
What are your likes and dislikes about the music business?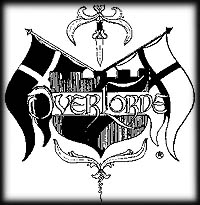 "What I love is writing and performing- meeting and playing for the fans. I love Heavy Metal first and foremost- I consider myself lucky to be in this business. I don't like the trendy American scene- I don't like the Rap/ Hip Hop infusion into heavy music. It seems like getting tattoos and piercing matter more to get signed than musicianship. Bands aren't following through and going beyond two albums. Bands should be friends and hang out together- communication is very important for a band to work. In EXHIBITION we all talk about things and iron problems out. For instance SANCTUARY was a great band and two albums later they were gone. We have NEVERMORE now- but I miss SANCTUARY. I hate the suite who make decisions on who should be big or not. I wish labels would get behind bands more."
Where do you see the Metal scene headed stateside in 2001 and beyond?
"I think the scene is coming back slowly in America. Bands like OVERLORDE are now going to get their due."
What would your dream tour or festival be- name the bands and if the act is deceased, what incarnation would you like to see?
"I'd love to see SABBATH with Dio- that would be the headliner. JUDAS PRIEST with Rob Halford, IRON MAIDEN with Bruce Dickinson- QUEENSRYCHE. EXCITER- even their new lineup is great, but I have a soft spot though with the old lineup with Beehler on vocals. This is tough- MERCYFUL FATE, VENOM- they put on an awesome show live. NEVERMORE- PRIMUS for something different. DREAM THEATER, FATES WARNING, PAIN OF SALVATION. I'd throw EXHIBITION and OVERLORDE on there too. ACCEPT back with Udo."
Final thoughts for the Snakepit readers?
"I'm looking forward to making music with EXHIBITION and OVERLORDE- I've got a lot to offer the Progressive Metal fans and the Traditional/ Power Metal fans. You'll be seeing a lot from me. Snakepit is a magazine I've always loved- you cover the histories well and I'm glad to be featured. Keep supporting Metal and the local scenes. We need more bodies at shows, otherwise Metal will have no live shows. Bands should play together and gather more fans- hang out and listen to other acts. In the long run this helps the scene and everyone involved."

Matt Coe