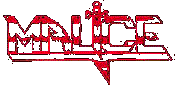 Many of the readers should notice this issue a spotlight on the 80's California Metal scene with the many interviews from a variety of genres. Stepping in on these pages is a quintet that the faithful will remember from their first appearance on "Metal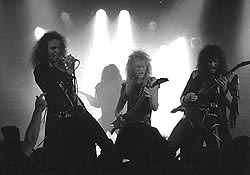 Massacre 1"- which led to a major label deal and two full lengths plus an EP that still cruise through a number of stereos on a given week. MALICE had the makings for being an American answer to JUDAS PRIEST- sensible in their riffing with all the right hooks and a vocalist that had the captivating qualities to raise a yell in every headbanger worldwide. What follows is an interview with guitarist Jay Reynolds and bassist Mark Behn- who will take you through the life and times of another cult act who were on the cusp of major success...

License For Street Metal

You began your musical career with THE VIOLATORS around 1976/1977, which included future WILD DOGS vocalist Matt McCourt. Describe this Punkish sounding act and what demos/ efforts came from this?
Jay: "Well there was a kid on drums named Mike Tuttle, who coincidentally is playing drums for James Brown right now- the Godfather of Soul. Mike and I were jamming in a high school cover band and I'd known Matt from a few other bands he'd played in- that was one of my first bands when I was 16. We did a little bit of everything- we jammed together with Matt and everything fell together. Our first show was playing at a party and we played for 3 hours. We knew cover songs and we jammed and improvised. It was a Punk energy with a Heavy Metal edge- we did a lot of Heavy Metal covers but we loved to play everything louder and faster. No real regard for polish- we'd play anywhere, anytime at the drop of a hat. We'd play for beer- we'd play parties on Tuesday nights and we were self contained- we had all our own gear, P.A., lights. In fact we used to do lights with foot controls- I'd do the lights and Matt would do the flashpots (laughs). They were hit and run gigs sometimes where we'd play a party and bail before the cops came. We were MOTORHEAD without being aware of it. The spirit of the band was fast, loose and we didn't care."
You formed your first lineup as MALICE after the break up of THE VIOLATORS (I believe), but had to stop in 1979 due to public indifference during the Disco/ New Wave times. Who was in this lineup and what style of Metal were you developing?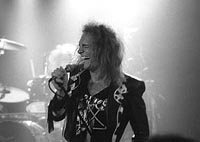 Jay: "Actually after I was playing with Matt and THE VIOLATORS, I played in another band called JADE with Mick Zane, who became the other guitarist in MALICE. As a matter of fact Pete Laufmann, MALICE's first drummer, he now plays with Matt McCourt and he was in JADE also. I was sitting in on guitar for a few gigs with JADE and they were in the midst of losing a couple of band members and that's when I got frustrated. It was a predecessor band to MALICE- except with a different bass player and singer. It didn't have Mark Behn and the guy on vocals was Bill O'Riley. The bass player was a German guy named Chris- god, this was a long time ago. We had a huge warehouse, a full PA with lights. We had a backline of Marshall amps- we used to get bands like UFO and JUDAS PRIEST to come over to our warehouse and have jam sessions where we'd have refreshments and girls for them. This is back in 1979- we could get backstage to all the local Portland gigs and we'd throw parties. The frustration was exactly what you said- the New Wave/ Disco thing. No Rock bands were getting booked and we had this great rock band. I bailed after JADE failed and went to Hawaii for a year."
Did JADE develop any original songs or was it another cover band?
Jay: "We were starting to work on originals at the same time we were going to change the name of the band. We all knew a bunch of mutual covers- I probably knew over 200 songs at that age because I learned to play by playing off records. I'd take a JUDAS PRIEST record, slap it on the turntable and learn every song. Then take a SCORPIONS record and learn every song."
So when you had those jam sessions with UFO/JUDAS PRIEST were you playing their own material?
Jay: "We'd play some of their songs and also jam on some Blues songs. I played "Jumpin' Jack Flash" with Glenn Tipton."
Next you joined THE RAVERS while living with Matt McCourt in 1981- where you would also play again with future MALICE guitarist Mick Zane (then known as Mike Landauer) who joined after the debut album's release. Tell us more about this band...?
Jay: "What happened was I was sitting in Hawaii and I went to a newsstand one day to see an issue of Creem magazine in early 1980. It said- "Look out- here come the goons! Heavy Metal Returns!". It was a silver chrome cover and it had Rob Halford in full leather regalia. That was a new direction for him- they started to go that way on the "Hell Bent For Leather" album. The magazine had reviews on DEF LEPPARD, IRON MAIDEN and I was blown away by the New Wave Of British Heavy Metal. I was on the next plane back to Oregon- I found some cool jam situations in Hawaii but nothing substantial. The day I got back I called Matt and he told me he had a record deal with a band called THE RAVERS. Within a week of being back I was recording an album. We did a few gigs with THE RAVERS and then I got the idea to do MALICE. Before I actually put MALICE together with Mick of course I had to conceptualize the whole thing personally and try to make it happen. I had an idea and knew what I wanted to do so I started writing some songs. The first MALICE sessions were with Dean Castronovo on drums and Kip Doran on guitar- plus I had James sing. Mick and James had been in a band together that I saw when I first got back from Hawaii, James had an amazing voice and I knew I wanted him to be the singer. I picked the people I wanted to play with- I wrote some songs and talked to Mick and Mike to move down to California with me. We auditioned guys and couldn't find the right people- we had to get Mark Behn and Pete Laufmann- so we got rid of Mike Tuttle. The three of us rehearsed in a living room at a place in Simi Valley- we wrote tunes on a four track. We played the songs for a guy in a record store that did a fanzine called The New Heavy Metal Revue- that was Brian Slagel. He liked our material and he wanted it for "Metal Massacre". I called up the other guys Mark and James, told them of the record deal and we recorded the songs in one day in Portland. This was December of 1981- I returned those songs to Brian Slagel and went to Europe for a month. I went to London and read the Sounds interview about L.A. Heavy Metal- a famous Sylvie Simmons article about the happenings in Los Angeles. It was exciting- so when I got back Mick was down in California and a couple of underground radio stations were playing the "Metal Massacre" album. Someone said on faith that if they could get RATT and STEELER to play a gig that MALICE would play it too- they didn't know we weren't a full band yet. After a couple of months I coerced everyone to come to California. I guaranteed them we'd have a major label deal in two years- they all moved down and within six weeks of rehearsing we played our first gig on Thanksgiving 1982 at the Troubadour- with METALLICA opening for us- we drew 64 people, METALLICA drew 17 and the band in between drew 120 people PANDEMONIUM- three brothers from Alaska. That was a weird gig- within three more shows we were headlining the Roxy. It took off and within two years we were on Atlantic."
As stated by you in 1982 you had hooked up with vocalist James Neal, bassist Mark Behn and drummer Pete Laufmann- how did you meet these musicians as James originally hailed from Texas and Mark from Chicago?
Jay: "That's true but they were all in Portland bar bands in the 70's- so we all knew who each other were in rival bar bands. THE VIOLATORS played gigs with JADE- and so on. James was also in a few bands that everyone knew about. I'm not actually sure when I first saw Mick play with James- it might have been 1980 or 1981. James was living up in Portland, Mark too- they did come from other places but everyone came to Portland to play in bands."
How many demos did MALICE record before moving from Portland to Los Angeles?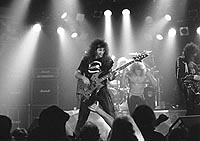 Jay: "I did that first demo with Dean and Kip and then we did four songs for the "Metal Massacre" sessions in Portland before it was a band. That was all the demos pre-MALICE and it was pretty quick. Once we assembled a lineup we wrote songs quickly and almost every song wound up on the first album. There are probably a good ten songs floating around on eight tracks that didn't make it on either of the two MALICE albums- the songs were written intermittently between 1983-1987. When we recorded the original first album, it was only a demo. The recordings with Michael Wagener- I found this guy laying on the beach. We moved to Redondo Beach, CA- we had this big three story, four bedroom condo on the beach. We played in Hollywood and lived on the beach- what more could you ask for? Herman Rarebell of THE SCORPIONS lived right around the corner from us- and in the South Bay scene there were also guys from RATT, Don Dokken, GREAT WHITE- there was a scene. Herman was a friend of Don Dokken's and working on a project with Michael Wagener at Total Access Studios. It was the first time Michael had been to America and he was redoing the DOKKEN "Breaking The Chains" album for Elektra- cause it came out on Carrere Records from Europe first. I saw Herman on the beach and I asked him who his friend was and he told me it was Michael Wagener. My jaw hit the floor- I knew he used to work in Dieter Dierks studios. I told him about MALICE and said we have to record together. I asked him how much he wanted and he said $50 an hour- I told him it was on. I got the money together and we did five songs, then three more songs with Wagener. We were going to release those eight songs as our first album independently, and we held out for a deal. We re-recorded all the songs for Atlantic and they got rejected because they liked the Michael Wagener stuff better."
Your first formal appearance on album came with "Metal Massacre 1" on Metal Blade Records. Tell us about the recordings of "Captive Of Light" and "Kick You Down"- how did it feel to appear on a classic album with future noteworthy acts like METALLICA and RATT?
Jay: "We were right there in the middle of all that. I've always been good at being in the middle of things- in L.A. it was great. I used to go to L.A. in the late 70's on little two week trips and see all the bands at the Starwood like VAN HALEN and QUIET RIOT. It turned into the Metal scene overnight and we were all brand new bands. It was the greatest time in the world. As much as METALLICA liked to disallow the L.A. scene they were born out of it! There was a lot of competition between bands and that upped the ante in the guitar playing- but there was also a lot of camaraderie so it was easy to set up shows. We all partied together, talked about business on the phone. That whole scene was an education in itself. Going back to the recording- the thing about those songs is we did it on a shoestring budget of a couple hundred dollars as a spur of the moment thing and unrehearsed. The production values- they don't sound as good as they should be but the spirit of the music is there if you can get past the horrible sounding drums (laughs)."
MALICE's California debut occurred on Thanksgiving 1982 at the Troubadour Club with support act METALLICA- any special memories about the crowd, the playing or the show overall?
Jay: "I remember it being really cold. It was our first gig and some things went wrong but we played pretty well. We got a great response and as a band we knew we were definitely on to something. If it works live in front of people it'll succeed- there's no substitute for chemistry."
During the next two years you recorded some demos- one including "Into The Ground", "Godz Of Thunder", "Murder" and "Dues Paid In Hell", plus the Michael Wagner efforts. What can you tell us about these tapes and the quality of songs MALICE worked on?
Jay: " "Dues Paid In Hell" and those other songs were recorded with Dean C. way before the Michael Wagener demos. I had recorded that and "Into The Ground" way before there was even a MALICE. The Wagner demos came together as we were starting to gel together as a band. We had done enough live shows to become a solid unit. We let go of Pete at that time- it was more of a personal thing. His playing was good but I don't think he was as motivated as the rest of us were. He's a great drummer and I still dig the guy. He played at least ten shows with us- we have a couple of those shows on videotape. I know we did one of the big Roxy shows with him. We got our new drummer Cliff Carothers through Carlos Cavazo- Cliff was in a band with Carlos called SNOW- I had seen them play in the QUIET RIOT/ VAN HALEN days. Cliff is a cool drummer, not super flashy but he had great sounding drums and he was experienced. We broke Cliff in right before we recorded with Wagener- everything just clicked. Mick and I really honed our guitar tones- we were very proud of our guitar sounds. We spent a lot of money and went through a lot of effort to get custom guitars made- custom Warmth built guitars, with Floyd Roses and custom designs. We had vintage Marshalls finely tuned- I had a 50 watt Marshall head that sounded one in a million. I plugged in and recorded with Wagener- I set up my head and settings, plus my one secret box that was a tone getter. Michael listened to the sound and he said in five minutes I got what it took ACCEPT two days to get on "Restless and Wild". It was an amazing sounding guitar head- Michael went on to rent my guitar head to record a GREAT WHITE album and other sessions. The recordings went very smooth- Michael worked like a madman for us working 20 hours a day. Within two days we had done the first five songs and they sounded better than he had hoped for. We went from there and got those songs played on the radio. People were calling the station and freaking out- thinking they were listening to the new JUDAS PRIEST material. From there we just got bigger and the labels got more interested. That was one of the first big things. It happened quickly- from the time we got down there in late 1982, and by 1984 we were just smoking. We got signed in 1984 but the album didn't come out until mid 1985."
As a result of these demos and your developing live act you landed a management deal with Robbie Randall Mgmt. and received interest from a bevy of independent labels like Metal Blade, Combat and Megaforce. Why did the band decide on Atlantic in July 1984 instead of signing an independent deal?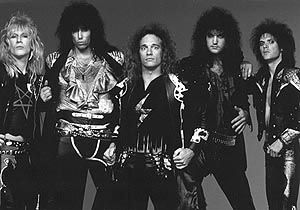 Jay: "Oh God! You know what- that's a sticky situation because I was managing the band for the guys. It was getting to the point where I either play guitar or manage the band. I had a single minded determination- Randall was the first management company that we met with, we possibly should have waited but that's hindsight. That was our biggest mistake of our career- we signed with a lesser management company. It wasn't signing with or without Atlantic that broke the band. The inept management really slowed up our career. We were mismanaged- Atlantic was already interested by the time we got management. Things were busting- that's why the guys wanted a manager. They outvoted me on the first manager we met with- I wanted to shop for other managers. Randall got us a deal- but then anyone could have got us a deal. We had A+R guys that were hanging out with the band. Metal was happening and people were believing that MALICE were going to be one of the next big bands. We really could have been- mismanagement brought dissention in the band. We missed 1984 because of bad management decisions. Atlantic wanted to put out the eight songs that Wagner had done- but the management wanted to do the album with a name producer. We went over budget and the songs didn't come out as good as the original sessions. We took four songs of the session and six songs off the Wagner sessions. We were a working band though. We moved to New York after the first album to avoid working with our manager. We played anywhere and everywhere."
Mark: "In hindsight we should have gone on an independent- with Atlantic we had stars in our eyes. There was a certain prestige being on a big label- the label threw $100,000 a record at us. I know Robbie Randall had a fantasy of signing us to a big label. This was all before independent labels had established a track record of breaking new bands."
Your debut album "In The Beginning" was recorded in two months and should have come out in the summer of 1984 but got delayed for almost a year before appearing on the market. What circumstances led to this problem- and had the album come out earlier do you believe it could have dramatically changed MALICE's career?
Jay: "Absolutely. Once Atlantic said yes our management and legal team took their sweet time solidifying the deal and the decision was made to wait for another producer. That held everything up for six months to a year- then the album got rejected and we had Michael Wagener remix songs and we went over budget. If we had released the songs a year and a half before we would have caught the Metal wave. Our management also had a technique for pitting the band against everyone else so that they could have total control. I can't even start to explain how corrupt the music business can be."
Mark: "That's a good question. When we signed we assumed it would move forward quickly. To our surprise we wanted to use Michael Wagener for the album- he cut us a good deal for the demos and we thought he was an excellent producer. Due to inner politics the label wanted to bring in Ashley Howe. It was rammed down our throats to use him- he had done some work on albums from QUEEN and URIAH HEEP. He changed some things that weakened some of the songs- Michael ended up mixing the songs but a passion was missing. Atlantic wasn't going to release the album- so the delay influenced how the album was received. At the time it should have come out it would have been the happening thing. We were well ready for it to come out."
Which songs on "In The Beginning" were remixed demo songs?
Jay: " "Rockin With You", "Air Attack", "Tarot Dealer", "Hell Rider", "Godz Of Thunder" were all Michael Wagner's remixes. Ashley Howe was "Into The Ground", "Squeeze It Dry", "No Haven For The Raven" and "The Unwanted". The core songs were the original demos."
Do you believe that Atlantic wasn't impressed with your debut album- and that they would have preferred a more "Glam"/hook oriented band over your traditional though still melodic street styled Metal?
Jay: "We did ok- but Atlantic used us as a tax write off because we went over budget and they hated our management. We got dropped by our booking agent so I was booking the band- we were supposed to be with ATI Booking and they dropped us like a hot potato when they found out Atlantic wasn't going to push the album. We went from being a big priority to being bottom of the barrel. Nobody wanted to deal with us- so we went out and played clubs for a solid year. We toured everywhere in two rental cars and a Ryder truck. We played everywhere- headlining clubs in New York and LA. We did as many gigs as we could. When we made it to New York we fired Robbie Randall."
Mark: "Perhaps- like I said things had changed in a year. With MOTLEY CRUE's success and TWISTED SISTER- maybe that would've influenced them more. We'd written new songs and played as many shows as possible. It was maddening- I experienced the bureaucracy of the major labels."
What were the shows like back then in support of the record?
Jay: "We played five to six nights a week and James would lose his voice sometimes on the road- but MALICE was definitely a good live band. We'd drive through blizzards in Chicago or Buffalo and James would get sick. Other than that- some of our big hometown shows had special effects and a great show. We had an athletic assault, balls out energy. That's what sold the band. We received some spotty accounting of sales- I heard "In The Beginning" sold 100,000 copies worldwide and it was killed. The second album did double that."
Mark: "We forged our own way- Premier Talent out of Detroit was our booking agent. We played 500 to 1,000 seat clubs on this album. Later on we did link up with other acts for headlining shows but it was good. We also spent a lot of time developing a relationship with college radio. We moved closer to New York to be closer to the record label. We did mini-tours at that time for one-three weeks- hit an area and come back home."
Your second album "License To Kill" came out in the spring of 1987- another competent Metal effort that hit the US charts and featured some guest appearances from MEGADETH and BLACK N BLUE. How were these recording sessions and how were you feeling about Atlantic at this point?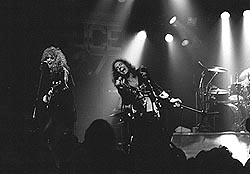 Jay: "We got a reprieve from Atlantic because of Jason Flom- he was a great guy. The grassroots part of Atlantic saw how hard we worked- they saw me work college radio in their New York offices and that MALICE wouldn't give up. They must have figured once they pulled their support we'd roll over and die and we didn't. We talked to our road manager and he was a good friend of Jason's so he talked Jason into going to bat for us. They gave us $80,000 for a recording budget and we did it right on time, right on budget with Max Norman. They liked the album and gave us some tour support to go to Europe. If the band would've lasted we could have turned things around on Atlantic by the third album- who knows. I was palling around with Dave Mustaine for years- I knew him from the METALLICA days. The guys from BLACK 'N' BLUE also sang background vocals. MEGADETH was recording "Peace Sells" at the same time. Max was great producer- we did it in six weeks and he was a stickler for getting takes right on. We got a new booking agency and we played with everyone for a year on the road. We did a tour with ALICE COOPER right out of the gate- there was Vinnie Vincent, MEGADETH and us as openers. Then we went out with NAZARETH, QUEENSRYCHE, SAXON, W.A.S.P., ARMORED SAINT. We also played with MOTORHEAD on the "Orgasmatron" tour- that was a great year. The whole year was magic. We always did well in Texas, New England and the eastern seaboard. We did well in Detroit and Chicago- where we did the "Vice Versa" movie."
Mark: "The fact that we got Max Norman was a choice of confidence. Paul Cooper was the man in Los Angeles responsible for handling our affairs at Atlantic when we first got signed. He was a very important part of the company but then he got sick and somehow faded away. Atlantic wined us and dined us with him- but when he was out of the picture we lost a lot of clout. When we moved to New York Jason Flom became our A+R guy. We wanted to have Max Norman or Ted Templeman produce the record- I liked Max due to his previous work with the Ozzy records. He loved to have a good bass sound on albums and we felt really good about this. Max and MALICE was a match made in heaven. I thought the product was very good at the time. My favorite tour was with NAZARETH- they were great guys. It was fun because we played to 3-5,000 people a night. It was a good mixture of our crowd and their crowd. We went through Texas and all the way up to Michigan and Missouri. While we were on tour in Illinois, we saw the producers of "Vice Versa". The club we were playing at in Champaign wasn't that big- but NAZARETH are a class act band and let us have all the spotlight for that show and gave us a lot of help to impress those producers."
With this album you finally toured Europe opening for SLAYER on the "Reign In Blood" tour- how were these shows as I've heard some wild partying occurred with singer James Neal liking to do crazy things when drunk?
Jay: "Oh hell yeah! It was one of the most well organized tours that I've ever been on- we had METALLICA's crew doing SLAYER's setup and they helped us as well since we only took two guys to Europe with us. We stayed in some great places and got along real well with SLAYER. They had a great time- Dave Lombardo had just re-joined the band. At that time Dave just smoked live. James had signed a contract where he wasn't supposed to drink alcohol on tour and there's some stories. I saw someone get knifed and killed in the crowd in Belgium and saw someone almost beaten to death in Berlin. We got pretty well received being a straight Metal band- especially opening for somebody as heavy as SLAYER. In the UK they were spitting on us- which showed that they liked us."
Mark: "The SLAYER crowds hardened us- our fans couldn't see us because of the hellish moshpits. When we would hear applause it would be from the wings to the left and right in the back. SLAYER's crowds are pretty fanatical. In Europe we got great press, playing 5-10,000 seaters a night. James had a complex that the bigger we got, the more fearful he got of the success. The pressure got to him- some of us relished it, James didn't like that. With that attitude and the friction we became impatient with him. Plus James was violent when he would get drunk- and we talked to him about it and he threw it out the window while in Europe. He'd show up like a beaten dog and he couldn't sing. His voice was gone at the Hammersmith Odeon- plus he wouldn't alter his voice due to the sickness. If he had to sing a high part by God he was going to try to do it- but he couldn't. I equated this to the Shuttle disaster."
You left the band in 1987- what were the circumstances behind your departure and how long did you stay in MEGADETH?
Jay: "What had happened was I was friends with Dave and when we came back from recording albums we did some catching up. We were on the same touring schedule so when we got back we were going to fire James because he was getting hard to get along with. "License To Kill" sold 200,000 worldwide and "Peace Sells" had gone gold. They were getting ready to fire Chris Poland and Gar, so they gave me first shot. I passed the audition and lasted five months in the band. Dave was impossible to get along with back then- it was a weird time. We had a split in MALICE over direction at that time- I wanted to go heavier but Mick and Mark wanted more commercial songs like THE SCORPIONS. They had a year to produce a new lineup and concept for Atlantic and it didn't gel."
Mark: "We knew we had to get a new singer- I felt we had to do it and our last eight or nine shows in Europe, we were just nosediving. He'd leave the shows and take off. When we got back we heard that Jay was going to join MEGADETH. Should we continue to go- we got a singer named Mark Weitz- a 19 year old who could pull off James' vocals as well. With MEGADETH they found out that Jay couldn't pull out the solos- the doubling up on "License To Kill" plus solos were Mick's. Max had a problem with Jay's timing. MEGADETH never mentions this- I don't think he ever was a full time member."
The band got the chance to have a song in the movie "Vice Versa"- how did this occur?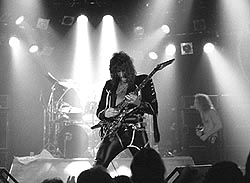 Jay: "Our manager approached us with that while on tour- we had an offer to do something for "Trick Or Treat"- we got the script and didn't get that. We filmed the movie in Chicago, did the songs and went right back out on tour. We never missed a beat."
Mark: "It was supposed to be a completely different deal. Columbia Pictures was going to put up half the money for a video- Atlantic needed to put up the other half. Judge Reinhold was going to host MTV and talk about the movie and show our video. They shot footage live in IL and CA. It came down to the last day for Atlantic to pay for it- management got the word that Atlantic is balking at this video. Columbia wasn't happy- they wondered why Atlantic didn't want anything to do with this. The whole thing fell through- so Judge Reinhold couldn't play our video."
A final mini-LP appeared on Metal Blade called "Crazy In The Night" featuring some vocals from Mark Weitz and Paul Sabu. What were your memories of these recordings?
Jay: "It was one of my ideas- we had some odds and ends that I thought should be out."
When and why did MALICE finally dissolve?
Jay: "Mick and Mark had their own band, but it just wasn't MALICE anymore. They tried to keep it alive but then changed the name to MONSTER. I'm still good friends with them- if you listened to MONSTER it's noticeably different than MALICE. Right now I'm getting ready to release some material I recorded after I left MEGADETH, a band called WAR PARTY. It had Chuck Behler on drums from MEGADETH, Ron Cordy from BITCH and the L.A. OVERKILL on bass, and a singer Dave Anthony from SHYER- a Don Dokken produced album. We formed in 1990-1991, did 10-15 songs and we toured up and down the West Coast. We had some label interest but the timing sucked due to the new wave of Alternative. When Chuck quit the band we had more tour dates booked and we had a hard time trying to replace him. We will release this on O.P.M. Records- vinyl only at first. After they sell this we will put out a couple of CD's. It's heavier than MALICE but a lot like MALICE. Some of it is SCORPIONS-esque with MALICE. It was a fun band. After that band I formed PLANET X with Dave again on vocals- I played bass in this band. It's like Industrial QUEENSRYCHE on speed- there's 24 songs in the can on that. Then once that band dissolved I played with Jim Morrison's son and did a Heavy Metal DOORS thing. I did some Industrial stuff also- in the MINISTRY/ NINE INCH NAILS vein."
Mark: "Mick and I continued to play the whole time. After awhile Cliff just gave up- Atlantic was losing interest as well. So we decided to call the band MONSTER- BLACK N BLUE was breaking up at the same time. I wish Pete Holmes in retrospect would've done the MALICE stuff with us. I wish MONSTER would've been signed to Atlantic. We searched for a singer for two-three years. In the time there Max and Mick built a studio- we had Jeff Scott Soto sing on a few of the MONSTER songs- but he was uncommitted. The singers would freak out hearing Jeff sing on the material- so we had trouble. Guys from all over the place would try out, and the minute they heard the material and said, "No problem!" is the minute we knew they couldn't pull it off. Mark Isom was singer #87- he came from New York and he fit right in. He knew he could sing but not like Jeff. He flew out and casually nailed all these songs we did. Mark had the writing ability we needed as well. After that I did SPLASH PALACE- that's a different style- more Peter Gabriel with a heavy edge. That was another band with Pete Holmes. I was burning out after MONSTER- I was quite disillusioned with handling all the songs and business at the same time. After dealing with all the record labels worldwide it was nice to have a project where all I did was record the CD. It just turned out to be a great CD. We did a project with Ian Gillan in between DEEP PURPLE albums- so Tommy Thayer played guitar, plus Pete and I played on it. That was cool to talk about for three months- talk about a complete professional. He's one of the guys who will sing those amazing melodies from the chest- it sounds like it's coming from all different parts of the room. I also did a Blues project."
Name some of your favorite bands and concerts through the years?
Jay: "God that's virtually impossible but I'll try. I'll give you favorite three albums from the 80's- "Ace Of Spades", "Restless And Wild" plus the original MALICE demos. Concertwise- the late 70's PRIEST tours. The one which was supporting "Unleashed In The East". Seeing Michael Schenker play in UFO- from then on its a blur. I liked everyone from JUDAS PRIEST to QUEENSRYCHE- seeing Tate pull it off live in 1986 was amazing. MOTORHEAD and SLAYER on tour were amazing- seeing them night after night blows you away. I was one of those guys watching shows on the side of the stage every night."
Favorite memories through the years- and anything you would have changed to make things better?
Jay: "If I could go right back to the spot where we'd got bad management- I'd hit rewind and everything would be different. Robbie Randall thought he was a rock star. When you are older you try to do everything you can to right the wrongs but we were already the underdogs. We gave it our best shot as MALICE."
Mark: "Oh boy- that almost falls under the category of regrets. I truly believe longevity is the key to things. Mick and I when we get together we hash this out- but back then we were still struggling to keep it together. MALICE lasted as long as it did- I wish we could've done a couple more albums. But to choose songs was such a struggle. We should have stuck to Michael Wagener producing the first album. If you play the demos and album you can hear the patchwork presentation, compared to the fluidity of the second record. As mature as we thought we were the band got a lot rougher after the first tour."
Do you follow the Metal scene today and are you aware of the current interest in older, classic bands such as MALICE?
Jay: "Probably not as much as I should be- I read a lot of the press. I'm waiting for the right opportunity to jump back in. I talk to everyone in MALICE but James."
Mark: "Honestly, no. I was surprised to hear in every MONSTER interview people still wanted to talk about MALICE. I'm glad we made a little splash- every now and then I hear a new band and think they may have gleaned a little influence from our sound."
Any final thoughts for the Snakepit readers?
Jay: "It's great to see this happening. A lot of the new Metal is regressive musically- they are ripping off Rap and for the most part I see no movement. What's cool for me is seeing fans of Metal at its pinnacle- to see people go back and find the best bands. I hope to be a part of the scene again someday."
Mark: "Oh boy- I always just like to pick the bands that were the truest. We used to research bands as kids- now bands are thrown at you. It always was such a goldmine to find bands and look under the rocks. Don't be rammed by MTV- seek out who is making something different."

Matt Coe