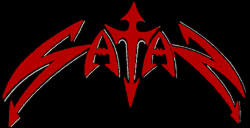 LEGENDS IN METAL!
Metal history. Only few bands have been capable to write these two words in their Metal book, but SATAN/BLIND FURY/PARIAH can, namely with their insane "Court In The Act". Unfortunately despite being forerunners of a new Metal generation, the band made three big mistakes in their long-running career - singer Brian Ross left the band straight after the debut, then they decided to change the band-name not only one time, no, three times as well as the musical direction with their second full-length output. These decisions were the main reasons why the band didn't get the recognition they truly deserved because they have still released strong albums afterwards. For us it was time to hear the story of these English Metal veterans, directly from Steve Ramsey - enjoy!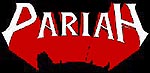 Let's straight going back to the early 80's, when and of which reasons did it start with SATAN? How did the band get together? What were you musical influences at that time?
SATAN was formed while Russ Tippins and I were at school together in 1979. We were into stuff like Priest, Scorpions, Sabbath, and any new bands we could get our hands on, Russ bought a guitar and started learning to play songs like "Doctor Doctor" and "Paranoid", I heard him, thought I'd like to do that and bought a guitar and he taught me everything he knew. Our first gig was at school with some friends on bass, vocals and drums, we played covers of Sabbath, Motorhead, UFO and Pinhead by the Ramones.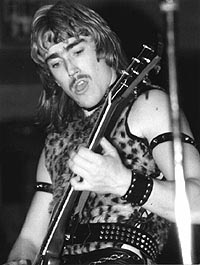 Coming from Newcastle, were SATAN a band out of the working class?
Yes, we were all working class lads.
Why did you call the band SATAN as you never wrote satanic lyrics or were never in the evil Metal league like VENOM or BLACK SABBATH?
It seemed like a cool name at the time and I had come up with this great symmetrical logo! There was no Black or Death Metal and our lyrics were mainly about all the evil in the world which kind of justified the name.
Your first demo included the masterpiece "Kiss Of Death" which you released as your first single. This single is a rarity nowadays and still one of the best songs that ever came out of the NWoBHM. What did you feel at that time when you recorded the demo?
We were very excited as it was the first time in a recording studio for all of us and we were doing original material. We had no idea that all four songs would end up on vinyl.
Two songs of the demo ("Oppression" and "The Executioner") appeared on the Roxcalibur compilation, were you asked by Guardian Records in 1981?
Yes, after we'd decided to self finance the release of the single the guy from the studio asked us if we'd like to have the remaining two songs on a Guardian compilation album, which meant great publicity from our very first demo.
The legendary "Into The Fire" demo was like a blizzard out of the dark, for me nothing more than one of the most impressing demos in the whole Metal history. What do you think of this recording nearly 17 years later?
We look back, and, like at the time, knew we had created something a bit special and original, but never dreamed it would have the influence it has had.
I think you sold the demo by your own, and in Germany and The Netherlands many Metal maniacs thirsted for SATAN material. How many copies did you sell, can you remember what you did to sell the demo?
As with the single, the demo was sold through articles and reviews in magazines which gave our fanclub address and our address was also on the single. A figure of around seven hundred sales comes to mind but I'm not sure exactly.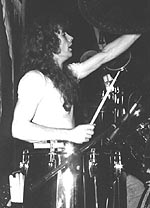 You played some shows only with the demo in your hand in The Netherlands. Remember your first gig at The Dynamo in Eindhoven - was this a mind-blower for you? What I heard, you played four encores in front of people going crazy, is that true?
One of the greatest memories of my musical career, and I'm sure that of the rest of the guys, were the shows at the Dynamo. I remember the intense heat of three hundred people going wild in a tiny club, sweat running down the walls and our drummer all but passing out in that final encore!
Then Roadrunner appeared on your map. How did they get in contact with you and were you satisfied with their label work in general?
They had obviously heard the buzz from the Dynamo and the rest of Holland were catching on. The deal was terrible and our lawyer told us not to sign it but we were so keen to do our first real album we'd have signed anything! They had so many bands on their label then that our album was advertised on a page in magazines along with eleven others.
Was the album deal the reason to change again the line-up? Sean Taylor on drums and in particular Brian Ross from BLITZKRIEG on vocals joined in the band and recorded "Court In The Act" in 1983. How did you manage to get Brian in the band?
Sean and Brian were already in the band before we signed the deal. Sean joined us before our first Dutch trip as our drummer had left to join Battleaxe for a wage and a new kit. We were previously fans of Blitzkrieg and things weren't working out with Ian Swift or for Brian in Avenger and we kind of did a swap.
Were you aware to come up with an amazing and original Metal album at that time?
We knew from the demo and the reaction to it that we had the material for a pretty good album, the reviews were mixed at the time, fanzines loved us but by the time we started to get really noticed we were starting to change things within the band unfortunately.
Did you tour after "Court In The Act"?
We didn't really tour just played a few shows in Holland and Belgium and in the U.K. with local supports.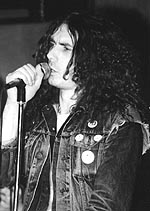 Brian Ross left the band rather soon after the album release, of which reasons?
At the time we felt that Brian's voice wasn't holding up to more than three shows at a time and that this may ultimately hold us back. Lou Taylor, who had previously sang with the band, became available after a stint with Angel Witch and we got him back in, which in hindsight we feel was a mistake, but that's Rock and Roll.
Neat Metal re-released the album on cd in 1996, did they ask you? It was a great idea of them to add three rare bonus tracks.
They didn't need to ask us, just obtain the rights from Roadrunner, and yeah it was a great idea.
SATAN was a conflicting name, was the pressure to change the name so heavy at that time?
The first time we changed the name was mainly because of Lou thinking it was going to hold us back.
In 1984 the name SATAN was buried for the first time and the new name BLIND FURY caused a different sound. I didn't like "Out Of Reach" when it came out, but now I think the album was far better than the reviews said. But the fans expected more crunching Metal, was it a mistake to change the name and the sound in times of increasing popularity?
I think there's some great music on that album but yes, we feel it was a big mistake to change direction but at the time our increasing popularity wasn't obvious to us.
The sale rates of the second album weren't satisfying, were they?
No, the sales weren't good although we did sell a lot in Canada of all places.
Did the new singer Lou Taylor influenced the band to make a more mainstream sound?
Yes, Lou was into more mainstream rock and did influence most of the changes in our sound especially with his lyrics and vocal melodies which Russ and I had always had control of.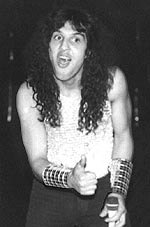 It lasted only two - correct me if I am wrong - years to re-change the name in SATAN again. Why and how did it work out with Steamhammer to get a new deal?
We eventually came to our senses and returned to doing what we did best. We got a new singer and did a demo, "Into The Future", which we sold at gigs and through reviews in mags just as we did with its predecessor "Into The Fire". Steamhammer got wind of it, saw us at the first Dynamo Open Air in 85' and offered to buy it from us and sign the band. The demo cost us £500 and was recorded and mixed in 24 hours and with the advance we got for it was the first time we'd ever made a profit.
There was a strange back cover photo on it, did you copy KILLING JOKE for that?
No we didn't copy them, in fact I don't think we'd even heard of them then.
The new singer Michael Jackson sang more rough than the previous singers, where did you find him? Was there no thoughts to change his name or give him an official nick name?
We advertised in Kerrang and a couple of other mags and Mick was one of many applicants, some of them a bit weird like the old singer from Tigertailz! We loved the rawness of his voice and thought his name was great, nobody was going to forget it. We had a bit of a mishap once though when his publishing royalties were accidentally sent to another more famous Michael Jackson. What a pity it wasn't the other way round, haha.
Then "Suspended Sentence" was again a strong, traditional Metal record, but the Thrash Metal movement was getting bigger and bigger, was it hard for you to see that bands as METALLICA that were influenced by early SATAN got much more recognition?
We did see that a lot of bands that were influenced by us were doing better than us but that's the music business and it's a complement that other musicians regard your work so highly I feel. In some ways it's happening to us now with Skyclad and if we were in it for the money we'd have packed it in a long time ago.
The "Into The Future" and "Suspended Sentence" outputs were re-released on one cd on mid-price. Did or do you get any money from the labels?
The deal we had with Steamhammer was a good one and our advances are still under recouped.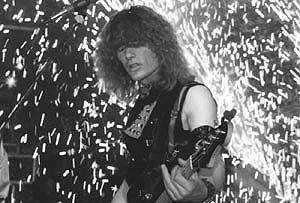 I saw you live on tour in Wangen/Germany with RUNNING WILD in 1987. That was a blast for me, can you remember any cool stories from this tour?
Our main memory of that tour was the travelling nightmare to the first two shows. We did the whole tour in a small van, we'd never been on a tour bus before, in fact it wasn't until Skyclad that I ever toured on a sleeper coach. The first gig was in Vienna so we drove to Holland, stayed overnight in Eindhoven, then drove for sixteen hours only to learn that our hotel in Vienna had been booked for the night before because we had to leave immediately after the show to drive another sixteen hours to Zurich for the next show, what a nightmare!!! However it also turned into one of my greatest experiences as at dawn that morning we were standing on top of a valley in the Tirol watching the clouds descend from above us to below us into what looked like a misty lake which eventually disappeared to reveal the land and village houses below. Breathtaking! We all really enjoyed that tour which was our first and only full European tour and was a great success.
Did you get any response from the States? Why did you never tour there?
We had reports from fans and from other bands like Exodus that we were big on the underground in the States, especially in the Bay Area, you could buy shirts and other merchandise in the stores none of which we had seen or authorised, I remember seeing James Hetfield in a live shot in Kerrang with a Satan shirt on that I'd never seen before, but our statements from Roadrunner showed that we apparently weren't selling so well. One of the guys from Exodus, who were big fans, thought that we could pull a bigger crowd than them in San Francisco but we were never offered any gigs.
I could bet that Roadrunner cashed in some good money (SATAN sold at least 10.000 copies overseas) but told the guys that their album didn't sell anything. You always had very good, social-critical lyrics, you didn't like the Conservatives and the Iron Lady Thatcher, did you?
Being working class Britons we were very much against the policies of a government that caused the decline of our health service, privatisation of our national resources and widening the divide between the rich and poor in our country, to name but a few reasons.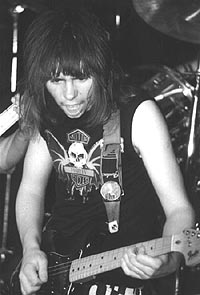 Who had the idea to change the name again in PARIAH and what do you think of it now?
We're happier with that decision and made it because we were now being confused with Death and Black Metal bands. At one of the gigs on the Running Wild tour a group of Christians petitioned the Mayor of the town to stop Satan from playing and were at the gig trying to stop fans from going in. We were getting weird letters signed in blood and stuff and decided the time had come.
When you compare both PARIAH albums, the thrashy "The Kindred" in 1988 and the more traditional "Blaze Of Obscurity" in 1989, what would you make different if you could do that?
We weren't that happy with the "The Kindred" album, mainly the production but also the thrashier element we introduced into the music we felt didn't suit us that well. With the "Blaze..." album we felt we had really done ourselves justice.
Had you lost your deal then or why did PARIAH give up in 1990?
We lost the deal with Steamhammer as our sales, although reasonable, didn't justify the advances in our contract and then Mick left, leaving us without a singer.
Now I wanna come to one of the biggest surprises in 1998, you re-formed PARIAH with a classic line-up and recorded "Unity", a killer Metal album. Did you write new song-material for this album or are all tunes from 1990 and earlier?
Most of the material and ideas were conceived around 1990 but some adapted later and altered to suit the time more. The "new" singer Alan Hunter was the guitarist with Tyson Dog but also sang lead vocals with them on occasion. He also sang with Satan for a couple of shows in 84 before we recruited Mick, and backing vocals on "Court In The Act".
Were no label interested in this gem?
The old manager of Skyclad was supposed to have shopped around for a deal on our behalf but told us that none were forthcoming.
You played with PARIAH at the Wacken festival this year, but only in the tent out of the main-area and unfortunately I (and I think many others....) missed your show because of the changed beginning time of your gig, tell us how it went?
It was a bit disappointing for us to know that a lot of people were going to miss the show and we only found out about the time change when we arrived what we thought was early backstage and were told we were to play in 15 minutes. We felt the gig went really well though and the small crowd that managed to see us were fantastic!
What happened backstage, I read about fights with the security?
Nothing actually happened backstage, I've heard various reports, one about us throwing chairs around, but what actually happened was I got my head bashed in by a security guy and neither I nor Kev and Graeme know what for. It was in a bar on the site, and what the fuck these things happen! It made playing the Mindfeed show the next morning a nightmare for me because I was still suffering from concussion and really shouldn't have played.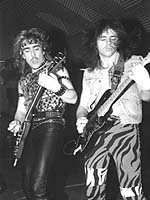 Are you satisfied with the SKYCLAD situation, you get good reviews in Europe and play many shows, but the sale rates could be better, I guess?
Yes, we do feel that our sales could improve and are looking for a deal that will help do this, but we have a very solid fan base that sticks with us through all the business shit and music trends which we are very grateful for.
Your latest album "Vintage Whine" is again more heavier, with more guitars and less folk parts, the right decision.
To us the music is still very much Skyclad and still as folk oriented but is mixed and produced heavier than it's two predecessors with the violin playing a less dominant but also still a lead role in many of the songs.
What's your favourite SKYCLAD album through the years?
That's a difficult question because I like them all for different reasons, but the one that I gained the most fulfilment from was " The Answer Machine" because we tried a lot of ideas that I felt turned out really well and have and will help shape the Skyclad of the future.
Do you see the band as folk Metal originators or "only" continuing the line THIN LIZZY prepared?
I consider ourselves as the originators because I think Lizzy's roots were more in the rock and roll and blues vein, but they did prepare the way.
What's your view of the English rock/Metal scene, why do bands as SKYCLAD get no feet on this market and hype bands as KULA SHAKER and other shit sell massive?
I think rock has become trendy again in the U.K. and that's why the whole retro thing sells at the moment. Metal isn't trendy but will survive when the scene changes and I still think Skyclad will get another bite at the cherry!
The last question - Metal as a music form is for you?
Metal to me is Judas Priest and Black Sabbath, and all the bands like Maiden, early Metallica and of course Satan who were directly influenced by them. After that the scene becomes a lot more diverse, some stuff I wouldn't even call Metal is given the monicker although it may be indirectly linked, but most of all it's a really energetic form of expression and release.

Heinz Konzett