TRANSGRESSOR / SEPTER / FIRESTORM

The early days of the Illinois Metal scene have been rather well documented over the years in Snakepit but one would tend to think that the water of this state got contaminated by an unknown substance in the late '70s and stayed active for at least seven years considering the number of quality -in opposition to quantity- acts that got given birth there. Having been familiar back then with a tiny outfit from that area, TRANSGRESSOR, via the tape trading network, in recent years I had decided to do a feature on them because I was still recalling how impressive and killer their Power Metal style used to be, but it was obviously not an easy job as this bunch had not even a demo to their credit! Still while doing my researches trying to locate somebody else than a certain TRANSGRESSOR guitarist, Chris Mittelbrun, suddenly the name SEPTER crossed my path as the band featured a survivor from TRANSGRESSOR, no one else than original guitarist, Orest 'Hawk' Dziatyk! And from there, I went into successive surprises, discovering the "Transgressor' album from SEPTER which features original TRANSGRESSOR material and in the process also learnt that another band had existed after TRANSGRESSOR's demise in the mid '80s with FIRESTORM. Needless to say that with all those infos, I started extensive researches and besides Hawk, I also got original TRANSGRESSOR/ FIRESTORM bassist, Brook Hodges and FIRESTORM guitarist, Rik Namora involved. Next thing you can do now is add to the already impressive Illinois Metal list those three acts! You won't regret it.
So let's cover the TRANSGRESSOR story first as the SEPTER story is chained to TRANSGRESSOR one, did the original line up consist of Orest "Hawk" Dziatyk (guitar), Kevin Truell (vocals), Paul Brodlo (drums), Brook Hodges (bass) and Chris Mittelbrun (guitar) or did you have other members before setting on this line up which seems to have been the major one?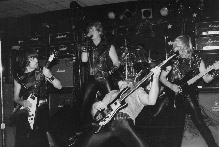 Hawk: "The original line up began with Paul, Kevin, Brook, Chris and myself."
Brook: "Shortly after high school, I joined a Heavy Metal band named PAGAN in suburban Chicago. We covered MAIDEN, PRIEST, early DEF LEPPARD along with originals as well. That fizzled out but me and Euan Smart, guitar, replied to an ad in a local music paper. We met up with Paul Brodlo and Hawk on guitar in the meat packing district of Chicago. Euan left, Chris joined and then we found Kevin. This line up, in my opinion, was the strongest and most devastating, Hawk (guitar), Brook (bass), Paul (drums), Chris (guitar), Kevin (vocals)."

When did the band really start and how did it get together back then?
Hawk: "Prior to TRANSGRESSOR, I was in a band called LONESOME CROW with a drummer by the name of Ole 'Olly' Olson who left the band to join TROUBLE. We were basically doing a lot of cover tunes by SCORPIONS, UFO, MAIDEN and JUDAS PRIEST. After LONESOME CROW disbanded I formed a band called DARK REAPER and started writing originals. We used to practice at an old slaughterhouse called The Space Place in a seedy part of town, it was there that I had met Paul Brodlo while playing with a different line-up. After DARK REAPER disbanded I was looking to put a new project together to play all originals. ran an ad in the Illinois Entertainer & recruited Brook & a guitarist by the name of Euan Smart who had just moved here from England .Euan was influenced by IRON MAIDEN and was a pretty kick ass guitarist. We later hooked up with Paul and formed a band called CORPSE GRINDERS with a singer named Norm, which was an early incarnation of TRANSGRESSOR. That line up lasted for about a year, only playing a few gigs during that duration. After Norm and Euan had left the band we recruited Chris Mittelbrun and Kevin Truell, forming the original line-up of TRANSGRESSOR. Chris actually initiated himself by busting a beer bottle totally full of beer over his own head asking if he was in the band. At that point we still hadn't had any luck with finding a great singer. We must have auditioned about twenty guys before Kevin came by and did the most kick ass version of "Heaven And Hell" by SABBATH and "Wrathchild" by I. MAIDEN. From then on we knew we had the right chemistry in the band. Kevin did some stage work in JESUS CHRIST SUPERSTAR, I believe Paul Bradlo was in a couple of Punk Rock bands and Brook was in a band called MARAUDER."
Brook: "This must have been 1982-83 I don't recall exactly."

From what I know TRANSGRESSOR were performing traditional Heavy Metal which was the leading style back then in that music style, is that correct to say that PRIEST, MAIDEN were your main influences or did you have other influences such as TYGERS OF PAN TANG, RIOT and the likes as I found out throughout the years that many U.S. Metal musicians from the early '80S were into semi underground Heavy Metal back then?
Hawk: "At that time I was heavily influenced by PRIEST and MAIDEN, but also by SCORPIONS and UFO. My songwriting was geared more towards PRIEST and MAIDEN, while my lead writing was influenced more by Michael Schenker and Uli Roth. I was also leaning for more of a darker edge along the lines of MERCYFUL FATE. I liked that whole vibe of having a dark sound with a heavier edge. I did listen to a lot of different Metal including TYGERS OF PAN TANG and RIOT. Actually I also listened to Classical music playing both Classical guitar and piano. Later when Yngwie came out in the mid eighties he was a huge influence on me because of my classical background."
Brook: "We were listening to all we could. Early SCORPIONS, SAXON. IRON MAIDEN, JUDAS PRIEST. All of this was very important and exciting, but I believe TRANSGRESSOR material was just as powerful. We had a very individual sound and attack. Our music stood out -in a good way."

According to what Chris told me, TRANSGRESSOR never cut any demos -at least when he was in the band, how come considering that it seems you had a good amount of material written?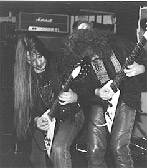 Hawk: "We actually never had the funds or label support. It's a bit different nowadays with modern recording and digital studios you could sound great out of your basement. We thought that if we kept on writing someone would actually take notice and eventually get picked up by a promoter or label. We almost came close when I was dealing with Wade Brooks from Metal Child Enterprises but that never came to fruition. Also a possible deal almost came through with Red Light Records which never surfaced. In spite of everything not going our way we just kept on writing because it's all about the music. You have to keep the faith, hoping one day things are going to change."
Brook: "Unfortunately I don't recall any recording with this line-up. Paul may have recorded something with a boom box. The only recording or demo I know of was done after Chris left, that was FIRESTORM."

What do you recall of that material exactly? Can you make of a description of the song you had written which seemed to be somewhat satanic orientated judging by the titles such as "Six Six Crucifix", "Devils Prey", "Post Mortem", "16th Century Burial" …?
Hawk: "The titles do imply some dark connotations but weren't really into Satanism, unlike other bands like MERCYFUL FATE and VENOM. We actually had more of an image thing going. Actually there were rumours that we were slaughtering chickens and goats at the old meat locker room. Basically we had '666 Welcome to Hell' painted on the door. There were a few roadies hanging out that followed the church of Satan and Anton Levay. One guy in particular named Tim Mc Granahan had tons of tattoos all over his body was really into that whole vibe. I guess Tim thought he was a high priest and that his girlfriend was some kind of witch .We did have couldrens and candleopreas at some of our gigs to create that dark image."
Brook: "Our sound and song material was very heavy and scary, sometimes overwhelming. The song titles and lyrics were just there to amp up the feel of the music. This shit was super fucking heavy, and I loved it! But noone in the band were evil or practiced black magic. We were all young musicians looking to make an impact on the scene. The song titles got peoples attention and maybe conjured up crazy ideas about what we were all about. As a matter of fact we used to laugh about it."

How about the live front? Were you performing quite a lot with TRANSGRESSOR? Was it mainly club shows or did you manage to open for some big or semi big names?
Hawk: "We couldn't play too many clubs because our following was too big at the time for smaller clubs so we'd either rent some big hall or play bigger clubs like 800 people or more. We did do a gig with DORIEN GREY and WITCH SLAYER at a club called Grand Illusions which held about 900 people. I did actually open for BLUE OYSTER CULT at a sold out show at the Metro after TRANSGRESSOR with a band called FIRESTORM which had Kevin on vocals and Ed Moravic on drums also Brook on bass."
Brook: "TRANSGRESSOR practice was held originally in the meat packing district on Fulton St. in Chicago, at the Space Place .This was a huge meat freezer warehouse converted into a rehearsal venue where many bands rehearsed simultaneously. We practiced more than anything else. I don't recall too many shows with this line up. Some of our practices would become large crazy parties that became free parties. We left the Space Place after Paul acquired a huge loft space not to far from the Space Place. It only got crazier there."

What do you recall about the early Illinois Metal scene at the time -probably around 1982 or so, were you familiar with burgeoning acts such as THRUST, SNOWHITE and the likes or with bands who had been around for a couple of years already such as TROUBLE and ZOETROPE especially?
Hawk: "I was personal friends with TROUBLE and also knew Berry Stern pretty well. Unfortunately Barry passed away a few years ago. We actually opened for TROUBLE a couple of times with my band FIRESTORM."
Brook: "I know we opened for TROUBLE at least once at the Mug in Aurora, Illinois. We did shows with ZOETROPE and were very good friends with the members in SLAUTER XSTROYES hanging out as well as doing shows together. There were a few clubs that took on Metal bands, the Thirsty Whale was a big hang out."

Considering that you never cut any demos at that stage, would you say that you were writing and performing with simply the hope to get signed at one point if an A & R dude would attend one of your shows or did you have some other plans in your head?
Hawk: "We were just trying to build a solid fan base, hoping that some A&R guy would take notice, but that never happened. I did eventually make contact with an A&R guy from Electra Records by the name of Denny Novak, but that was with the FIRESTORM line up. He got us the gig with B.O.C. and other bigger gigs at the Park West Theater. Denny also got us on the syndicated Metal station that was nationwide back in the eighties called Z Rock. We won some contests that the station had by taking shredders of the week, railers of the month, and demo of the year. Eventually we were supposed to get a record deal but the station ended up going under and nothing came out of that situation either. We did get some good exposure with the single "Transgressor", being in rotation with OZZY, METALLICA and STRYPER.."
Brook: "We were hoping someone would come to one of our shows and sweep us up. We had no real good direction. We never put up our own money for recording. If we did we would have gone alot further."

So at one point you went thru changes as Chris left to join MASTER then DEATH STRIKE and Paul Bradlo -who resurfaced years later on in WELL OF SOULS- I guess was replaced by Ed Morevac (ex S. XTROYES), what happened exactly and is that exactly what happened as it's only guesses I have?
Hawk: "Ed Morevac never replaced Paul Bradlo in TRANSGRESSOR, However he did become the drummer for FIRESTORM. After TRANSGRESSOR I formed a whole knew band with FIRESTORM. Since I wrote most of the material I still played some of the old TRANSGRESSOR material while writing new stuff also. I kept Brook and Kevin, later recruiting Ed Moravic on drums and a guitarist by the name of Tim Kepp who hung out at the old TRANSGRESSOR spot. Later Tim Kepp was replaced by Rick Namura."
Brook: "When TRANSGRESSOR split, Chris left and Paul kept the TRANSGRESSOR name. FIRESTORM was created with me, Hawk and Kevin, but the name FIRESTORM didn't come along until after the line up included Tim Kepp on guitar and Ed Morevac on drums. We started recording with an Electra records guy named Denny Nowak. He believed in us enough to fund some recording. At the same time we were searching for a name for the band. Denny asked for input from Bill Peters of Auburn records fame and Bill came up with FIRESTORM."

Did you replace Chris with another player? Were you surprised to see Chris ended up in a Death/ Thrash act or was it something Chris had show the desire to play while in TRANSGRESSOR and maybe wrote some stuff in that heavier/ faster way?
Hawk: "We did replace Chris with a guy named Gerold Kline, who used to play with SLAUTER XSTROYES. It didn't surprise me that Chris went into Death Metal. We were all somewhat versatile in our own musical taste. I happen to be extremely fond of Classical music myself, being influenced by Uli Roth, Schenker and later Yngwie Malmsteen."

So once those changes took place, did you record something and for how long did the band stayed together as nothing is known about this? Have you went thru other line up changes?
Hawk: "After Chris left we went into the studio and recorded a four song demo "Transgressor", "Die By The Axe", "Post Mortem" and "Blood And Dishonor". Unfortunately we didn't finish the demo because everyone's musical direction was changing. By that time we decided to call it quits and went our separate ways. Two years later I went on to form FIRESTORM with Ed Morevac, Kevin, Brook and a new guitarist by the name of Rick Namora."

By 1984/ 1985 the Illinois Metal scene was somewhat split in two, on one hand the Heavy/ Power metal acts such as WAR CRY, ZOETROPE, SLAUTER XSTROYES, HAMMERON, INFRA RED, TROUBLE, MAYHEM etc and on the other the Death/ Thrash acts like MASTER/ DEATH STRIKE, TERMINAL DEATH, SOLEMN, MACABRE etc, where were your views on this?
Hawk: "Personally I think that any creative artist grows with time. It's only a natural progression that musicians try new styles or get into different projects to try to make it in the music business. It's good to keep an open mind on things so it doesn't surprise me when artists try to experiment. I personally like the heavy mixed with Classical influence and melody. I think anything could work if you experiment and know how to fuse different styles together. There are many directions an artist could take to draw inspiration from. DREAM THEATER did by fusing Jazz elements with Metal. Yngwie, Uli, Blackmore and Schenker did it with Classical... John McLaughlin and Al Dimeola fused ethnic elements in their music. It doesn't surprise me when artists change direction because various styles have different tastes. Sometimes you have an appetite for real heavy, other times you might want to compose more melodic. Whatever the mood is that's what the music should serve. The best analogy I could make is that it's like food. You wouldn't want to eat the same thing every day. Music is like our spiritual food. That's why some artists change direction or experiment with different styles."
Rik: "I was into all of the Metal scenes, the Death/ Thrash acts were killer but mostly I can say my favorites were TRANSGRESSOR, TROUBLE and SLAUTER XSTROYES, ZOETROPE out of the Illinois scene. Barry Stern was from my neighbourhood, he worked at the local music shop by my home called Flipside Records, Paul Kratky from S. XSTROYES is a friend of mine, I actually went to school with some of these guys you've mentioned like Axel the singer from HAMMERON was a friend of mine. Also went to school with Fuji Grant the guitar player from INFRA RED, Danny Alt the singer from I. RED at one time was the singer for POMPEI, we played some cool gigs, we rocked the heads off people, that was my previous band before FIRESTORM."
Brook: "The local scene seemed to be stirring up and became competitive. I remember TROUBLE and ZOETROPE being the big guys on the block."

So how did the band end up exactly? Were you close at one point to get a record deal?
Hawk: "I was close to getting a record deal with FIRESTORM. I made a connection through a friend of mine who knew someone at Elektra named Denny Novak. Denny gave us some advance money to record TRANSGRESSOR as a single that got some airplay on a Heavy Metal station called Z-Rock, that was nationwide. We ended up taking demo of the year and were supposed to get a record deal. That also fell through because the station went under and they were to sponsor us."
Brook: "TRANSGRESSOR evolved into FIRESTORM After the recording session with Denny Nowak, things got interesting, almost a glimmer of hope that something would come of all this. We submitted the recording of the song "Transgressor" to a national radio Metal show Z-Rock. That was put into a contest. We did very well but nothing ever came of it."

From the ashes of TRANSGRESSOR came FIRESTORM which featured Hawk and Rik (ex-POMPEII) on guitars, Brook on bass, Kevin on vocals, Hawk on guitars and Ed Morevac (ex or future S. XSTROYES) on drums, so in fact FIRESTORM was more or less TRANSGRESOR, why did they rebuild a band under a new name which was suggested by William 'Bill' Peters of Auburn fame?


Hawk: "I played some clubs with FIRESTORM for a few years, later disbanding that project because my musical horizons were expanding more towards the Classical side. I later formed IMPERIAL RAGE (Neo Classical Metal) playing most of the instruments except drums, on that CD. I am currently in the process of reviving that project also."
Rik: "After Ed Morevac parted ways we got Jeff Kmiec he was formerly from another Chicago band called PROPHET. As for the transformation from TRANSGRESSOR to FIRESTORM, some of the band members went on there own ways so we wanted a fresh new name for the band and Bill helped out with that name."
Brook: "Shortly after all this the band METALLICA suffered a tragic bus accident in Europe with the loss of bassist Cliff Burton. Since METALLICA and Denny Nowak worked for the same label, Denny was able to help secure me a personal audition with the band. I flew out to San Francisco and played the song "Master Of Puppets" with them. The audition went well but as you know Jason Newsted got the gig. The fact that I attempted to leave FIRESTORM to join METALLICA caused some tension between me and some members but I returned and FIRESTORM kept plugging away."

What recordings did you make as FIRESTORM? I understand you were close to have a record deal at a certain point…
Rik: "There was a demo made but it was never finished and at one time we were approached from a couple of different recording people but nothing ever came of it, that's when the band started parting ways. I'm sure if things had happened to stick together we would have closed a deal for a nice recording because we had all the fucking killer material written to put together one hell of a monster CD and if that would have happened I'm sure a second one would have followed right away."

Did you cover TRANSGRESSOR songs with that new outfit? What was your set like?
Rik: "FIRESTORM was very much the same as TRANSGRESSOR, we played basically the same songs "66 Crucifix", "Devils Prey", "Blood And Dishonor", "Die By The Axe", "Transgressor", "Vesuvious" and a few newer songs like "Euphoria", "Attack Of The Ibox" which were very kick ass I think. A little more technical on the music part of it."
Brook: "We kept nearly all of the TRANSGRESSOR songs on our set list."

I understand that you did manage to have some good opening slots with that band, do you recall some memorable shows?
Rik: "We always packed in the house when we played shows so they all were very memorable shows though trying to recall certain ones is hard that was 20 years ago and from what I recall they all were great and alot of fun." Brook: "We did a few private shows with SLAUTER XSTROYES at a friends loft. We backed up BLUE OYSTER CULT. My final FIRESTORM gig was at the Parkwest Theatre, April 29th 1987."

How would you describe FIRESTORM to somebody who has never heard that band?
Rik: "The band was built on twin lead guitars with a massive singer. Great creative song writing, Classical influenced guitar work plus the Metal influence of JUDAS PRIEST, IRON MAIDEN, Blackmore and Uli Roth influence."
Brook: "FIRESTORM had a very heavy and powerful sound similar to TRANSGRESSOR. We never met our potential . With proper direction I believe FIRESTORM could have become something very big."

You told me that you've played in a band called POMPEII, was it right after the split of FIRESTORM?
Rik: "The band POMPEII was before FIRESTORM, we used to play around the same era as TRANSGRESSOR in the early 80s started hitting the club scene around 1982."

What can you tell us about that act? Was it in the same mould as FIRESTORM?
Rik: "It was a little different, it was a three piece band at first mostly instrumentals on the originals then we added vocals and became a four piece band. Funny story is that TRANSGRESSOR was auditioning for a lead vocalist -that was before Kevin was found, they invited me down to audition for the band and when I arrived there I was so fucking blown away with their sound and music they were creating especially Hawk's guitar playing, I was like 'Holy shit that's the kind of music that is running through my veins', I always loved guitar… I was influenced by Ritchie Blackmore, Michael Schenker and Uli Jon Roth and I always wanted to be a guitar player and play and write that kind of music so I went out and bought a flying V and six months later I started writing music along the same mould as TRANSGRESSOR with titles like "Ghouls Of Pompeii", "Crave The Grave", "Wretched Imp", I found a KILLER drummer, Mirek Czerkas and a bassist, Boris Hankewych… we started rocking and on the first day we got together like 50 people came by to check us out and their minds were blown away, they thought we had been playing for years."

Is there recordings of FIRESTORM that could be possibly used for an anthology kind of album or something?
Rik: "There are some practice recordings and some live recordings from some shows that could possibly be used sometime in the future."

When did the band FIRESTORM stopped its activities?
Rik: "Well probably around 1990 that's what I would say due to weak industry and support of the market we kinda parted ways."

Brook, did you hook up with the DESTRUCTOR guys right after the FIRESTORM split?
Brook: "I left Chicago when Denny introduced me to Bill Peters who invited me to audition for DESTRUCTOR. I flew out to Cleveland and jammed with DESTRUCTOR. I moved out to Cleveland because not only did I believe in the band but the band was close to securing a record deal with Island records. The deal never worked out but I stayed in Cleveland with the band. We worked toward recording with Bill Peters and his Auburn Records company and did several shows. After a year or so with DESTRUCTOR I joined up with another Auburn label act, BREAKER. BREAKER was very good to me. We did many live shows including our appearance at the very popular Wacken Open Air Metal festival in 2000… A time I will never forget. We recorded a bunch and I'm included on three cd releases. Now I'm married with two kids and only play for my own enjoyment."

In recent years, Hawk has resurfaced in a band called SEPTER and have released two albums which featured some TRANSGRESSOR tunes, have you checked 'em out?
Rik: "Yes I have checked it out, it is pretty good. He also just released another SEPTER album called "The God Key" and it also features some great TRANSGRESSOR tunes, "Hillside Strangler/ Attack Of The Ibox", "Post Mortem", "Six Six Crucifix", "Devils Prey"… everybody should check it out it sounds GREAT."
Brook: My good friend who you know, Rik Rok Roar Nomura, has kept me up to date with Hawk's musical accomplishments. I have two cds with Hawk, IMPERIAL RAGE and SEPTER's ''Transgressor''. I like those songs. I would liked to have been part of those songs in recorded form. That music is timeless and deserved the finest recording technology. I feel the production came up short. Hawk is a brilliant guitarist and musician."

Have you stayed in touch with some former TRANSGRESSOR/ FIRESTORM members?
Rik: "I still stay in touch with Hawk and Brook, we bullshit on the phone at least once a week. We are still very good friends." Brook: "I talk with Rik almost weekly, but that's it."

What are you doing nowadays? It seems you're still very much into Metal…. And you didn't hesitate to flow to London to see Uli Roth for example if I'm correct…
Rik: "I did fly to London to hang out with Uli Roth, Glen Hughes and Frank Marino for a week. It was a blast, Frank Marino is a very cool it dude… it was the 'Legends Of Rock Tour" Uli and friends. I still am very much into the Metal scene, I still play and record a little in my home studio… I'm writing all kinds of new material and one day I will release some of this stuff."

Have you recorded something with the later acts that you've joined until you started SEPTER?
Hawk: "Yes I recorded IMPERIAL RAGE "Fire In The Sky" arranging and orchestrating, writing all the lyrics myself. I also record solo Classical Guitar Pieces."

SEPTER was formed back in the early 90's when you hooked up with guitarist, Paul Dailey, how did that happen? What was the goal you wanted to achieve at that point with SEPTER?


Hawk: "Paul was a former student of mine. At that time Metal was on the wane in the states and I thought it was cool to run into someone that was still into it. Apparently the Record Suits thought they'd get rid of Metal, but it's making a great comeback. Paul was also into PRIEST and MAIDEN. I thought that would work well since we had the same musical interests. Since I had worked with Jeff Kmiec in FIRESTORM it was easy to recruit him into the SEPTER project because he wasn't doing anything else at the time. Our goal was to try to get some distribution overseas because the music scene was on the wane here in the states. It was next to impossible to get any label interest here in the states, so I thought it would be better to concentrate over seas because the fans aren't easily swayed by the media as they are here in the states."

How long did it take for you guys to recruit ex- TRANSGRESSOR, FIRESTORM singer, Kevin Truell and drummer, Jeff Kmiec?
Hawk: "I've known Jeff for a long time so when I was looking for a drummer it was no problem getting him in. The more I thought about the TRANSGRESSOR material, the more fitting I thought to get Kevin into the project. Since it is difficult to find a really good Metal singer I decided to track Kevin down and ask him to sing some of the old material. I finally recruited him in 2002 and recorded the TRANSGRESSOR CD in 2003. Throuhgout the years we had various singers, but none of them came close to Kevin's ability."

Was it envisaged to use TRANSGRESSOR as band name or did you really want to come up with a new moniker?
Hawk: "Since TRANSGRESSOR was a band of the past and everyone went there separate ways I thought it was best to forge ahead with the current times. Besides I don't think we would ever get a full reunion going because people part ways and go off in different directions musically. Although there was some older material on the last SEPTER CD, there is also new material."

How about the bass player situation as you had to enlist Brent Sullivan (ex- S. XTROYES, ENERGY VAMPIRES etc), how come? Does that mean that it was that hard to find people who can play traditional Heavy Metal?
Hawk: "No, as I do a lot of the bass lines myself. I've known Brent for a long time and thought it would be cool to get him on a CD. It's always good to play on as many cds as possible to get your name out there. I thought Brent would be a kick ass choice since I've known him for a long time going back to the SLAUTER XTROYES days."

With SEPTER you have decided to write and play pure traditional Metal at a time when nu Metal and bullshit like this started to invade the world, what motivated that choice? I mean some would have took the easy way and would have followed trends…
Hawk: "Personally I think trends suck. You have to stay true to your heart, and if you do the right thing hopefully it will pay off, because the most important thing in music is to stay loyal to your fans. If you start jumping around trying different styles, you won't be able to hone your craft well because you'd spread yourself thin. So I'd rather concentrate on one thing and do it well., rather than jump on the bandwagon."

Surprisingly -and unsurprisingly at the same time- it took to the band like 12 years or so to issue your first album during 2003 under the title "Transgressor" as a self financed effort, how come it took that long? Does that mean that you were hoping to have some label interest especially since traditional Heavy Metal have received new interest again by the late '90s but at the end nothing happened so you decided to issue it by yourselves?
Hawk: "It's kind of expensive to record a CD without some financial help Also you need everyone in the band to be on the same page. Hopefully we'll get better recognition on the new CD and get some label support. We are getting some push from Hellion. Hopefully more labels will take interest over time."

This first SEPTER album features some TRANSGRESSOR originals such as "Die By The Axe", "Transgressor" etc, why did you make that -great- choice instead of just coming up with brand new material?
Hawk: "I knew we had a strong following in the past and also felt that the old material is still very powerful. When you write good strong material it is timeless. I also had faith that the TRANSGRESSOR material would stand the test of time. If you look at bands that have been around for a long time they still perform a lot of their old material live. If the music is good it will stand the test of time."

Will you have more TRANSGRESSOR material used for the upcoming second album?
Hawk: "We're opening the CD with "Hillside Strangler" which has a very classical orchestration I did myself along with "Devils Prey", "66" and "Post Mortem" also "Attack Of The Ibex" should make this a kick ass CD. Dane did a great job on the vocals!! The production is also killer."

While Brent did most of the bass work on the album, you had Matt Weaver playing on two songs who also became your full time bassplayer, what can you tell us about Matt's musical background?
Hawk: "Matt had known Paul from a previous band, Matt also used to play guitar in that project before he switched to bass. Matt was also into bands like JUDAS PRIEST and IRON MAIDEN, so it worked out rather well that he fit into this project."

Have you played live on a somewhat regular basis from the moment SEPTER started until the release of the album or was it hard to get booked by Illinois clubs?
Hawk: "We've done shows on and off throughout the years .The problem isn't getting the gigs but the people to support Metal. Unless you could get to the next level by opening for national acts a band could be stuck in the same mode for a real long time. Fortunately we are working with a few promoters that show promise to get us on some major bills."

How do you view that first album? Did it come out at the end the way you wanted it to sound like as I personally was quite impressed by the whole effort, songswise and soundwise?
Hawk: "We were working with a recording engineer that had worked with TROUBLE which turned out to be a good Metal engineer. Songwise the material was quite strong and the production was quite good. I think that this new cd is even better. The production seems even better than on the last cd, working also with a Metal engineer by the name of Craig Baker the material seems to have a lot of energy."

The material on this first effort sounds at time very MAIDEN influenced but with more power and effectiveness, would you say that it's your biggest influence at this point?
Hawk: "Definitely MAIDEN and PRIEST are still a big influence on our style along with other bands like METAL CHURCH and JAG PANZER."

So how's the album has been received so far by fans and underground press considering that traditional Heavy Metal is still a minor part of interest?
Hawk: "We are actually doing quite well especially in Germany. We also have some copies in Japan and other parts of the world."

Considering that Europe is really the territory from where the biggest interest for this music style comes from, have you managed to get some distro here like via Hellion records and other mail orders? I mean I came across your stuff by accident despite the fact that I'm heavily involved in the Metal scene and had never heard of SEPTER anywhere…
Hawk: "We're in the process of talking to Hellion. They've actually sold some copies for us. As for a record deal we're still shopping around."

Kevin was replaced during 2003 by Dane McCartney, what happened with Kevin who fitted the band style in a great way?
Hawk: "We parted because of musical differences once again. Dane is a great singer also, sounding more like Bruce (Dickinson) than Halford. Either singer would fit in SEPTER. They're both GREAT!!"

The late '90s/ 2000s saw Illinois coming with some very interesting Heavy/ Power Metal acts such as LORDS OF MEAT, SYRIS, SPIRIT WEB, MINDWARP CHAMBER, RAVENSTHORN etc, are you in good contact with that new wave of acts?
Hawk: "Actually my old keyboardist from IMPERIAL RAGE is in MINDWARP CHAMBER. I'm still good friends with SHREDDY."

You have another band going on with IMPERIAL RAGE which consisted at first of you on guitars, Ed 'Shreddy' B on keyboards, Marc 'The Machine' Malitz on bass and Ed Moravic on drums -later replaced by Joe Babiak, why did you start this band? I mean is that because you play material with I.R. that you wouldn't play as SEPTER?
Hawk: "That is exactly the reason. I was the primary writer in TRANSGRESSOR so I own all of the material. As I stated I grew as a musician getting more into Classical music, I had to expand my musical horizons. I eventually went back to school in the mid 1990's and got my degree in Classical Guitar and Music Theory from Roosevelt University in Chicago, and don't regret it one bit. It definitely expanded my musical horizons and the discipline made me a better musician."

How would you describe I.R. material?
Hawk: "IMPERIAL RAGE is more neo-Classical with the new material I'm heading in a more Progressive direction i.e. SYMPHONY X, ADAGGIO, ANGRA…."

By the time this issue will be released, a new SEPTER album will be out featuring new singer, Dane McCartney, how would you describe that new record comparing to "Transgressor"?
Hawk: "The production on this CD is even better than the last one. Dane did a kick ass job on the vocals even writing a couple of new songs for this CD. The energy level on this CD is also a few notches higher. Overall it kicks ass!!"

Are you gonna release it by yourselves again? Have you tried to approach labels such as Sonic Age, Hellion, Evil Legend and other underground labels with "Transgressor"?
Hawk: "The new CD entitled "God's Key" is hitting the plant as we speak. It's slated for release mid October, hopefully to hit Europe by early November. We are still in the process of shopping for a record deal or possible distribution deal."

Are you still in touch with former members such as Paul B., Brook, Chris (recently in the totally laughable THE CRÜE band)?
Hawk: "I haven't talked to Brook in quite some time. I talked to Mittelbrun some time last year and run into Bradlo once in a great while. KEEP THE METAL ALIVE!!!"
Rik: "Roarrrrrrrrrrrr to all the fans! Keep on shredding!"
Brook: "TRANSGRESSOR and FIRESTORM were great times in my life and amateur music career. Great times, great music and even greater friends who I'll never forget. I wish the best to all, raise my glass and RRRRROOOOOAAAAARRRRR!!!"

Laurent Ramadier



Discography:
Transgressor -Self financed/2003
The God Key -TGK Records/2006