WAR CRY

What's one of the most fabulous thing that for sure make the day of a Metal fan besides getting your hands on a fantastic Metallic recording? Well as far as I'm concerned, it's getting contacted by a musician who was part of a band that you really enjoy listening to following a feature that has been made on its former band, such was recently the case with former WAR CRY singer, Richard Kozek! And what's even more fantastic is when you find out that the person you're getting in touch with is still a Metalhead after all those years and also real down to earth -that kind of musicians get my respect. Obviously I just couldn't be in touch with Rich without asking him to be part of a new feature on that once legendary Chicago act that WAR CRY were before they sold their souls to commercial bullshit. It was also the occasion to cover another one time ripping Illinois band, BATTALION so for those like me who weren't satisfied by the previous feature done with Marty Fitgzerald and Paul Speckman, here's the real one.



So Rich, do you remember any early memories of music while growing up and what spurred you on from being a music fan to becoming a musician?
"Well, growing up on the southside of Chicago I have a ton of memories, from seeing STYX playing at a political fundraiser in my neighbourhood to seeing Muddy Waters jamming several times in the small clubs we have. My family has a ton of musicians so influences were always there. We had so many musicians, that when someone had a party at their house during the holidays…they'd have a cover charge to get in! I had an uncle who performed in the clubs doing a comedy/ singing shtick. Another uncle was an opera singer and his wife, my aunt gave voice lessons. My two cousins were heavy in the Chicago club scene back in the 60's when bands like CHICAGO and THE IDES OF MARCH were cutting their teeth and growing in popularity. The one cousin played in a band called THE ROTARY CONNECTION which featured Minnie Ripperton as singer. She was known for these high falsetto's higher than I ever heard a Rob Halford or King Diamond get. She became famous for that talent in her hit "Loving You" but she unfortunately passed away a few years back from cancer."

How did you end up being a Heavy Metal addict back in the day? Do you recall your first meeting with that music style?
"There were several influences that lead me in that direction. Probably hearing the BLUE CHEER doing "Summertime Blues" - what a heavy version that was! The first song I recorded off the radio, WLS – AM out of Chicago was THE DOORS hit "Riders On The Storm". What an eerie, heavy feel to that song. I still love their stuff. I remember listening to Jimi Hendrix, SLADE, T-REX, of course DEEP PURPLE -I'm one of those Blackmore fans. I'm also a huge fan of BLACK SABBATH, so when Ronnie James Dio joined SABBATH I was running to the record store. Probably the turning point for me musically was ALICE COOPER, KISS, JUDAS PRIEST. Plus locally signed acts THE BOYZZ and THE HOUNDS. Then the New Wave Of British Heavy Metal happened -which was one of the best things to happen to the music business. I ran out to buy my first biker leather. Being lucky enough to see IRON MAIDEN with Paul D'ianno on the Killers Tour at a club just minutes from my home was just unbelievable. I remember standing in the first row just mesmerized by (Steve) Harris and company."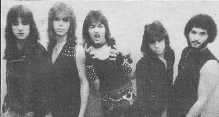 When and in which circumstances did you end up joining WAR CRY which had been formed by bassist Paul Speckman and guitarists Marty Fitzgerald/ Steve Ahlers- Joe Iaccino (drums) completing the line up?
"I was a frustrated southside Metalhead in the early 80's. I had played bass and did some lead vocals in my teens, in fact, I took lessons from Chicago native Joe Jammer, who was a guitar-tech for Jimmy Page(LED ZEPPELIN) on several tours including the 1975 World Tour. He had so many stories on the biz which made me want to find a good band even more. I never played long enough to get comfortable on bass and it felt like it was an anchor holding me down, so I decided to drop the bass and just sing since that's what I did since I was nine years old. I tried jamming with some bands on the southside of Chicago, but they were behind the times as far as influences. They were still into TED NUGENT, KISS, UFO, and ZEPPELIN while I was looking for a band into PRIEST, MAIDEN, SAXON, MÖTÖRHEAD, TYGERS OF PAN TANG, ANGEL WITCH and VENOM…the underground stuff we could only get on imports in the U.S. At the time I just loved the fast stuff - heavy and fast! Plus, since I loved writing, I wanted to join a band that wasn't afraid to do original material. By the way, when I auditioned for the band, they were practicing in a storage building in what is now the River North part of Chicago. I remember walking in and looking at these guys and thinking, 'Finally a band that has the Metal look' - especially Steve and Speckman. Then we ran through some songs. It just clicked. Oh, Joe wasn't in the band at the time it was Bill Schmidt on drums."

By the way it's a well know fact that Paul had some experience with a band named WHITE CROSS prior to this and Joe had been in a couple of bands as well, what about you, was WAR CRY your first band experience?
"I really don't know about what they did with WHITE CROSS, I wasn't in anything worth mentioning -just cutting my teeth learning the ropes through experience jamming with various local musicians. I was in a very bad band called BAD REPUTATION -we played mostly SABBATH. Randy Barron now singer of TYRANT'S REIGN played drums for the band. We did some gigs at some dives in bad-ass neighbourhoods on the southside. We also opened for THRUST once. John Bonata and I became friends by seeing each other at all the shows. Then, John was playing drums - later he became the singer."

Would it be exact to say that the main influences for WAR CRY were bands like SABBATH, JUDAS PRIEST, TYGERS OF PANTANG, ANGEL WITCH or even TWISTED SISTER considering the numerous covers from those bands that were included in your sets?
"I'd say that was true for the most part. We wanted to be part of a new wave of Chicago Heavy Metal, which we accomplished. As far as influences, I think his or her influences are much deeper than fresh music that turns your head or in this case, makes you want to headbang to it! My personal influences were RAINBOW with Blackmore and Dio. BLACK SABBATH, JUDAS PRIEST, THE DOORS, STYX and RUSH. I think owning the first ANGEL WITCH was a prerequisite to getting into all the Metal shows…(laughs)! That album is just so great! I still listen to it."

Was it easy to get those records in local shops in Chicago or were they basically import albums back then?
"For the most part it was imports. There were about three maybe four really good record shops to get heavy stuff on imports."

You gigged locally quite a bit with WAR CRY and managed to open for QUEENSRYCHE/ TWISTED SISTER at the Haymaker's in Palantine, IL, was it hard for a small outfit to get shows at the time and what do you remember from those live appearances?
"That particular show was easy to get, just a call. In fact we were recording "Forbidden Evil" at Pierce Arrow Studios when we took a break from recording, I happened to pick-up the new issue of the local free music newspaper, the Illinois Entertainer. I checked out the Haymakers ad and my jaw dropped when I saw SISTER and the RYCHE were playing there. Within seconds I got the club on the phone and they wanted us to open the show with a 30-minute set. It was easy getting gigs on the circuit if you could draw people to your shows. We were able to headline on a Tuesday night and get 200 people to the show. TWISTED SISTER was very cool. Mark "The Animal" Mendoza, came into our dressing room after our set to tell us that we did great. The ironic thing was, SISTER was reading about us in Bob Muldowney's Kick-Ass Monthly fanzine, while we were reading about them. That place was over-sold that night, you just couldn't move. Dee was great. He dedicated SISTER's heaviest number to us -"Destroyer". Later on Dee Started to give shit to owners, calling the place a shithole and calling the owners money hungry motherfuckers. The owners finally got pissed and turned on the lights to end it all. So we're hanging around and more than half the place has cleared when a steam pipe from above us burst. Steam is flying out of the pipe -just like in the movies. Looks like Uncle Dee was right -it was a hole!"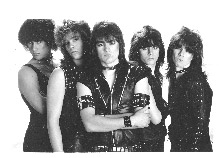 Besides this slot, did you manage to open for other big names around at the time? How did those go if so? What's your best memory out of those slots?
"Oh yeah, we played with GIRLSCHOOL, Leslie West and MOUNTAIN, and THE JOE PERRY PROJECT. The best moment was opening for JOE PERRY. The place was packed -maybe 1200 people. We had our fans there, but there were a lot of PERRY fans there. I remember being really sick that night, so I think that plus the ton of PERRY roadies with an attitude escalated my attitude. So I decided to do a Gene Simmons and spit blood just to fuck with the PERRY crowd. We were contracted to do two 45 minute sets. I thought 'Man this is gonna be a long night'. Everywhere I'd walk in the club, someone would bump into me and some kind of comment like "How long you guys playing for? I can't wait to see Joe". I was getting more pissed off and pumped up by the minute. Then the time comes to hit the stage, the lights go out and crowd is chanting, JOE! JOE! JOE! I said to myself, 'Oh fuck, we gotta shove it down there throat'. So I decided to fuck with the crowd. They're chanting JOE so I shouted over the mike, 'JOE WHO!?' Everyone shouts back at me, PERRY! I replied, "FUCK HIM!!! The crowd starts booing and yelling at me FUCK YOUUUUU!!!! At that point I slipped the blood in my mouth and spit it all over the place. Needless to say the PERRY road crew was unhappy about cleaning up the stage. But in the end we won over the crowd and seeing PERRY's crew bitch and moan about the mess, made my night (laughs). Fuck 'em!"

Let's talk now about the legendary '83 demo "Trilogy Of Terror" which featured after the usual intro, "The Executioner", "Wicked Warlock" and "Forbidden Evil", do you remember how it was recorded at the Open Reel studios in Lynwood, IL?
"It was recorded in an 8- track studio with no frills. We layed down the music tracks and I came back to finalize the vocals. The owner was friends with my uncle. The owner was in a wedding band and had a studio in his garage."

Did you spread it around a lot at the time and did that tape ever have any cover artwork? What type of response did you get for it back in the day because it seems this tape finally really received a lot interest back in mid/late '90s when traditional Metal back the 'in' thing again?
"Back then tape trading was big, but the art work and such wasn't where it is now. I remember going to the local electronics store to buy tapes and labels and I just would have them duplicated and would type the titles by hand on the label. I had a bio done by a friend who did me a favour, she was a writer for a local music magazine. We got a real positive response from all that listened to it. I think some of the things like using a harmonizer on the spoken part of "Forbidden Evil" seemed to freak people out. I think it was ahead it's time. Of course now the Death singers do that naturally…ouch!"

It was obvious with that effort that the band had adopted a very Doom approach, something you shared with other locals TROUBLE, what made you go for that kind of sound?
"Well we were all Sabbath fans and fans of newer stuff that came out at the time. I loved bands like WITCHFINDER GENERAL. We just thought that low, tuned-down guitar was really heavy."

Talking about TROUBLE, what were your relations with the other promising newer acts in the Chicago area such as THRUST, TROUBLE, TRANSGRESSOR, MAELSTROM, ZOETROPE (who were one of the earliest Metal acts from Illinois), INFRA RED, WITCHSLAYER, MAYHEM etc?
"We generally were friends with everyone. The other guys in the band were more suburban based, so they would go to parties that would help bring people into the suburban clubs. I generally tried to hit anything and everything in the city. The bassist of WITCHSLAYER, Rick Manson (who by the way actually was the FIRST guitarist for MASTER and came up with the name which no one gives him credit for) who were a good friend and a maniac who would throw parties in their practice place which was located right next to TROUBLEs place. Both were in the basement of a bar on Cicero & Belmont in Chicago. If remember right, the bar was called The Devils Inn -ironic huh? The guys from ZOETROPE would show up, plus the usual Metalheads and we'd have one helluva party!"

How did you feel seeing that Metal explosion in your area with quite a good number of outfits popping up from everywhere?
"I thought it was great. It could only help the scene to grow."

Do you remember how many originals WAR CRY had at that point because your live sets consisted mainly of covers (except for "Punish the Witches", "Wicked Warlock" or "Lucifer")? Do you remember some of the titles?
"We did have more. "Forbidden Evil" of course, "Fire And Brimstone" -a fast number we would end our shows with. There were some like "The Cry Of The Wind" which I took with me and did it with BATTALION."

How about the songwriting department? Who was responsible for those ultra heavy riffs and stuff? Did you have a big hand into the song writing yourself?
"Marty and Steve wrote the riffs and I wrote all the lyrics, with the exception of a verse of "Wicked Warlock" which was written by Dave Nielson -a former singer of the band."

What about the lyrical aspect? Was it something that had a lot of importance in your eyes or was it like something that came next to the music? It seems satanic topics were privileged….
"It was extremely important that the lyrics meant something. I take my song writing very seriously. I'm naturally a curious person -I read a lot and that helps to give me ideas for the lyrics. I also grew up watching classic horror movies plus the Hammer films and reading comics and the magazines like Famous Monsters Of Film land, Creepy and Eerie of course and others."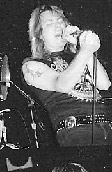 So "Forbidden Evil" ended up on Metal Massacre 4, can you tell the readers the exact story on how that tape ended up in Brian Slagel's hands and why it was that song that was chosen to appear on the album considering that it wasn't in my opinion the most impressive tune WAR CRY had written at that point?
"I had heard about all of the Chicago bands doing "M.M.4" and so I called Brian Slagel and asked if we could get a song included on there. He said sure send him a demo, well we didn't have one. So we hit the studio and recorded "Trilogy Of Terror", which I named after a story on a TV show called Night Gallery hosted by Rod Serling."

So what do you recall of that trip that you did in California to go to the U.S. Fest with members of WITCHSLAYER and possibly of THRUST as well?
"I got along great with all those guys. I hung out a lot with John Bonata from THRUST at the fest. Craig (McMahon), Jeff (Allen) and I became really good friends out there. At one point, the guys from WAR CRY were pissed off because I was hanging with WITCHSLAYER too much. But not only were they good guys, they also told me they had an appointment with Brian Slagel to give him their master of "I Don't Want To Die". They were nice enough to invite me along so I could talk to Brian as well. Those guys should thank WITCHSLAYER for being cordial or we might not have been on the album."

So according to Paul and Marty, there was apparently an option to do a full length album for Metal Blade after that "Metal Massacre" opportunity, why it never became a reality? I understand that some of the band members preferred to be on a major label than being on an underground one?
"Actually I keep hearing that and know nothing of a deal or option. I do know that when I left the band and they became TOMMI GUNN and moved to L.A., allegedly they were offered a deal from Relativity Records. What I heard was that they turned that offer down to hold out for a major label deal. According to what I heard, SHOTGUN MESSIAH got the deal. Whether this is a rumour or not I don't know."

Did that demo open some doors for the band locally at least? Were you playing live on a regular basis at that point?
"It did open some doors for interviews with Metal radio stations and club owners."

At which point did Billy "Schmidt" Nychau enter the ranks of WAR CRY? I mean was it after the demo was recorded (which is surely the case as his name wasn't mentioned in the line up)?
"Bill was in the band when I joined. Soon after, we let go of Bill because he could never get to practice."

What happened with Joe exactly? Did he join some other acts after WAR CRY?
"Joe was still in WAR CRY when I left them and remained their drummer when they became TOMMI GUNN and dropped the name WAR CRY in Chicago. That was the official transition into a party bland…CRUE Jr. I can still remember what ad looked like that announced the change. It was in the December issue of the Illinois Entertainer, which was our free music paper. The ad full page with all the guys in WAR CRY dressed like POISON blowing New Year noisemakers and wearing those pointed party hats. It said something like say goodbye to WAR CRY and hello to TOMMI GUNN…of course I'm paraphrasing."

Not long after it seems Bill lured Paul away from WAR CRY to form a short lived mouture of MASTER, and he was replaced by Vincent Fitzgerald, is that correct? What happened exactly with Paul and Bill? According to what Marty said, it seems like Bill wasn't an easy person to deal with?
"Well, Bill was an alright guy -just young. He never had cash to get to practice and after awhile if you can't practice you can't get better. It just got old. But to be fair, we should have got a practice right in the city like every other band. It would have made more sense, but that wouldn't have been convenient for Marty and the boys. Hell, I was travelling over an hour each way to practice. As far as Bill and Paul, my guess is when VENOM came out with the first album and then the great follow-up "Black Metal", it just made such an impact on the scene. I think Bill and Paul heard it and just found their style. Who didn't love "Black Metal"? I was partying with Rick Manson, bassist for WITCHSLAYER one time and we're listening and headbanging to VENOM and we started to say it wasn't fast enough. Our adrenalin was pumping so we played the album at 45 instead of 33 just to hear it faster. You should hear Cronos at 45…whew!!! Talk about whiplash!"

Have you stayed in touch with those guys after they left or at least checked out what they did later on with MASTER, ABOMINATION and DIAMOND REXX more recently for Bill?
"Not really. With the exception of going to see Paul and Bill as MASTER. I do have people write me and keep me updated on Paul and all he has accomplished. Last time I spoke to him was when I was putting out Subculture Magazine. Paul called, interested in getting on "Culture Shock", a compilation cd I was putting out."

How about Paul? I mean some person will probably spit on me as I ask this, but what type of individual was he back in the day considering that he has became a larger than life type of person over the years which probably do him more harm than anything else even if the guy has proven that he could come up with awesome shit back in the day?
"Paul hasn't changed in my opinion. He was always larger than life. He always thought very highly of himself. Paul is Paul's biggest fan! But you have to give him credit, he's one helluva performer and bassist. He stays on track. He is NOT a poser! That's for sure. By the way, he cooked me one helluva omelette after partying one night…Paul will love that. OK, it was the heaviest omelette I ever had!"

Who exactly replaced Bill on the drums by the way?
"Joe Iacinno."

So the band continued with that revamped line up but much to everybody surprise turned away from being an ultra heavy SABBATH influenced act onto a commercial/ wimpy band? What happened at this point? I mean how such a big change could happen for an underground outfit?
"That happened after the L.A. scene got popular. When were in L.A. for the US Festival, I could see the club scene and Sunset Blvd. had a big influence on Marty."

The band recorded during 1984 a new demo featuring "In For the Kill", "Shout It Out", Out For Blood" and "Waiting for the Night" featuring that new style, what can you tell to the readers regarding that demo? Would you say that you were a lot more prepared this time than for the previous?
"Some members were prepared and comfortable others weren't. I wasn't prepared at all. The way the songs were structured was not a compliment to my singing style and I was taking voice lessons at the time. I never claimed to have the best voice, but I am one heck of performer that gives 200%. But I was not happy with the quality of my singing on that demo, I'm not a pop singer and it shows. I think when I left they had Vince record all the vocal tracks again."

How was it received as a whole? I mean the local crowds must have been surprised to say the least to see WAR CRY evolving in such territories…
"I think I did one show with the new WAR CRY. We played with TROUBLE and ZOETROPE at the Thirsty Whale. All I remember was the crowd was happier with the old material. "Forbidden Evil" got a loud response."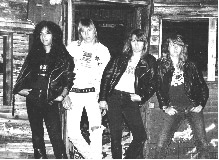 How come that you guys never got any demo reviews, articles, interviews at least internationally in fanzines because maybe with the exception of Midwest Militia, I've never seen anything on you guys- and I was around at the time? Does that mean that you weren't really aware of the importance of the underground scene with the fanzine/ tape trading network becoming a major force at the time?
"I was very aware of the importance of the underground, I traded tapes like everyone else and spent a fortune buying all the magazines and fanzines -I still have them all. But you have to understand, I did a lot of work for this band, from doing the set-lists, making stage props, getting us gigs, getting us on "M.M.4", writing lyrics…by this second tape I was burnt out and losing interest in the band. When you do all this stuff and people don't appreciate it, after awhile you start to say fuck it!"

So it seems that the band parted ways with you after this for musical/ personal differences it seems, Vincent took over the vocal spot and ex-WITCHSLAYER bassist, Pat Ryan was added, so what happened exactly?
"I simply got tired of doing all the marketing, singing, and bullshitting for a band that was going commercial."

Not only did WAR CRY appear on "Metal Massacre IV" but the band also had a spot on the "Chicago Metal Works Vol. I" compilation LP on Silver Fin Records with "Hot Rocker" which was released in '86, I doubt you were part of this but…
"No I wasn't part of that -but could have done the album solo…you pay to be on it."

During the last ten years or so, WAR CRY have expanded their following with that '83 demo entering the realm of one of the heaviest tapes ever done, and some tiny record labels would be interested in releasing it with maybe some other studio material from the same period which maybe exists, what do you think of that idea and who would be the person to be approached to see that becoming a reality? According to Mr Speckman it seems the original tapes were recorded over in the original studio years ago but there have been talks to re-record the stuff with today's technology as well…
"I can't see us doing that, but I can tell you that old fans will go crazy when they hear the recordings I'm doing now for a project called ERRE (pronounced Eerie) with former DEMENTIA guitar extraordinaire, Brian Ericson. We're working on the recordings at Brian's studio. We'll have enough recorded for release by the end of the year. We're hoping to get worldwide distribution in early 2006. You'll be able to download a free three song sampler by the holidays by going to www.erre.us or www.forbiddenevil.com ."

How do you feel when you hear that WAR CRY is often cited in the same league as early TROUBLE, PAGAN ALTAR, PENTAGRAM (VA), and other Doom gods?
"I'm very honoured and disappointed the band didn't stick to its roots. That will change with ERRE, wait and see."

Have you stayed in touch with the former WAR CRY members at one point over the years between Paul who stayed locally, Steve but also Marty despite he had moved to L.A. to join that glam band known as TOMMI GUNN?
"No I haven't stayed in touch. By the way they were TOMMI GUNN in Chicago. TOMMI GUNN was WAR CRY, they changed the name and the whole band sans Joe moved to L.A."

The most surprising thing is that Marty along with Paul apparently had WAR CRY going on again around 1997/1998 back in L.A. and made a demo apparently using a sound closer to the original days, were you aware of this?
"No I wasn't."

So following that whole WAR CRY fall out, you joined BATTALION, what can you tell us about that local demo act?
"When I left I started to get bored so I started working on some new material with guitarist J. Louderman. Soon after we got Gabriel Anthony, probably the best drummer in Chicago join the band. Gabe came from TYRANT'S REIGN. Rounding things out was B.R.A.T., guitarist from UZI."

Did you manage to play a lot with BATTALION live and stuff? Were you offered a deal or at least a compilation spot at one point?
"No we all just kept in practice and in shape. BATTALION had become an interim band for everyone involved."

Have you manage to record something with that act as I've never seen that band ,name mentioned anywhere back in the day?
"We recorded one demo called "Deafcon 4" which was not pushed. Now that I listen to it, it was kind of before our time considering what's happening now with the war on terrorism and all."

How was it recorded?
"It was recorded in a very small studio in very little time."

Was it shopped around?
"No not at all. The whole thing was a complete fluke. BATTALION was made up of several musicians in between bands. I started the whole thing when I wanted to start writing again so I hooked up with guitarist, Jay Loudman. We started writing and then got together with former TYRANT'S REIGN drummer, Gabriel Anthony and then B.R.A.T., who later became the guitarist of UZI. We would jam to stay in shape and keep our skills sharp. We never planned much...hell we never had a bassist! By the time we started sending out some tapes one by one, everyone started finding bands...and then there were none."

I mean the stuff on it is just excellent Metal and should have been what WAR CRY should have done if they wanted to distant themselves from the SABBATH approach instead of the '84 demo!
"I agree. I consider the second WAR CRY demo the beginning of the end - and I wrote the lyrics!"



With BATALLION you had a song named "Reign Of Terror" which ended up used later by TYRANT'S REIGN, how did that happen? Were you extremely close to those guys?
"I wrote that with Gabe. The tempo is different on their version. I've jammed with some at one time or another. Wait until the ERRE CD comes out -we have killer version of that song we've done."

How would you compare the BATTALION days to the WAR CRY days?
"BATTALION was like a job or being in the army…we constantly tested each others musicianship and practiced our asses off. WAR CRY was like going to prom -you had to be cool looking for just practice because practice was what happened before hanging out and partying. Each practice, Paul would measure the length of our hair (laughs)! I'm kidding of course."

So how the whole BATTALION thing ended up? Did the band break up at the end or did you leave them as you were involved with another local act called DORIAN GRAY right after BATTALION?
"We all found bands about the same time. Sounds terrible, but BATTALION was a place to stay in shape…like a boxer uses the gym to get to the fight."

So how can you resume D. GRAY story as a whole?
"DORIAN GRAY was an all original band. They offered the singing gig to me, because like me they were huge fans of Ritchie Blackmore and Ronnie James Dio -our interests seemed to jell. So we wrote songs and practiced quite a lot. Just when things started to be going pretty well when a real ironic thing happened, this was like an episode from The Twilight Zone. My bassist, Kelley Black, calls me up to say our guitarist, who started the band, met some chick who he's nuts for, and he's decided to become a reborn Christian!?? HUH? So I get to practice and turns out to be this chick that was at every WAR CRY show -basically a groupie with stalker twist! Sounds good huh? Anyway, she moved to the west coast while I was in WAR CRY and she would call me long distance just to hear me say hello, then she just breathe heavy. Now that's one twisted sister! No offence to Dee & Co. Needless to say we dropped the guitarist and moved practice temporarily to my place. We got another guitarist and slight spelling change to DORIAN GREY. After several guitarists we settled on K.J. and did pretty well on the Chicago scene, Milwaukee, and Minneapolis. We also had a song on the Foundations Forum CD, this was an industry event put on by Concrete Marketing. Things were going good but there was never that feeling like WAR CRY. Until now with Brian and ERRE…finally!"

I remember seeing a review of the D. GREY demo in Metal Forces and the reviewer stated that you were an ex-T. GUNN member (!!) how come?
"Probably got confused. That would been the editor...I can't remember his name. Very cool guy though."

Do you recall that particular stupid mistake?
"No I really don't recall that, but...it's a complete honour...(laughs)! Really though, people make mistakes, that's life. How about the mistake on "M.M.4."? They fucked-up Paul's name and put Phil. We could have had Phil and the Masters. I'm kidding of course."

What can you tell us about that particular demo? The music style was very different from the likes of WAR CRY/ BATTALION from what I heard/ read…
"DORIAN GREY was more of a Rock/ Metal band in the beginning. It started off as a classic band heavily influenced by DEEP PURPLE, QUEEN, RAINBOW, DIO. The band had a lot of talent and class. It was a definite change and vocally quite a challenge."

According to what you told me, you quit singing after this, what led you to that choice? Did you have lost hope in the Metal scene at that point somewhat?
"Mainly I had nodes or blisters on my vocal chords from singing so long. I took medicinal voice lessons from vocal guru, Sheryl Rak. If it wasn't for her I wouldn't have made as long as I did. Truth be told, the scene was starting to suck. Too many Glam bands and Grunge bands with tribute bands filling out the rest. Just real shitty music."

Still you've managed to stay involved in the scene as you became the manager for a local band called DEMENTIA and stuff, how was the Chicago scene at that point? What do you recall from it because back in the late '80s it was nothing comparable to what it had once been correct?
"That's right. Some club owners started to become cheap and rip you off. I decided to manage two bands because I handled the business in WAR CRY and most bands I was in and I thought these two bands could make it in their respective styles. DEMENTIA already had a deal with Tombstone Records, and EPICA was a bilingual Spanish Rock band. Both bands had the usual problems -personnel, etc. I got interest from Univision for EPICA.. Univision aka Galavision is the largest Hispanic entertainment corporation in the world. But sad to say the band didn't have the work ethic and we parted ways. Then with DEMENTIA it was one guy doing all the work- which never lasts long, hence WAR CRY and I. That guy was Brian Ericson, the guy was like me a work horse. After that break-up I tried throwing a few ideas at Brian, but they just didn't feel right. So Brian moved to the west coast and my wife, Kim and I started the magazine Subculture covering headliners as well as the underground. It did well for about five years then we sold it and it lasted a month. Unreal."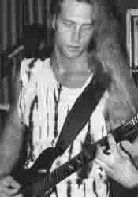 Have you been often asked about your involvement in WAR CRY over the years when you go out in clubs or whatever?
"Sure. I think the band was very appreciated by the underground and I'm honoured by that fact. The tape traders and concert go-ers, and people that go out of their way to see a band, wear their shirts and badges are what makes this whole Metal machine run! If it wasn't for the underground there wouldn't be all the styles of Metal happening. Long live 'em! If you're interested, in getting in touch, I can be reached at richrozek@forbiddenevil.com."

Recently one of the biggest Metal figure for the Illinois scene, drummer/ vocalist, Barry Stern (ex- ZOETROPE, TROUBLE, CATHEDRAL…) passed away, what would you say regarding this?
"I think it was said best by the numbers of people that signed his guest book in the obituary section of our newspaper the Chicago Tribune. Barry was a friend of mine. Barry Stern was the most honest musician in Chicago. You'd never hear him dies other bands or musicians and he was always the first person to hit the room and say hi to everyone. I can't remember when I first met him, it was at some show I'm sure. But I do remember one night at the Metro in Chicago, Barry was working the crowd selling and promoting their demo "Metal Log 2" and I was doing the same for "Trilogy Of Terror". Suddenly Barry came up to me to say hi and we realized what we were both doing and Barry said to me, "Wanna trade tapes?, we both busted out laughing and went and had a beer. When I heard of the rumours that Barry had passed away I had hoped it wasn't true. When I found out it was true I was devastated -I just couldn't believe it. We lost one of the most talented, hard working people in the business. Barry had a great sense of humour. I remember partying with him at WITCHSLAYERs/ TROUBLEs practice place. Barry walks in with the usual 8 ounce Budweiser shooters. We started singing the songs from "M.M.4". When we got to "Speed Zone", Barry starts singing, "In the cheese zone got my cheddar to the floor!", we all laughed our asses off. From then on, at every ZOETROPE show it became a ritual to sing those words when they played "Speed Zone". Barry would lose it everytime. I think I'd like to dedicate our first release to the memory and talent of Barry Stern. He'll be missed…hell, he already is."

With the help of ex-DEMENTIA guitarist, Brian Ericson, you're in the process of putting together a Metal compilation for your non profit organization, Pforce, can you tell us more about this project?
"Yeah, I'm actually doing two things. The first is ERRE with Brian and I bringing back that WAR CRY sound. I've had fifteen years of resting my throat and it feels great to be writing and singing again. These ol' pipes still have some fire in 'em. It's time roar again! We'll have a three maybe four song sampler available on www.erre.us. The first single being "The Blind Leading The Blind". This stuff is Heavy Doom Metal at it's best. Brian is a genius. He kills on the guitar, plus he's engineering and writing material. We're having a blast doing these songs! We will not disappoint WAR CRY fans out there. It's strange how we came up with the name. My last name being Rozek and Brian's Ericson. So I thought at first RE: as in regarding, which Brian liked. Then he thought ER as in emergency room was cool. Then it came to me, ERRE, which is perfect because that's what this music is gonna be fuckin' Eerie! Second, which very important to me, even more so because it's personal. I've started a non-for-profit organization called PFORCE! Which stands for Parkinson's Foundation of Out Reach and Encouragement? About two years I discovered I have Parkinson's disease. Some might have heard of this disease because of actor, Michael J. Fox. It's a debilitating neurological disease that as it progresses you slowly lose control of your muscles among other things. For now if you'd like to find out more you can go to www.michaeljfox.org. But I've decided to be more pro-active than a lot of foundations. Instead of just sympathy I want to motivate those with PD. We'll have a website and newsletter with an entertainment/ news format. It's tough dealing with the disease, but you can't give up or it'll progress -you have fight it! Both physically and mentally. So instead of the usual sad stories we'll have uplifting stories as well as concert and record reviews. Plus a discussion board that keeps you in a positive mental attitude. All donations will go towards helping the PD patient out directly with things they need, music, motivational cds, information, contacts and support. Our first project is putting out a compilation CD with bands including a song for the release as well as donating the royalties made on the Pforce! cd. If there are Metalheads out there with PD please contact us. We're also looking for writers, contributors of any kind, and sponsors of course. It would great to get support from the Metal community and industry. Labels that I supported through Subculture Magazine, like Metal Blade, Century Media, Roadrunner, Nuclear Blast, Noise, among other friends of the Metal community like the media…I need to spread the word! I can be contacted at info@pforce.us or Pforce!- 351 E. 81st. Avenue, #366- Merrillville, Indiana 46310- USA."

Well Rich, how would you like to end up that totally unexpected feature -as far as I'm concerned? Any last comments for Snakepit readers?
"I'd like to thank all those out there for allowing me the time to talk on and on -something I'm very good at (laughs)! Thanks for supporting me in WAR CRY and I hope I can earn the same support for ERRE. This is the real thing. This takes off where "Trilogy Of Terror" ended. Stay in touch -I'd love to hear from you, and so we do stay in touch I'll put you on our e-mailing list. I promise you, this is what you should have got from WAR CRY. Expect some surprises…Oh a big thank you to you Laurent -what you do helps keep the underground alive!"

Still when everybody thought that the WAR CRY thing was over and buried, recent news announces that Marty has reformed WAR CRY and has already made available to the public thru the internet some newer recordings -which are not so surprisingly- described by Metalheads around as 'total crap', what's your feelings towards this?
"I don't like it of course, and I can't comment because I haven't heard any of it. So I'd say, let the fans be the judge and jury. Using the name WAR CRY with the poser look they still have after having done that whole T. GUNN bullshit and in the end just ruining again that once legendary name (WAR CRY). Listen, I believe in freedom of speech and I hate censorship. The true Metal fans know when someone believes in what they do or if they're playing the flavour of the day just to get signed. Is it wrong for them to go from WAR CRY to TOMMI GUNN to KELLY'S HERO'S to TOMMI GUNN and again back to WAR CRY? Let the fans make the call. But don't lose hope!"

Also according to a post on a cool Metal board (Miskatonic), it looks like Speckman has agreed to sign a deal with Rise Above Records to release the first WAR CRY demo, what's your word on this?
"Well, again... look who we're talking about. First, I give Paul all the credit and respect in the world for all he's done through the years. He's made a real name for himself. This is why I wonder, why do something like that? Especially with all he's accomplished. You make the call? But I can tell you this, Paul has upset me with all these lies in the press about me stealing the royalties from "M.M.4." and not telling them about an album deal. First off, I never saw a dime from "M.M.4." and never complained about it because I left the band. Hell, I'm due the largest part of the royalties since I wrote the lyrics, but you don't hear me screaming about the money. I have a very comfortable life and I do things as a challenge or because it's the right thing to do. I don't do it for the money. As far as an album deal -I don't know anything about it. I would have loved to be on an album. Again, why should Paul constantly bring this up -HE WAS OUTTA THE BAND! If there was a album deal he wouldn't have been the bassist, Vince Fitzgerald (Kelly) would have. As far as Speckmann releasing the demo, I kinda doubt it. But whatever label does, they should first go to The Library of Congress at www.copyright.gov and do a search of say "Forbidden Evil", up will pop up the info that states Steve Ahlers music and my name for lyrics. In fact, look up every song on the first two demos and you won't see Paul's name once. Every copyright lists me as doing all the lyrics. But it's my job to worry about it. That's why you have lawyers, and mine is excellent. His clients are many names you'd recognize like MUDVAYNE. So ask yourself, why is saying and trying to do all of this? Shouldn't he be working on the next MASTER album? We could talk or even debate the subject all night, but why waste our time MASTER debating! So anyway, to finish the interview I'd to once again that Laurent for giving me the chance to do this so all the fans know the reality behind WAR CRY. I appreciate all of your support through the years. By the way, don't worry about ruining the name WAR CRY -real fans know whose a wanker and poser and whose the real deal. Oh, one last thing...remember by new band ERRE? We been talked about on some of the Metal forums. We're currently talking with several labels about a official release in 2006 with some freebies online before that. By the way, we've decided to call ourselves... WAR CRY.US and the first album release will be called "Eerie Lullaby's". For more info keep checking www.warcry.us which should be up and running very soon and don't forget to keep in touch at rich@warcry.us . Thanks to all of you. I promise we will NOT disappoint!!!"