Here's the translation of the review, it's not 100% the same as in Finnish, because it was a bit hard to translate some things straightly to English - I had to modify words a bit. The second chapter was the hardest part, hope you understand it, too. (If not, please note, I'll go then to my English teacher and ask help for it...)
It was very hard to translate some finnish special things to English, my dictionaries didn't have any suggestions for the translation so I had to make it on my own... (Sorry for the Soundi Magazine for translating the review without asking 'em first.) Anyway, here it is: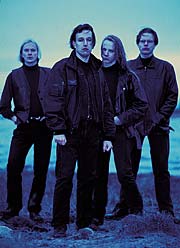 "I had to admit that I feel dizzy. I guess I'm not the only one, there's sure same feelings in Italy, Germany, Spain and Japan like here in Finland. Sonata Arctica may explode to a bigger phenomenom than anyone even dares to dream for now.
When there are really talented people among all stuffy retro feelings and mass production of every kinds of heavy, the effects are shaking like a eclipse of the Sun in the Middle Ages. Sonata Arctica is not just a find, that kind of skill and style are striking like a lightning even from the bottom of the ditch.
The words 'mature' and 'promising' are needless, Sonata Arctica belongs to the group of champions even from the very beginning. I feel a bit confused in front of Ecliptica's turbocharged melodic and delightly easily played power metal. The playing is rich and triflingly light, the structures are ingenious. The tempo is being changed amazingly gently.
The good example of Stratovarius can be heared from the record as Yngie Malmsteen's valuable legacy from the time near album 'Trilogy'. 'UnOpened' was chosen to be released as a single but all of the songs would have been as fine as the chosen one.
Sonata Arctica is even now harder than for example Helloween, Gamma Ray and Rhapsody. Hell of a starting point for the guys from Kemi aging about twenty." 10/10 (C) Antti Mattila / Soundi Magazine 1999