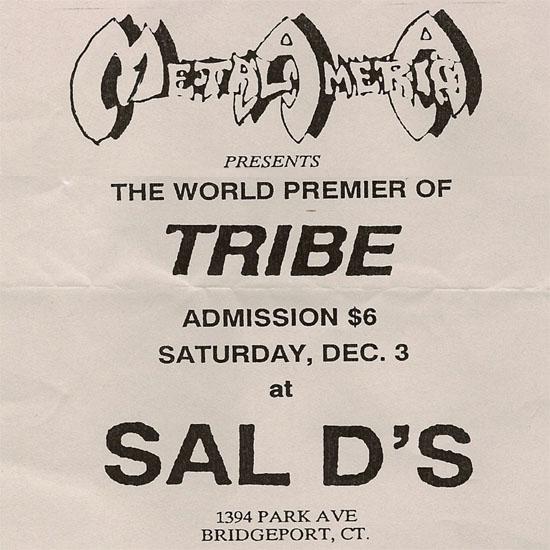 There has been tremendous interest in the Tribe demo, please realize that these songs have just recently been uncovered and not fully restored. The members of Tribe truly appreciate the interest and plans are being made for an official release with the restored demo in its entirety. Watch this page for details. Also see below that new High Ridge Crew audio clips are available including one full song. There is new word of a recent find of High Ridge Crew songs with vocals as well!!! Watch this site for new audio samples...
"TRIBE" from Stamford, CT recorded a four song demo in 1987 that included the songs "Twilight Soldier", "Tribe", "Blood Coup" and "Black Water / Crystal Ice". All the material is pure and true 80s epic metal at its finast. There are also numerous 4 track recordings hoping to be restored.
In addition to the Tribe tapes that were found there are also at least 20 pre-Tribe recordings that date back as early as 1985 from the band "HIGH RIDGE CREW". The High Ridge Crew recordings are all instrumentals. True instrumentals, NOT songs without vocals. Think Iron Maidens Transylvania and Genghis Kahn mixed with bits of Black Sabbath, Rush, Cirith Ungol and Manilla Road! High Ridge Crew was the band to eventually evolve into Tribe.
2 Members of Tribe/High Ridge Crew (Matt guitars and Paul bass) are now active
Upwards of Endtime
with Matt actually having his first band experience with Tony Truglio of
Liege Lord
who also is now a member of
Upwards of Entime
. High Ridge Crew changed its name to Tribe after recruiting singer Jay. After Tribe disbanded Paul and Phil (of
Upwards of Endtime
) worked in a band together for a couple years, songs from that time can be heard on the upcoming 3rd
Upwards of Endtime
CD. The song "The Gathering" from
Upwards of Endtimes
2nd CD was written by Paul and Phil at that time. After Paul and Phil split, Matt and Phil hooked up for a time recording a 4 song demo that is also being re-recorded for the new
Upwards of Endtime
CD along with several new songs. Matt and Phil parted when Matt moved to Vermont only to reunite in
Upwards of Endtime
. When Rich, Scott and Jeff left
Upwards of Endtime
Phil and Matt were able to replace them with Paul (bass, Tribe/High Ridge) and Tony (guitar,
Liege Lord
) and Jim (drums
Vestal Claret
).
Tony, Matt, Paul and Phil have been friends since childhood and have all played together at one time or another and now all reunited in
Upwards of Endtime
.
Here are some samples from the Tribe demo:
TWILIGHT SOLDIER
TRIBE
BLOOD COUP
BLACK WATER / CRYSTAL ICE
Here is some samples and a complete song by High Ridge Crew. NOTE: At time of upload the webmaster does not have some song titles. These titles will be posted soon: