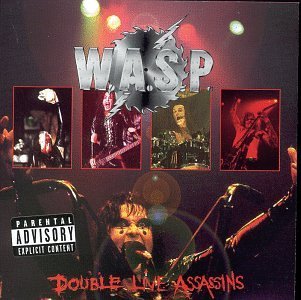 CD 1
1. The Medley: On Your Knees, I Donīt Need No Doctor, Hellion, Chainsaw Charlie
2. Wild Child
3. Animal (Fuck Like A Beast)
4) L.O.V.E. Machine
5) Killahead
6) I Wanna Be Somebody
7) U
8) The Real Me
9) Kill Your Pretty Face
10) The Horror
CD 2

1) Blind In Texas
2) The Headless Children
3) The Idol
4) Crimson Idol Medley
5) Little Death
6) Mean Man / Rock īn Roll To Death



Originally released in 1998, on CMC International


Blackie Lawless: Lead Vocals and Rhythm Guitar
Chris Holmes: Lead and Rhythm Guitars
Mike Duda: Bass Guitars, Vocals
Stet Howland: Drums, Vocals










There once was time when the only way to capture a band's power was through live in-concert recordings. The technology of studio recordings just didn't do certain bands justice. On the other hand, their live recordings were nothing short of rock n' roll masterpieces and live albums by KISS, Thin Lizzy, Iron Maiden and Judas Priest all come to mind. Then the studio technology caught up and the anticipation surrounding the release of a live album subsided. That is until now...

"DOUBLE LIVE ASSASSINS", the 9th release by W.A.S.P., is everything a live album was meant to be. Powerful, sleazy, sweaty and exciting, this is truly a live album that was meant to be played loud. Recorded all over the world during W.A.S.P.'s 1997 Kill Fuck Die tour, "DOUBLE LIVE ASSASSINS" captures all the excitement and electricity that is a W.A.S.P. concert. Lead vocalist/rhythm guitarist Blackie Lawless, lead guitarist Chris Holmes, bassist Mike Duda, and drummer Stet Howland, have created a live record that rightfully belongs alongside Thin Lizzy's "Live & Dangerous", Kiss' "Alive", or AC/DC's "If You Want Blood You've Got It".

"DOUBLE LIVE ASSASSINS" captures plenty of magical moments while packing a mean punch. Produced by Blackie Lawless, this 2-CD 100 minute plus set is a must-have for anyone who appreciates the spirit and danger of no-holds-barred rock n' roll. From the opening number to the final flery chords, "DOUBLE LIVE ASSASSINS" emdbodies the overdrive energy and sonic devastation of like only a live album can.

Just like every night during the KFD tour, "DOUBLE LIVE ASSASSINS" opens with a medley of "On Your Knees" into "I Don't Need No Doctor" into "Hellion" into "Chainsaw Charlie." The track listing includes "Wild Child", "Animal", "L.O.V.E. Machine", "Killahead", "I Wanna Be Somebody", "U", "The Real Me", "Kill Your Pretty Face", "The Horror", "Blind In Texas", "The Headless Children", "The Idol", "Chrimson Idol Medley", "Little Death", "Mean Man", and "Rock & Roll To Death."

"I listen to this record and is it any better that what we've done in terms of W.A.S.P. studio recordings? It's not better but it's different," explains Blackie. "There are times when bands capture something special. You can't always do that. You'll hear the same band perform the same show somewhere else and the magic is just not there. You're just looking for a moment to capture and you just hope the tape machines are rolling when it occurs. I think we got pretty lucky. I mean there's a lot of mistakes on this record but that's part of it's charm. When we were getting ready to do this, we aimed to assemble the definitive edition of what our body of work has been until now. We wanted to present it in a way that was uniform from the very beginning to where we are now. The material was pretty carefully chosen so it would have the proper vibe all the way through."

When asked to compare "DOUBLE LIVE ASSASSINS" to W.A.S.P.'s previous live effort, "Live...In The Raw", Blackie had this to say: "The first one sucked... the two biggest differences is the approach to recording it and the sound. The first one was done in an arena environment and it was intended to sound as such. Because of that the sound rolls around and it echoes. "DOUBLE LIVE ASSASSINS", because it was being recorded in smaller venues, we took the exact opposite approach. We wanted it to sound as if W.A.S.P. were inside your garage. There's no reverb, nothing like that. As a matter of fact, I went back and I looked back at The Who's "Live At Leeds" and it was recorded in a venue with about four or five hundred people. Everything is up in your face. That was the same approach we used with "DOUBLE LIVE ASSASSINS" and the results are great because of it."

From their earliest days through to the present, W.A.S.P. have carved out their proper place among rock n' roll's strongest live acts. "DOUBLE LIVE ASSASSINS" is recorded evidence that W.A.S.P.'s reputation as one of the world's strongest live acts is indeed justified. With a massive tour planned for the summer, it's only a matter of time before W.A.S.P. are back out on the road doing what they do best - turning up the volume and taking no prisoners.