Here you can find up to date, rumor free news, and if nothing else is mentioned the news will be taken directly from Helloweens official homepage or the newsletter from Tony Webster, webmaster of the official site.
January 30th, 2002
Here we go! I have the tracklisting to "Treasure Chest", the new "Best of"-album!
CD 1
1. Mr. Torture
2. I Can
3. Power
4. Where The Rain Grows
5. Eagle Fly Free
6. Future World
7. Metal Invaders
8. Murderer
9. Starlight
10. How Many Tears
11. Ride The Sky
12. Halloween
13. A Little Time
14. A Tale That Wasn't Right
15. I Want Out
CD 2
1. Keeper of The Seven Keys
2. Dr. Stein
3. The Chance
4. Windmill
5. Sole Survivor
6. Perfect Gentleman
7. In The Middle of a Heartbeat
8. Kings Will Be Kings
9. Time Of The Oath
10. Forever & One
11. Midnight Sun
12. Mr. Ego
13. Immortal
14. Mirror Mirror
January 29th, 2002
According to Amazon.co.uk Helloweens "Best of"-album is going to be released on 18 March, 2002. The Label is "Metal Is". This is not yet confirmed on Helloweens official site, and I can't find any info about it on the site of Metal Is either, but Amazon is already taking orders for the album, so I guess they're pretty sure of the facts.
December 31st, 2001
Helloween will soon be releasing a "Best of"-album. This will be a double album which will be out in January or the end of this year. I just can't wait!
The band also plans on going into the studio around the spring or summer for their next album.
HAPPY NEW YEAR EVERYONE!!!
September 7th, 2001
Finally it's official! The new drummer will be Mark Cross, former drummer in Metalium! The name of the new guitarr-player will be announced in the near future, so check back soon.
Mark Cross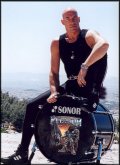 September 3rd, 2001
Uli Kusch (drums) and Roland Grapow (guitarr) has left Helloween!!! The band are currently looking for new members. According to the interviews on Helloweens official homepage, the rest of the band wanted all the members to be totally focused on Helloween, and since Roland and Uli had some kind of side project going on they weren't focused enough.
Roland says in the interview that this came as a big surprise for him. He was in Los Angeles when the news got out, and he heard about it from his wife. Still, he says, there's no hard feelings between him and the band, and he and Uli is now going to start their own power metal band.
According to Weikath, Helloween has started the search for new band members now, and as soon as that is done, they'll start the work on a new album, and will probably enter the studio within half a year. They might also release a "Best of"-record soon. Check back in a while, I'll try to find more info about this.
August 6th, 2001
According to the official Helloween site, the band will enter the studio earliest around March 2002. I guess that means we can look forward to see a new Helloween album in the stores at the end of next year! I hope you metalheads in the USA will get the album too this time!
June 21st, 2001
Well, since I've finally updated I figured I'll have to tell you where and when Helloween has played this spring and where they will be during the rest of the summer. Here's the complete list:
FEBRUARY
24 South Korea, Seoul, Triport Hall TBC
28 Taiwan, Taipei, Sun Yet-Sen Memorial Hall
MARCH
2 JAP, Osaka, Koseinenkin
3 JAP, Fukuoka, Melparque Hall
5 JAP, Nagoya, Koseinenkin
6 JAP, Sendai, Zepp
8 Japan, Tokyo, Sun Plaza
9 Japan, Tokyo, Sun Plaza
10 Japan, Tokyo, On Air East
17 UK, Dudley, JB's
18 UK, London, LA2
19 UK, Nottingham, Rock City
21 France, Paris, Elysee Monmatre
23 Spain, Barcelona, Celebrate
24 Spain, Bergera, Jam
25 Spain, Aviles, Quattro
27 Spain, Madrid, La Riviera
28 Spain, Zaragoza, Cannal 44
29 Spain, Valencia, Republica
31 Italy, Milan, Rolling Stone
APRIL
1 Italy, Florence, Tenax
2 Switzerland, Pratteln, Konzertfabrik Z7
4 Germany, Bochum, Zeche
5 Germany, Cologne, Live Music Hall
6 Germany, Dorndorf, Kulturhaus
8 Germany, Hamburg, Docks
10 Sweden, Gothenburg, Karen
11 Sweden, Stockholm, Circus
12 Sweden, Malmo, Kulturbolaget
14 Germany, Berlin, Musichall
15 Netherlands, Amsterdam, Melkweg
16 Germany, Stuttgart, Longhorn
17 Belgium, Vosselaar, Biebob
MAY
23 Russia, St. Petersburg
25 Russia, Moscow
JUNE
9 Sweden, Karlshamn: Sweden Rock Festival
14 Chile, Santiago: Estaido Chile
15 Aires, Buenos: Elteatro Monumental
16 Brazil, Sao Paolo: Via Funchal
17 Brazil, Ginasio do Conunto Esportivo de Catanduva
20 Brazil, Porto Alergre: Bar Opiniao
21 Brazil, Curitiba: Studio 1250
22 Brazil, Rio De Janeiro: Garden Hall
24 Columbia, Medllin: Coliseo Juan Pablo II
25 Columbia, Bogota: Palacio de los Deportes
27 Ecuador, Quito: Agora
29 Mexico, Monterrey: La Escena
30 Mexico City, Df: Salon 21
JULY
1 Mexico, Chihuahua, Drive In la Herradura
AUGUST
3 Germany, Wacken Open Air Festival
12 Spain, Meoroc Festival
January 18th, 2001
Alright, I hate to brake those news, but according to the Official Helloween site the European tour has been cancelled, and will be resceduled later. Uli Kusch has got some trouble with his right elbow, and was told by the doctor to take 3-4 weeks off from playing. The Asian tour will still be played though. I don't know how "official" this is.....as I said it's on the Official Helloween site, but the Swedish booking-agents doesn't know anything about this yet. As soon as I know anything about this you'll find the info here.
Below you'll find the tourdates for the Asian tour, I've taken away the European dates until I know when it will be.
January 6th, 2001
Some tourdates for next year has been confirmed with Blaze in the opening act:

| | | | | |
| --- | --- | --- | --- | --- |
| February 24th | | Seoul, Triport Hall TBC | | South Korea |
| February 27th | | Taipei | | Taiwan |
| March 2nd | | Osaka, Koseinenkin | | Japan |
| March 3rd | | Fukuoka, Melparque Hall | | Japan |
| March 5th | | Nagoya, Koseinenkin | | Japan |
| March 6th | | Sendai, Zepp | | Japan |
| March 8th | | Tokyo, Sun Plaza | | Japan |
| March 9th | | Tokyo, Sun Plaza | | Japan |
| March 10th | | Tokyo, On Air East | | Japan |
November 20th, 2000
A Helloween tribute album has recently been released. It's called Keepers of Jericho, and here's the playlist:
RHAPSODY - Guardians
SONATA ARCTICA - I Want Out
HEAVEN'S GATE - A Little Time
METALIUM - Ride The Sky
LUCA TURILLI - I'm Alive
MORIFADE - Judas
VISION DIVINE - Eagle Fly Free
BRAINSTORM - Savage
LABYRINTH - Future World
CYDONIA - Save Us
SQUEALER - Victim Of Fate
DARK MOOR - Halloween
SECRET SPHERE - How Many Tears
November 18th, 2000
According to http://www.planetblaze.com Blaze is going to be the support band when Helloween goes on tour in Europe!!
September 21st, 2000
Acording to the inlay card of the single "If I could fly", Helloween will go on tour at the end of November!!! Don't miss it! I will post the tour schedule as soon as I get my hands on it, so check back in a while.
The single that's being released in Japan will be called Mr Torture, and is set for release September 27th. The tracklist is as follows:
1. Mr Torture
2. If I could fly (single version)
3. Deliver us from temptation
4. If I could fly (extended version)
This is basically the same single as the European one, except for the title track Mr Torture. Actually they even got the same cover.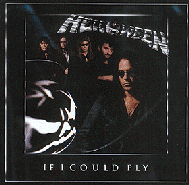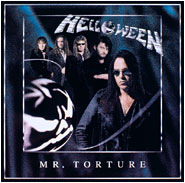 .....and here comes the final tracklist of "The dark Ride"!!!
1. Behind The Portal (Intro) (Deris)
2. Mr. Torture (Kusch)
3. All Over The Nations (Weikath)
4. Escalation666 (Grapow)
5. Mirror Mirror (Deris)
6. If I Could Fly (Deris)
7. Salvation (Weikath)
8. The Departed/The Sun Is Going Down (Kusch)
9. I Live For Your Pain (Deris)
10. We Damn The Night (Deris)
11. Immortal (Deris)
12. The Dark Ride (Grapow)
13. Madness of The Crowds (Deris) (Japanese Bonus Track)
September 7th, 2000
Finally the record company Nuclear Blast put up the front cover of "The Dark Ride" on their homesite!!!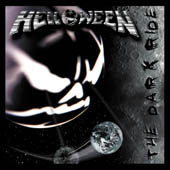 August 22nd, 2000
According to CD Europe, the tracklist of the single (UK version) is:
1. If I Could Fly (single version)
2. Deliver Us From Temptation
3. If I Could Fly (album version)
August 14th, 2000
Finally! Here's the tracklisting of "The Dark Ride"! "Behind the portal" is the intro of the album, but except for that the songs are in no particular order...all of them aren't even going to be on the album, since some off them are B-sides for the singles and bonustracks.
Behind The Portal (Deris)
The Dark Ride (Grapow)
Escalation 666 (Grapow)
The Departed Sun is Going down (Kusch)
Mr. Torture (Kusch)
Immortal (Deris)
Mirror Mirror On The Wall (Deris)
Salvation (Weikath)
All Over The Nations (Weikath)
If I Could Fly (Deris)
I Live For Your Pain (Deris)
Deliver Us From Temptation (Markus)
The Madness of The Crowds (Deris)
We Damn The Night (Deris)
The first single off the album will be "If I could fly" for Europe and Japan, and "Mirror mirror on the wall" for the USA. No release dates are definite. The band will make a video for the song "If I could fly".
August 2nd, 2000
The band has finished recording their new album, wich acording to the record company Nuclear Blast will be called "The Dark Ride". The first single "If I could fly" will be released September the 4th, and the album will be out on October the 30th.