| | | |
| --- | --- | --- |
| RHAPSODY + ANGEL DUST + AT VANCE | April 4, 2002 | MADRID |
On a cold windy day over 600 fans assembled in front of Aqualung to see epic symphonic metallers Rhapsody (not forgetting the support bands Angel Dust and At Vance, for the first time in Madrid) on their first European headliner tour in support of their latest album "Power Of The Dragonflame", which closes the saga started in 1997 with "Legendary Tales". As you probably know, I was very dissapointed with the last Rhapsody show I saw at the Rock Machina festival 2001, so I was hoping to see a better show this time. Fortunately, all my fears disappeared, their gig in Madrid on April 4th was A LOT better...

There was a delay of an hour until the doors were opened... Around 20:30 PM AT VANCE entered the stage. Many people already knew this band very well. After the intro the band started off with "Take Me Away", then they played more songs from the new album "Only Human": "Take My Pain" and the title track "Only Human", easy to sing along to, and offered some other great older material throughout the set, including "Lost In Your Love", the majestic "Dragonchaser" and "Heart Of Steel" as well as set closer "Power And Glory". In a bit less than an hour, At Vance performed all the hits from their four records. Guitarist Olaf Lenk really stood out, doing some extremely cool guitar solos. It was also very cool to finally meet him after conversing by Internet for a year

BTW, thanks for the pick!

And what can I say about Mr. Hartmann? He has an exceptional voice! The sound wasn't perfect, but clear enough for not becoming a problem. All in all, a powerful, solid performance from a very impressive bunch of musicians. Hurry back!!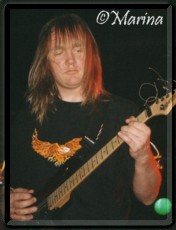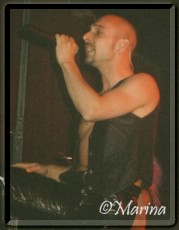 The audience was quite numerous by the time German metal legends ANGEL DUST began their set. They really put on a stunning and ferocious show. This band (active since 1986) released their latest CD a couple of months ago and I was really anxious to see them live. They started out furiously with the opening track of their current album, "The Human Bondage" (a lot of people were singing the chorus line "ooooooooh, the human bondage", I loved that part) which immediately proved the amazing stage presence of singer Dirk Thurisch. Like a man possessed, Dirk performed with a fierce passion. Threatening to steal some of Thurisch's thunder was their new guitarist Ritchie Wilkison from Indiana, former member of Demons & Wizards. He's a monster on stage!!! During their show the band delighted us not only with newer hits like "Inhuman" or "Unreal Soul" (where Ritchie did the deep roaring grunt) but also with older songs like "Nightmare", "Bleed" or "Border Of Reality". The fans cheered loudly for the band, which convinced with their electrifying performance and managed to impress everyone (even those people who have not heard of them until this performance). They gave me more than what I expected, and I hope they will return someday as headliners of their own show. By the way, singer Dirk Thurisch really is a very funny and friendly guy, I taught him some words and phrases in Spanish and I have never laughted my ass sooooo much, it was pretty funny *lol*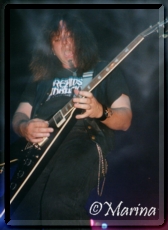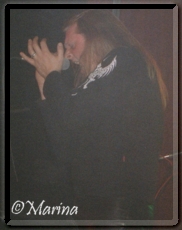 During the break, I checked merchandise and when I came back to the first row, I saw that Elisa, singer from DARK MOOR, was standing behind me. Finally, the lights went down, we all rushed forward, the fans were screaming and clapping and we start our trip through Rhapsody's imaginary world full of warriors, dragons and fantasy. The hall was dark and there before us was a big backdrop with the cover of the new Rhapsody album. The stage setting is built like a castle. After a majestic intro -"Deadly Omen" followed by "In Tenebris"- Aresius, the narrator, appeared on stage for the spoken part and then there was RHAPSODY: Alex Holzwarth on drums, Alex Staropoli on keyboards, Luca Turilli on guitar, Patrice Guers on bass, Dominique Leurquin on guitar next to Patrice, and Fabio Lione on vocals in the center and launched into "Knightrider Of Doom", where Fabio amazed us with his aggressive and "screaming" voice, following which other faves such as "Emerald Sword", "The March Of The Swordmaster" and "Wisdom Of The Kings" which were even more impressive and the crowd sang along loudly. During "Legendary Tales" a flute player joined the band, it gave a nice touch. "Land Of Inmortals", my personal fave tune from the great "Legendary Tales" album followed. Next was "Lamento Eroico", an amazing ballad sung in Italian from Rhapsody's new album. It really rocked. Fabio sang with passion and emotion... he brought me to tears. Definately, this song was one of the most impressive parts of the show. Luca impressed everyone with his fiery soloing during the next tune, the epic "Holy Thunderforce", full of heavy rhythms.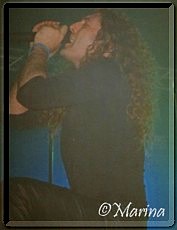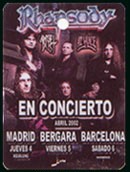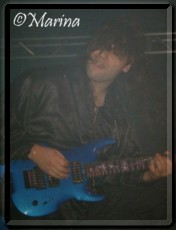 Drummer Alex Holzwarth came up next with his drum solo. He did an awesome performance and in fact, it was one of the best drum solos I've ever seen. After that, bassist Patrice Guers appeared on stage and kicked off his solo. WOW, what a great bassist!! "The Village Of Dwarves" came next. The band was joined on stage by the flute player and a girl playing the tambourine, transporting us to the Middle Ages. Then they played a song from the mini album "Rain Of A Thousand Flames" released last year, "The Wizard's Last Rhymes", which contains elements of Antonin Dvorak's "New World Symphony", and is one hell of a good live song. After finishing this song, the band left the stage for the first time. The hall was dark again and the recorded intro "Lux Triumphans" filled the venue. Of course, it was followed by a loud and fast "Dawn Of Victory". The fans were screaming: "gloria, gloria perpetua in this dawn of victory" at the top of their lungs. Another highlight of the night. After "Dawn Of Victory", they went right into the title track from the new album, "Power Of The Dragonflame". The last song of the night was the final piece of "Gargoyles, Angels Of Darkness" (from minute 12 on) where the band delivered a thrilling, highly emotional musical finale... Aresius appeared again on stage holding a sword high above his head... the band stayed where they were on stage while the taped orchestration kept sounding... and then there was silence... and darkness... our trip through the Enchanted Lands has ended... whoaaa, it was sheer magic!!!!!!!!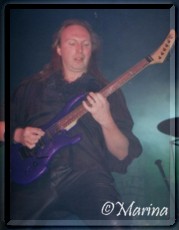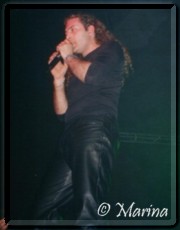 I've seen Rhapsody live 4 times now and this show was without any doubt the best one so far. This time Rhapsody put on a very professional set, in fact, one could say that it was sheer spectacle. Amazing lights, good sound, Fabio Lione singing better than ever and impressive songs and solos. Also, the presence of guests on stage gave their show a theatrical effect and the music was actually enhanced by taped choruses and orchestration. I'm happy to say that Rhapsody are finally becoming a great live band!! Mighty Hails!! -Review & photos by Marina-

I'd like to say thanks to Olaf, Rainald & atvancers, Dirk Thurisch (we had some big laughs heh?), Luca Turilli & Fabio Lione for your friendship & kindness. Last but not least, Pierre and all my Internet friends I met there (hope you enjoy my review

Deadly Omen, In Tenebris, Knightrider Of Doom, Emerald Sword, The March Of The Swordmaster, Wisdom Of The Kings, Legendary Tales, Land Of Inmortals, Lamento Eroico, Holy Thunderforce -drum solo- -bass solo- Village Of Dwarves, The Wizard's Last Rhymes, Lux Triumphans, Dawn Of Victory, Power Of The Dragonflame & Gargoyles Angels Of Darkness.




At vance & me


Reinald & me


Dirk Thurisch & me

Alex Holzwarth & me


Fabio Lione & me


Luca Turilli & me


Alex Staropoli & me