Click the Cover to see a bigger version of the artwork
ATLANTIS RISING
Here it is...finally...the new album of MANILLA ROAD...another milestone in the career of a special band!
A dream became true when we heared that MANILLA ROAD are working on a new album and ATLANTIS RISING will not disappoint any fan of the band. All the trademarks and all the unique emotions are banned on this 57-minute running CD (also available on double vinyl!). This is no "reunion-project" just to make money nor is it an attempt to let the old times live again - this is a great album of a always developing band. This is metal-intelligence!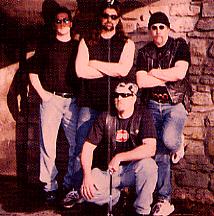 The new line-up
THE SONGS
ATLANTIS RISING contains 10 songs and is devided into four parts (Book I to Book IV). The first song "Megalodon" has a mystic intro and it contains the famous words "Arise All Ye Faithful To The Sword" from OPEN THE GATES. Then comes a bass and drums-thunder followed by a typical Shelton-guitar and guitar solo. The heavy verses and the more melodic refrain is a great contrast. It is song which is a bit too fast to call it doom-metal. Some guitar chords in the verse remind me of Voivod´s Piggy. In the middle of the song gets faster for a few seconds. A great opener!
LEMURIA is a short song containing vocals and bass-tapping (as I think) followed by the strong title track ATLANTIS RISING. This is a true mid-tempo heavy metal song, very powerful and a lot straighter than MEGALODON. The guitarpart and the drums in the first part of this song is really ear-catching and appears -what a luck- often in this song. This is what you definitely will remember, also the vocal-line in the refrain. This track could without any problems be from DELUGE or OPEN THE GATES.
SEA WITCH is a very emotional track starting with just guitars and vocals. Yes, this is MANILLA ROAD! This song would be great even without any heavy-parts but when the whole band starts to play after the middle of the song and you hear this very melodic guitar-solo you will definitely fly away. Thanks for this experience!!
RESSURECTION, a track some already know from the Bang Your Head festival last year, is the next riff-based metalsong on the album. The first few minutes of this song have a similar feeling to CANDLEMASS´s great debut album, one of the few great epic-albums not by MANILLA ROAD. When the song gets faster after two minutes it is time for some serious headbanging!! RESSURECTION is very powerful and heavy but contains (again) a catchy refrain. If had to put this song on an older MANILLA-record then I would chose MYSTIFICATION.
DECIMATION - the beginning of this song was freezing my blood. Strange guitar-chords which are something new for the band, kind of progressive. Cool! The voice and the rythm reminds me a bit of "Dig me no Grave" from COURTS OF CHAOS, but this no copy of this track. DECIMATION is one of the darkest songs on the album and it shows all those Black Metal bands out there how to sound "evil" without cheap keyboards and childish satanic lyrics. Every doom-metal fan will love this track too!
Yes, we need a break after DECIMATION. FLIGHT OF THE RAVENS is an acoustic track in the tradition of the intro of DREAMS OF ESCHATON. Normally I am no fan of ballads or acoustic stuff but when Mark Shelton is doing them I could listen for hours... This vocal-line is not of this world!
MARCH OF THE GODS combines a lot of MANILLA-trademarks in one song. The heavyness, the atmospheric guitarsolos and strong vocal-lines, you´ll find everything in this song.
What is happening now??? "Attack!" is what is Mark Shelton is screaming and this exactly what is musically happen in this second. SIEGE OF ATLAND starts like a hurricane without any intro - you are not forwarned!! It changes into a heavy mid-tempo song after a minute and gets really heavy in the end again...
WAR OF THE GODS is the epic masterpiece of ATLANTIS RISING. It contains lots of breaks and riffing in the middle, but the maintrack is very doomy and...just epic! All those bands who call themselves "Epic" nowadays have to listen to this song (and they will never call themselves "epic" again...). There is really just one band on this planet that is able to create a song like this: MANILLA ROAD! Thanks for this masterpiece!!
THE BAND
This is the current line-up:
MARK SHELTON - Guitars & Vocals
SCOTT PETERS - Drums & Drum Arrangements
BRYAN PATRICK - Vocals, Drum Arrangements (Drums on "Sea Witch")
MARK ANDERSON - Bass Guitars & Six String Classic Guitar
Surprisingly a guest musician appears on this CD. It is DARBY PENTECOAST from the hardcore band STAMPING GROUND on vocals (on "Atlantis Rising").
THE CD
The cover-artwork by Michael Bähre is in the tradition of the previous MANILLA ROAD albums. I think it will look much better on the vinyl-version (as every coverartwork does). The sound of the album is very fresh and authentic, far away from all those overproduced stuff that often destroy the band feeling on a CD. It is mastered pretty LOUD!
The whole story about ATLANTIS RISING is told in brief on the first site of the booklet. It makes it much more easier to understand the lyrics while reading them to the music. In the middle of the booklet are two sides of credits and the pic shown above. (Thanks for the credits!!!!!!).
MERCHANDISE
The new "home" of MANILLA ROAD is Iron Glory Records . The CD is distributed in Germany by ZOMBA and the order-number is RTD 314.7017.2. Every good record-shop should have it! If not...kick their ass....or go to the Iron Glory website where you can find mailorder-information for CD´s, LP´s and shirts!
PRESS REACTIONS
ATLANTIS RISING - Press Reviews Part 1
PRE-LISTENING
Here is a short "medley" of ATLANTIS RISING as mp3-file. Please note that the quality on the original CD is better!
The Atlantis Rising Medley-MP3