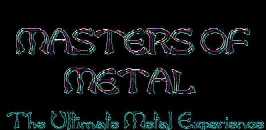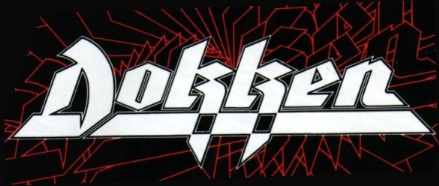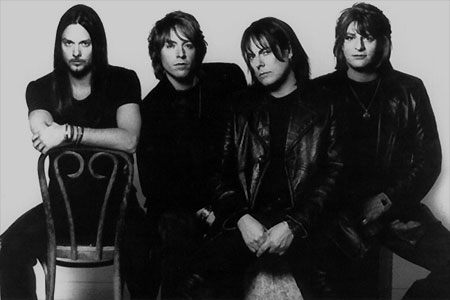 band members l to r: Reb Beach-guitars, Jeff Pilson-bass, Don Dokken-vocal, Wild Mick Brown-drums

BIO
Taken the CMC International Records Website

Any band that's managed to stick around for 18 years has a few battle scars to prove it and Dokken has a few more than most, as those familiar with its history can attest. But survival in rock 'n' roll comes down to one secret weapon: great songs, and Dokken has delivered eight albums full of them with multi-platinum success and the enduring appreciation of a worldwide audience. Having survived the vagaries of a volatile music scene and internal volatility as well, Dokken approaches the new millennium armed with some of the strongest music it has ever created. With the addition of guitarist Reb Beach, who joined the band last spring, and a return to the big, hard-rocking, harmonized sound it temporarily abandoned on the experimental Shadowlife (1997), Dokken is back and in full control with the appropriately named Erase the Slate on CMC International Records.
"We have the means to take the talent that we have and make it go the distance," says bassist Jeff Pilson. "We're all focused and going forward in the right direction. It's time to erase the slate and get a new start with everything." The result of that concentrated effort is a collection of 11 new tracks, including the powerful first single "Maddest Hatter," an electrifying new take on "One," the 1969 Three Dog Night hit, and the double bass burner "Erase the Slate," which became the album's title after Dokken's Internet fans chose it over IX in a landslide vote. "The intention was to make another great high-energy Dokken record with a lot of melody and plenty of harmonies," says Pilson. The writing and recording of Erase the Slate was a more collaborative process than Dokken had recently experienced, thanks in great part to new member Beach, who Pilson describes as "a great player and very conscientious writer who's right in line with where we want to go. He brings an excitement about playing both older songs and the new songs with a touch of the older style, and it's nice to have that energy and excitement around us." The working vibe, however, was laid back, "100% more comfortable and relaxed," according to Wild Mick Brown.
Dokken, without a permanent guitarist since the departure of George Lynch in November 1997, had re-established a friendship with Beach the previous summer on tour with Alice Cooper. The former Winger six-stringer and Cooper sideman, a Dokken fan, readily came aboard-and fit right in. "In Dokken, he can burn, shred, whatever he wants to do. There's no restrictions on him," says Don Dokken. "If you've got a great player, let him play." Beach was thrilled: "I've never been in a band where I get to play so much," he raves. But Beach isn't the only one who gets to shine. Pilson's playing is spotlighted for the first time via the bass solo "Little Brown Pill," a hidden track on Erase the Slate, and Brown sings lead on the playful "Crazy Mary Goes Round." "Don Dokken's vocals on this record are the best he's ever done," says Pilson. "Every one gives me goosebumps."
Erase the Slate is the latest in a long line of accomplishments that include a 1989 Grammy Award nomination and over six million records sold, encompassing platinum-plus sales for Tooth and Nail (1984, Under Lock and Key (1985) and Back For the Attack (1987), which hit the million mark in three weeks. That year, Dokken also mined platinum with the Unchain the Night video compilation, and scored the following year with the "Dream Warriors" video, a tie-in to the Freddy Krueger thriller Nightmare on Elm Street 3. Opening for Aerosmith from October 1987 through March 1988, and as part of the Monsters of Rock tour that summer with Van Halen, Metallica, the Scorpions, and Kingdom Come, Dokken played their biggest shows ever, including the Iowa Jam, and an L.A. Coliseum crowd of 93,000. "We played for a million people in one month," Dokken recalls. "We started out nobody and we ended up in stadiums."
On January 27, 1988, Dokken got the Key to the City from Los Angeles Mayor Tom Bradley, who proclaimed it Dokken Day, but the distinction was somewhat ironic, as the band is not a product of the L.A. club circuit. Though formed in the city, Dokken went to Europe to record and release Breaking the Chains in 1981, remixed and reissued Stateside in 1983 after the band was signed by Elektra Records. From there, says Don Dokken, "We went straight into arenas with Blue Oyster Cult." Tooth and Nail, featuring "Alone Again," "Into the Fire," and "Just Got Lucky," launched Dokken at radio and on MTV, and the momentum continued with "In My Dreams" and "It's Not Love" from Under Lock and Key, and "Burning Like a Flame" from Back for the Attack as the band played stadiums. But during the Monsters of Rock tour, "The internal problems had taken over the performances," says Don. Dokken officially disbanded after the last date on the tour. The live album Beast from the East (1988) was its final release, and the members went their separate ways.
Don Dokken recorded solo, receiving an American Music Award nomination in 1991. George Lynch and Mick Brown formed Lynch Mob, and Jeff Pilson fronted War & Peace. But when Dokken and Pilson's paths crossed in 1992 and started writing together again, "the old chemistry was back. In a pretty short amount of time we had what became the Dysfunctional record," Pilson says. Recording began in early '94 without George Lynch, who came aboard in time to finish the record for a 1995 release via Columbia/Sony. In December1994, Dokken recorded the live acoustic album One Live Night for release in Japan, and in November 1996 it became the first domestic release under Dokken's new deal with CMC. "It gave us a new outlook on the old music, and it really worked. It really surprised everybody. Then we hit the bump in the road, and things got a bit chaotic," Pilson laughs. But now, two years later, "All the pieces are in place and we're ready to move forward."
As Erase the Slate confirms, it's about the music, and that has been the key to Dokken's survival. Without the trendy image that helped at first but ultimately hurt some of its rock contemporaries, the band has the kind of timeless credibility that transcends genres. "18 years proves we have something to say," underlines Don Dokken, pointing out that the band stuck to those convictions in the grunge-ruled early '90s in the face of negative opposition. "At first it hit me hard and then it inspired me. 'You know what? Kiss my ass!,' " he told the nay-sayers. "It's over when we say it's over. If you don't listen to your own instincts you might as well give it up. You've got to fight for what you believe in."
That tenacity has been rewarded by the renewed strength of the rock market, indicative, Pilson believes, of the fact that people miss fun music. "They're hungry for exciting rock music again. And we really feel that we finally have a record where the music and the timing and people's tastes are going to converge. I speak for everybody when I say we're very confident about this record," he says of Erase the Slate. "Wherever we end up going is going to be a result of great music and a band that's ready to tackle it and focus on it."

DISCOGRAPHY
BREAKING THE CHAINS 1982 (CARRERE)

Track list: Side-A: 1. Breakin' The Chains 2. Seven Thunders 3. I Can't See You 4. In The Middle 5. We're Illegal, Side-B: 1. Paris 2. Stick To Your Guns 3. Young Girls 4. Felony 5. Nightrider

BREAKING THE CHAINS 1983 (US Version)

Track list: . Breaking The Chains 2. In The Middle 3. Felony 4. I Can't See You 5. Live To Rock (Rock To Live) 6. Nightrider 7. Seven Thunders 8. Young Girls 9. Stick To Your Guns 10. Paris Is Burning (live recorded in Germany, 1982)

TOOTH AND NAIL 1984

Track list: 1. Without Warning 2. Tooth And Nail 3. Just Got Lucky 4. Heartless Heart 5. Don't Close Your Eyes 6. When Heaven Comes Down 7. Into The Fire 8. Bullets To Spare 9. Alone Again 10. Turn On The Action

UNDER LOCK AND KEY 1985

Track list: 1. Unchain The Night 2. The Hunter 3. In My Dreams 4. Slippin' Away 5. Lightnin' Strikes Again 6. It's Not Love 7. Jaded Heart 8. Don't Lie To Me 9. Will The Sun Rise 10. Til The Livin' End

BACK FOR THE ATTACK 1987

Track list: 1. Kiss Of Death 2. Prisoner 3. Night By Night 4. Standing In The Shadows 5. Heaven Sent 6. Mr. Scary 7. So Many Tears 8. Burning Like A Flame 9. Lost Behind The Wall 10. Stop Fighting Love 11. Cry Of The Gypsy 12. Sleepless Nights 13. Dream Warriors

BEAST FROM THE EAST 1988

Track list: 1. Unchain The Night 2. Tooth And Nail 3. Dream Warriors 4. Kiss Of Death 5. When Heaven Comes Down 6. Into The Fire 7. Mr. Scary 8. Heaven Sent 9. It's Not Love 10. Alone Again 11. Just Got Lucky 12. Breaking The Chains 13. In My Dreams 14. Walk Away(studio track)

DOKKEN 1994 (Victor Entertainment Japan)

Track list: 1. What Price 2. Shadows of Life 3. Long Way Home 4. The Maze 5. Nothing Left to Say 6. Lesser of Two Evils 7. Inside Looking Out 8. Sweet Chains 9. Too High to Fly

Notes: Japanese release, was released in the US as Dysfunctional.

DYSFUNCTIONAL 1995

Track list: 1. Inside Looking Out 2. Hole In My Head 3. The Maze 4. Too High To Fly 5. Nothing Left To Say 6. Shadows Of Life 7. Long Way Home 8. Sweet Chains 9. Lesser Of Two Evils 10. What Price 11. From The Beginning

Notes: Has same track listing as Japanese Dokken album but with two additional tracks. Also the track arrangements are different.

ONE LIVE NIGHT 1996

Track list: 1. Into The Fire 2. Unchain The Night 3. The Maze 4. Nothing Left To Say 5. From The Beginning 6. Tooth And Nail 7. Just Got Lucky 8. I Will Remember 9. Alone Again 10. In My Dreams 11. Nowhere Man 12. It's Not Love

SHADOWLIFE 1997

Track list: 1. Puppet On A String 2. Cracks In The Ground 3. Sky Beneath My Feet 4. Until I Know 5. Hello 6. Convenience Store Messiah 7. I Feel 8. Here I Stand 9. Hard To Believe 10. Sweet Life 11. Bitter Regret 12. I Don't Mind 13. Until I Know (Slight Return)

ERASE THE SLATE 1999

Track list: 1. Erase The Slate 2. Change The World 3. Maddest Hatter 4. Drown 5. Shattered 6. One 7. Who Believes 8. Voice Of The Soul 9. Crazy Mary Goes Round 10. Haunted Lullabye 11. In Your Honor 12. Little Brown Pill

LIVE FROM THE SUN 2000

Track list: 1. Erase The Slate 2. Kiss Of Death 3. The Hunter 4. Into The Fire 5. Maddest Hatter 6. Too High To Fly 7. Breaking The Chains 8. Paris Is Burning 9. Alone Again 10. It's Not Love 11. Tooth And Nail 12. In My Dreams

Notes: Live recorded at the Sun Theatre, Anaheim, California on November 4, 1999


Dynasty Music is the Official Music Source for Masters Of Metal



Email: Masters Of Metal