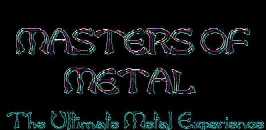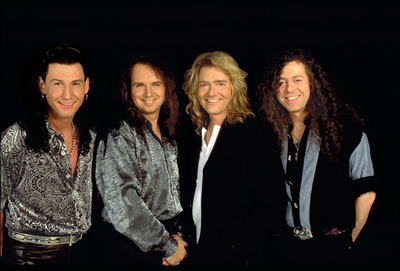 band members

BIO
Founded out of the ashes of Zeno and V2, Fair Warning achieved a remarkable amount of success with their self titled debut album, especially in Japan where sales went absolutely ballistic. "The response we got from Japan was nothing short of phenomenal," Ule recalls. "To be honest, we'd expected a bit of a positive reaction in Europe at least because the reviews were so good, although in the end, the record didn't do as well as we'd hoped it would. We weren't all that impressed with how WEA handled it, although the Japanese response did make up a little bit for some of their promotional shortcomings in Europe."
Given the general negativity towards traditional melodic rock back in the early 90's, that they got a deal at all was a feat in itself, let alone the fact that it was with a major label like WEA. "I think we demo'd about five or six tracks," Ule offers , "and that generated a really positive vibe around the band. In fact, I think we had about five major labels who wanted to sign us, but we went with WEA because we knew the guy in charge and we were very impressed by their commitment, which to be fair, in the beginning their intentions were very good. The problem was, although it was a worldwide deal, it was with the German WEA, and in the worldwide Warner concern, they don't really have that much say. So although they tried, they couldn't really do it for us in other countries, which is the main reason why in the end we decided to leave."
After the heady success of the Rafe McKenna (Giant, Ten, etc) produced debut, the band opted to produce follow up 'Rainmaker' themselves. "It wasn't that we weren't happy with Rafe," Ule explains, "working with him was a lot of fun, but when we'd finished the debut, the record company came back and asked us to remix four or five of the tracks on it because they preferred the sound of the original demo's. So we did, which they were very pleased with, and ever since then it's just seemed like the logical thing for us to produce ourselves. It just feels right for us really to do it that way." ... we were supposed to support Whitesnake on their European tour as well, but that had to be pulled because of Helge' accident. He broke his arm in two places which put him out of action for about five months ...
Whereas the 'Fair Warning' album had an upbeat, almost party rock type of vibe, its successor was a much more mature sounding record. "I don't think we had any preconceived ideas about achieving a certain sound or anything like that," Ule ponders, "I mean these things just happen. I suppose all the experiences you go through as a band, like playing live etc., obviously have an influence on your writing, but nothing I can put my finger on. I suppose with that first album, subconsciously I was looking more towards an American type of sound, whereas on 'Rainmaker' my tastes had shifted a little away from that. In Japan, the reaction to that album was even better, it gave us our first gold record over there ... I think it sold something like 140 or 150,000 copies or something. It also gave us our first hit single with 'Burning Heart'. In Europe too it got some great reviews. Aardshock magazine voted it their album of the year I think." Having inevitably parted company with WEA, the band set about writing and recording their third album 'Go !', an album which although it combined elements of both their previous releases, was to take a long tome to gain a domestic European release.
"That was a very emotional album for me," says Ule, "the whole song writing process, and looking back now it was a very lyrical album. I think if it lacks anything, it's some of the more up tempo kind of rockier songs, there's a lot of mid tempo, very emotional songs on there. It was just the time we were going through I suppose. I think Tommy (Heart) made a great leap forward on that album as a singer, he seemed to grow immensely. In a way, I suppose that 'Go !' was a kind of maturity process that we had to go through to get to where we are now, but in hindsight it's probably a little too lyrical ... it could really have done with some more tension in there." As 'Rainmaker' had reached gold status in Japan, I wondered if this put any pressure on the band when it came to writing the songs for 'Go !' ? "Sure, it always does," Ule concedes, "but I try not to let it come too close. If you're thinking along those lines all the time about everybody else's expectations, especially if it's just commercial expectations, then it tends to narrow your inspiration considerably. So I normally just try to go with what I feel and to follow that through, and so do the rest of the band really when we choose the songs we want to record. There's always some kind of pressure on you as a band when you've reached a certain level , but I suppose one of the things that we've never had is time pressure on top of that. We've always pretty much had the freedom to make up our own schedules for recording or whatever, and I think if we didn't have that, we'd feel it a lot more."
One of the things which was different about 'Go !' was the 3D effect cover, which was fairly innovative for the time. "That was an idea that came from our manager," Ule confirms, "he felt that it was very important to make the packaging more interesting, to stand out more if you like. In fact, the effect in Japan was a lot better because they used a different process over there, a more expensive one; I understand that it looked more realistic. The record company over there was quite willing to invest in the product to give it an edge, and I think they pressed something like the first 80,000 copies with that cover."
With 'Go !' finally starting to do the business in Europe, three years seems a long time to write and record your follow up album. "Well, in '97 we recorded another live album over in Japan," Ule explains, "which was something the Japanese record company talked us into doing. We didn't really want to do it because we felt it looked a little too much like cashing in, we only had three studio albums out, and already they were wanting us to do another live album. But they kept coming back to us, and in the end we said Ok, but only if it had songs on which weren't on the first one, and if we could add some unreleased stuff. So we did that and it was supposed to come out at Christmas time in 1997, but then Helge (Engelke) our guitar player had an accident. In fact, we were supposed to support Whitesnake on their European tour as well, but that had to be pulled because of Helge' accident. He broke his arm in two places which put him out of action for about five months, and that caused serious delays on the post production for the live album, especially in the recording of the new tracks. In the end it cost us something like nine months because the album finally came out in the summer of '98."
Although 'Go !' came out in Europe on GUN / BMG, the band moved labels yet again to Frontiers for their new album '4'. "Frontiers had originally approached us about three or four years ago," Ule says, "but we were quite happy with GUN. Not necessarily with what they had done for the album, but they are really nice guys, and we had a very good relationship with them. This album too was originally going to come out on GUN, but Frontiers came back to us and made us a really good offer. So we went back to GUN and said 'look guys, we've had this great offer, guaranteeing us a release in the States and in Canada, what can you do for us ?'. We hadn't had things like that guaranteed before, so it was really important to us, and GUN came back to us and said they couldn't match it, but they were wiling to let us go. They didn't let us go because they weren't interested any more, it was more a case of simple fairness, they could see what was best for the band. That's something I'll always be grateful to them for."
The song writing process for '4' started in earnest in late '98. "Up to now, it's mainly been me and Helge who do the bulk of the song writing," Ule explains. "Helge usually writes between a quarter and a third of the songs that make it onto the finished album, and I write the rest - I think I did nine or something like that this time. That's how it's always worked for us in the past, I've always been very interested in the song writing process, which I guess is unusual for a bass player. I'm the sort of person who is constantly writing, apart from like now when we're rehearsing or recording. I'll write complete songs, lyrics and everything, then take them to the band and together we pick out what we all feel are the best one's to record ... Helge's the same. Recently though, Tommy has been coming up with some really cool ideas for songs, so in future I guess he'll start to contribute more."
Like a lot of song writers these days, Ule tends to look further than the traditional rock / metal subjects for inspiration. "Inspiration can come in all kinds of different guises," he says. "Sometimes it can be something quite personal to me, or it could be something I've just seen in a movie, or heard on the news .... anything really. For me, writing songs is a very visual process; when I write I tend to go into a kind of movie feel, it's almost like I sing a movie, ha, ha ! I have to create a certain kind of visual atmosphere to make it really work for me, ironic really for what in essence is a non visual medium." As with all previous Fair Warning albums, '4' represents good value for money in the number of tracks you get for your 20 bucks. "It just seems quite the normal thing for us to do really," Ule offers casually. "I think when you have two very motivated song writers like we have in our band, it's easy to include more tracks because there's always plenty of material to choose from. Then of course, the Japanese always want a couple extra - I think we ended up recording something like 16 tracks this time around. I must admit, I'm not really that happy with their choice of bonus tracks because they took away at least one track that I would've liked to see on the album, but that's something we've traditionally kept out of. But yeah, they're always hungry for more in Japan."
If you look at the CD booklet, the band would appear to be down to a four piece, having lost drummer CC Behrens. Dig a little deeper however, and the truth is even more surprising. "We never were without a drummer, although it does seem that way," Ule explains. "CC actually left the band in 1993 officially, or should I say unofficially. He didn't want to be tied to a strong band situation like Fair Warning because he wanted to have more freedom to pick and choose what he did. However, since we always remained very good friends, he's always been our drummer, even though he wasn't officially a member of the band anymore. Over the years he's been working with a singer / songwriter who's quite famous in Germany, and that's his main gig now, but he always managed to share his time so that he could do both. The first time he couldn't do that was on the 'Go !' tour in 1997, so we drafted in another old friend of ours Phillip Condos, who's a French drummer living here in Hanover. Both CC and Phillip played on the album, although now neither of them can do the tour, so we've drafted in a Greek guy, ha, ha ! We only found him a couple of weeks ago, but he's got a real kick ass style. It's good fun playing with him, so we'll see what develops from there. The drummer situation is something that you just get used to, especially when you have very capable people available to you, so we don't really think about the fact that we don't have a firm drummer." ... I think when you have two very motivated song writers like we have in our band, it's easy to include more tracks because there's always plenty of material to choose from ...
Whereas most bands spend a lot of time holed up in some dingy studio, the Fair Warning approach to recording is much more relaxing. "That was something we first started to explore with 'Rainmaker', our first self produced album," says Ule. "we only did part of the recording sessions in a real studio. Then when we came to make 'Go !', we rented a big old mansion here in the heart of Hanover, a beautiful place. It was pretty run down, but that didn't really matter to us that much because it had big rooms with high ceilings and wooden floors, hence we could get a great sound. It's real easy to make a room dead soundwise, but you can't make a dead room sound alive ... and that was something we were quite pleased with, to work in that kind of vibe atmosphere. So when it came time to do '4', it just seemed natural to do it this way again. We hired an old farmhouse out in the country, not too far from Hanover, and that's where we did the bulk of the album. Last summer was quite sunny for Northern Europe, and it was just a beautiful setting in which to work, very restful and very creative. If I was to be honest, I'm not too keen on studios anyway. Sure they try to make it comfortable for the artists, but it's still a kind of forced, artificial environment. And then on top of that, you have the money situation. For example, if you're singer isn't feeling 100% or whatever, he might not feel like singing, but the day still costs you something like a thousand pounds so you have to get something done. That kind of situation doesn't occur if you rent a nice place for a few months. It doesn't mean that you become lazy, it just creates a much more relaxed working atmosphere, and from that you can find your own rhythm."
Once again produced by the band themselves, '4' is a real return to the infectious sound of their debut. "In practice, it's just the three of us," Ule informs me, "me, Helge and Tommy. Andy (Malecek) is a great player, but he's not the kind of person who likes to work in that kind of studio atmosphere for too long. Although we're not in a studio as such, you still have to look at your work through a microscope when you record, so that's something you've got to enjoy doing to actually do effectively. In a way it's hard to produce yourselves, because not only do you have to perform, you also have to know what to take and what to leave. You have to put judgements on things, but that's the good thing about being in a strong band situation because you don't have to do that in isolation."
Reactions so far to '4' have been extremely good too. "I'm pretty amazed to be quite honest," Ule says enthusiastically. "Just yesterday, I got the news that the album had been voted album of the month in one of the big Italian magazines. Even Metal Hammer in Italy had it as album of the month for April, which is great, because we're not really metal. Here in Germany too, the reactions have been really good. For the first time I feel we have a label that's doing something really positive for the band. Last week we did about 30 interview in France ... it's just been great from everywhere really. The album went into the Japanese charts at number two, and the single was number one for about a month in the international charts."
With a prestigious support slot on the upcoming Status Quo trek, a full Japanese tour and a string of summer festival appearances to look forward to, it looks like momentum is really beginning to gather behind the Fair Warning bandwagon.

DISCOGRAPHY
FAIRWARNING

Track list: 1. Longing For Love 2. When Love Fails 3. Call Of The Heart 4. Crazy 5. One Step Closer 6. Hang On 7. Out On The Run 8. Long Gone 9. Eyes Of Rock 10. Take A Look At The Future 11. Heat Of Emotion 12. Take Me Up

LIVE IN JAPAN

Track list: 1. Sunset (Intro) 2. Out On The Run 3. Longing For Love 4. When Love Fails 5. Eastern Sun 6. Take Me Up 7. Long Gone 8. The Heat Of Emotion 9. Take A Look At The Future 10. Call Of The Heart 11. In The Ghetto 12. Sukiyaki 13. Hang On 14. Eyes Of Rock 15. One Step Closer 16. A Little More Love 17. Mickey's Monkey

RAINMAKER

Track list: 1.STARS AND THE MOON 2.ONE WAY UP 3.TOO LATE FOR LOVE 4.THE HEART OF SUMMER 5.DON'T GIVE UP 6. LONELY ROOMS 7.DESERT SONG 8.PICTURES OF LOVE 9.DESOLATION ANGELS 10.ANGEL OF DAWN 11. BURNING HEART 12.WHAT DID YOU FIND 13.GET A LITTLE CLOSER 14.RAIN SONG

GO 1997

Track list: 1. Angels Of Heaven 2. Save Me 3. All On Your Own 4. I'll Be There 5. Man On The Moon 6. Without You 7. Follow My Heart 8. Rivers Of Love 9. Somewhere 10. Eyes Of A Stranger 11. Sailing Home 12. The Way You Want It 13. The Love Song 14. Without You (Diff version) 15. Light In The Dark
16. Angels Of Heaven (Different version) 17. Follow My Heart (Different version)

LIVE AND MORE 1997

Track list: CD 1 (Live) 1. Angels Of Heaven 2. I'll Be There 3. Man On the Moon 4. Don't Give Up 5. Desert Song 6. We Used To Be Friends 7. Follow My Heart 8. Bach For More/Come On 9. Keyboards Solo/Save Me 10. Guitar Solo/Burning Heart 11. Get A Little Closer 12. Stars & The Moon... CD 2 (Studio bonus) 1. Like A Rock 2. Meant To Be 3. Out Of The Night 4. All On Your Own (different version) 5. Give In To Love 6. Come On 7. Rivers Of Love (different version)

FOUR 2000

Track list: 1. Heart On The Run 2. Through The Fire 3. Break Free 4. Forever 5. Tell Me I'm Wrong 6. Dream 7. I Fight 8. Time Will Tell 9. Eyes Of Love 10. Find My Way 11. Night Falls 12. Wait 13. Still I Belive (Bonus) 14. For The Young


Dynasty Music is the Official Music Source for Masters Of Metal