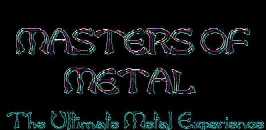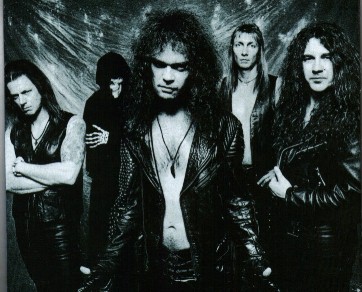 band members

BIO
Almost two decades ago a band by the name of GRAVE DIGGER was busy penning rock history with a medlye of cult albums which included their debut, Heavy Metal Breakdown (1984), Witchhunter (1985) and Wargames (1986). GRAVE DIGGER, alongside other heavy metal contenders Running Wild, Helloween and Sinner, helped establish a term known as "Teutonic Metal". The words are a trademark to Euro-metal culture synonymous with high-quality, melodious heavy rock with an individual touch that can easily hold a candle to established anglo-american acts.
After reaping great underground metal success with their first three releases, GRAVE DIGGER experienced a temporary split as the beginning of 1987........but metal never dies and by August of 1993, vocalist Chris Boltendahl and guitarist Uwe Lulis joined forces again to record their comeback release, The Reaper. Recorded at Karo studios in Hamburg, Germany, the album yields as much power, energy, quality and accessibility as the release of the first hour. After their 1994 mini LP entitled Symphony of Death the duo, assisted by bassist Tomi Gottlish and drummer Frank Ulrich, delivered yet another master piece a year later called Heart of Darkness. This LP sought the band in a slightly more mature light with more technically accentuated material and more complex arrangements, only highlighting the fact that they were clearly unsatisfied with the standards set by their back catalog.
In 1996 the foursome, now completed by former Caprikorn drummer Stefan Arnold, once again excelled with Tunes of War. This album was to mark the beginning of a medieval trilogy that imparts history in a lively manner - authentic as well as precise and factually contestable. Thus the quartet not only stood out amongst the half-baked fantasy concepts of other European bands, on an international level GRAVE DIGGER ranked among super acts like Pink Floyd and Queensryche whos concept albums (namely The Wall and Operation: Mindcrime) have set undisputed standards to this day.
The trilogy was continued in 1998 with Knights of the Cross, which told the story of the Knights Templar; one of the most powerful and equally mysterious organizations of the Middle Ages, now finds its worthy conclusion in the shape of this year's work of metal excellence, Excalibur. Unlike its two predecessors, however, this offering consists more of a blend of historic facts and old legends - specifically the early history of Britain and the legend of King Arthur and his Round Table.
With Excalibur, the band hold nothing back relentlessly implanting their up-tempo metal anthems like "Pendragon", the title track "Excalibur", "Tristan's Fate" and "The Final War" into the ears of the headbanger community. Slow and sinister rock numbers such as "The Spell", the mid-tempo metal grooves of "The Round Table" or the piano-based ballad "Emerald Eyes", which culminates in an eruptive finale, evoke a varied spectrum that is unparalleled by any previous GRAVE DIGGER releases. As if a concept LP isn't enjoyable enough, "Mordred's Song" features guest vocals from Blind Guardian singer Hansi Kursch and Iron Saviour vocalist/ guitarist Piet Seilck while guest musicians from the medieval/ folk metal group Subway To Sally provide diversity with authentic instruments (e.g. shawm, horn arrangements) as well as sealing the mythical atmosphere of it all.
Excalibur is yet another uncompromising GRAVE DIGGER-typical heavy metal album that is a must for every true, discriminating metallers record collection.

DISCOGRAPHY
HEAVY METAL BREAKDOWN 1984

Track list: 1. Headbanging Man 2. Heavy Metal Breakdown 3. Back From The War 4. Yesterday 5. We Wanna Rock You 6. Legion Of The Lost 7. Tyrant 8. Heart Attack

SHOOT HER DOWN EP 1984

Track list: 1. Shoot Her Down 2. Storming The Brain 3. We Wanna Rock You

WITCHHUNTER 1985

Track list: 1. Witch Hunter 2. Get Ready For Power 3. Night Drifter 4. Love Is A Game 5. Get Away 6. Fight For Freedom 7. Schools Out 8. Friends Of Mine 9. Here I Stand

WAR GAMES 1986

Track list: 1. Keep On Rocking 2. Heaven Can Wait 3. Fire In Your Eyes 4. Let Your Heads Roll 5. Love Is Breaking My Heart 6. Paradise 7. (Enola Gay) Drop The Bomb 8. Fallout 9. Playin' Fools 10. The End

STRONGER THAN EVER 1987

Track list: 1. Witch Hunter 2. Get Ready For Power 3. Night Drifter 4. Love Is A Game 5. Get Away 6. Fight For Freedom 7. Schools Out 8. Friends Of Mine 9. Here I Stand

Notes: Temporarily changed the name of the band to Digger before breaking up.

THE REAPER 1993

Track list: 1. The Reaper 2. Ride On 3. Shadow Of A Moonless Night 4. Play Your Game (And Kill) 5. Wedding Day 6. Spy Of Man's On 7. Under My Flag 8. Fight The Fight 9. Legion Of The Lost (Part II) 10. And The Devil Plays Piano 11. Ruler Mr. H.

SYMPHONIES OF DEATH EP 1994

Track list: 1. Intro 2. Symphony Of Death 3. Back To The Roots 4. House Of Horror 5. Shout It Out 6. World Of Fools 7. Wild And Dangerous 8. Sin City (japanese bonus track)

THE BEST OF THE 80'S 1994

Track list: 1. Heavy Metal Breakdown 2. Shoot Her Down 3. Get Away 4. Paradise 5. (Enola Gay) Drop The Bomb 6. Back From The War 7. Witch Hunter 8. Keep On Rockin' 9. 2000 Light Years From Home 10. Heaven Can Wait 11. Headbanging Man 12. Night Drifter 13. We Wanna Rock You 14. Yesterday 15. Don't Kill The Children 16. Tears Of Blood 17. Girls Of Rock 'n' Roll

HEART OF DARKNESS 1995

Track list: 1. Tears Of Madness 2. Shadowmaker 3. The Grave Dancer 4. Demon's Day 5. Warchild 6. Heart Of Darkness 7. Hate 8. Circle Of Witches 9. Black Death 10. My Life (bonus track-special limited edition) 11. Dolphin's Cry (bonus track-special limited edition)

TUNES OF WAR 1996

Track list: 1. The Brave (Intro) 2. Scotland United 3. The Dark Of The Sun 4. William Wallace (Braveheart) 5. The Bruce 6. The Battle Of Flodden 7. The Ballad Of Mary 8. The Truth 9. Cry For Freedom 10. Killing Time 11. Rebellion 12. Culloden Muir 13. The Fall Of The Brave.

THE DARK OF THE SUN EP 1997

Track list: 1. Rebellion (live) 2. The Dark Of The Sun 3. Heavy Metal Breakdown 4. Witch Hunter 5. Headbanging Man

KNIGHTS OF THE CROSS 1998

Track list: 1. Deus Lo Vult 2. Knights Of The Cross 3. Monks Of War 4. Heroes Of This Time 5. Fanatic Assassins 6. Lionheart 7. The Keeper Of The Holy Grail 8. Inquisition 9. Baphomet 10. Over The Sea 11. The Curse Of Jacques 12. The Battle Of Bannockburn 13. Children Of The Grave 14. Kill The King

EXCALIBUR 1999

Track list: 1. The Secrets of Merlin 2. Pendragon 3. Excalibur 4. The Round Table (Forever) 5. Morgane Le Fay 6. The Spell 7. Tristan's Fate 8. Lancelot 9. Modred's Song 10. The Final War 11. Emerald Eyes 12. Avalon 13. Parcival (bonus track)

The albums seen here can be obtained from Dynasty Music

Dynasty Music is the Official Music Source for Masters Of Metal