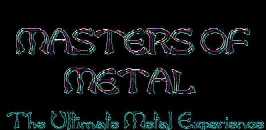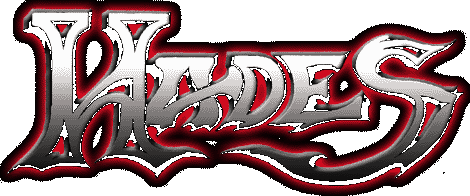 WELCOME TO HELL-ABANDON ALL HOPE, YE THAT ENTER HERE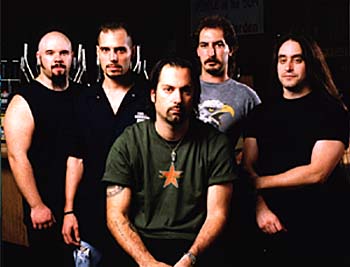 band members l to r: Dave Lescinsky-drums, Alan Tecchio-vocals, Dan Lorenzo-guitars, Scott LePage-bass, Ed Furhman-guitars


Barely over a year and a half ago Hades recorded a "reunion" CD entitled SaviorSelf. Originally recorded just for fun, (something that was lacking at the time of the band's demise during a 1989 European Tour) the band planned to release the cd themselves. No live shows were planned, but then something unexpected happened... Metal Blade Records expressed an interest in releasing the cd worldwide.
Hades wound up not only filming their first video, but they shot two in the forms of Active Contrition and Y2K. Hades played their first show in four years to a sold out gig in their native New Jersey. That night, looking out at the packed house of metalheads both young and old, the band realized that playing in Hades was indeed fun.
The band had just ten rehearsals before recording SaviorSelf, but the prep work for their follow-up The Downside would have the benefit of one year's worth of steady rehearsals. They holed up in Jersey City's Big Blue Meenie Studios for a solid month of recording and mixing and emerged with what the band feels is the piéce de resistance, (no pun intended) of their fifteen year career-The Downside. Bigger budget, bigger songs, a longer more diverse recording than SaviorSelf, The Downside captures Hades at their most creative peak to date. In founder Dan Lorenzo's words, "This is the eleventh record I've released and even though I'm at a different stage in my life now, I can't believe how excited I am about this new record!" With songs that musically run the gamut between the earliest energetic Hades speed metal to the dirge-like doom of Non Fiction, (Dan and Alan's band during the early 90's) Hades also explores new ground with songs like "The Me That Might Have Been" an introspective trance-like sonic journey. Their trademark heavy and harmonious guitars dominate this disc though, and singer Alan Tecchio delivers the goods like never before. Lead guitarist Ed Fuhrman continues to push the envelope of "technemotion" in his lead playing and riff writing while drummer Dave Lescinsky's sophomore effort with the band finds him further developing innovative kick drum patterns and pumping up the overall rhythmic mayhem. Bassist Scott LePage, living halfway across the country in Texas, only performed on two Downside songs-Ground Zero N.Y.C. and The Me That Might Have Been. Most of the bass tracking was done by Dan and Ed.
In the newfound spirit of fun, Hades also asked some old friends the likes of D.D. Verni from Overkill, Mike Cristi, (former Non Fiction drummer) and hardcore legend Billy Milano to take part in the recording. Singer/lyricist Alan Tecchio had this to say about The Downside, "Every band says their new cd is the greatest thing blah, blah, blah. We've been guilty of that in the past too. This time however it's simply the truth."


RESISTING SUCCESS 1987 (Roadrunner)

Track list: 1.The Leaders? 2.On To Iliad 3.Legal Tender 4.Sweet Revenge 5.Nighstalker 6.Resist Success 7.Widow's Mite (Chapter Eleven) 8.The Cross 9.Masque Of The Red Death I) Red Death II) The Prince's Master Plan III) The Masquerade Bonus Tracks: 10.SaviorSelf 11.Rape Of Persephone

Notes: Rereleased 1999

IF AT FIRST YOU DON'T SUCCEED 1988 (Roadrunner)

Track list: 1.Opinionated 2.In The Mean Time 3.Rebel Without A Brain 4.King In Exile 5.Face The Fat Reality 6.Outro 7.I Too Eye 8.Diplomatic Immunity 9.Process Of Assimilation 10.Tears Of Orpheus 11.Aftermath Of Betrayal 12.Finale Bonus Tracks: 13.In The Know 14.Exist To Resist 15.On To Iliad 16.Warpath To Repression

Notes: Rereleased 1998

LIVE ON LOCATION 1991 (Rising Sun)

Track list: 1.The Leaders? 2.King in Exile 3.On to Iliad 4.In the Meantime 5.Opinionate! 6.Rebel Without a Brain 7."A" 8.Rape of Persephone 9.The Cross 10.Face the Fat Reality 11.I Too Eye 12.Aftermath of Betrayal 13.Nightstalker 14.M.E.S. (Technical Difficulties) 15.Diplomatic Immunity

EXIST TO RESIST 1995 (Brainstorm Division)

Track list: 1.Exist to Resist 2.Rape of Persephone 3.Doubt 4.Colorblind 5.Deter-My-Nation 6.Throughout Me, Threw Out You 7.Second Degree Sleepwalking 8.A 9.The Other 10.The Leaders? 11.See Yourself 12.Seasons Blend
13.Bete Noir 14.Love, Liking, Nothing/Demo

LOST FOX STUDIO SESSIONS 1998 (Roadrunner)

Track list: 1.The Leaders? 2.Sweet Revenge 3.Nightstalker 4.Resist Success 5.Gamblin With Your Life 6.Deter My Nation 7.Rape Of Persephone 8.Not A Part Of Your Life 9.Bete Noir 10.Thoughout Me, Threw Out You 11.Amerasian Reparation 12.King In exile 13.Opinionate! 14.A 15.Easy Way Out

SAVIOR SELF 1999 (Metal Blade)

Track list: 1.$avior$elf 2.Decline & Fall of the American Empire 3.Our Father 4.Active Contrition 5.To Know One 6.In The Words Of The Profit 7.The Agnostic 8.Y2K 9.End of the Bargain 10.Fail 11.The Atheist

THE DOWNSIDE 2000 (Metal Blade)

Track list: 1.Ground Zero N.Y.C. 2.Align The Planets 3.Bitter Suite #1 4.Hoax 5.Pay The Price 6.Hail To The Thief 7.Shove It 8.It's A Wonderful Lie 9.Become Dust 10.Responsible 11.The Me That Might Have Been 12.Ground Zero (Reprise)

The albums seen here can be obtained from Dynasty Music

Dynasty Music is the Official Music Source for Masters Of Metal