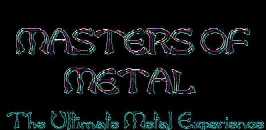 band members

BIO
Germany's METALIUM is not just another newcomer band. Bandleader/guitarist Lars Ratz has formed a star-ensemble, starting with Lars Ratz himself (Zed Yago, Velvet Viper); Chris Caffery, formerly of Savatage, on bass; Matthias Lange on guitar; Mike Terrana, of Yngwie Malmsteen fame, on drums; and Henning Basse, who has been labeled the best German metal singer in ten years by Rock Hard magazine, on vocals.
Lars met Mike Terrana and Chris Caffery for the first time on the '98 tour of the "American Rock Live" project. The blond guitarist thought that Mike was one of the most talented drummers he had ever seen. The idea somehow came up to play together, and they discovered that they had enormous musical chemistry. This threesome would come to be the backbone of METALIUM' s sound. First, they found the perfect singer in youngster Henning Basse. Next, they found Matthias Lange, one of North Germany's hottest guitarists, who had just turned down an offer to play in Helloween. This killer line-up had a vision of bringing metal to the new millennium, and it was then that METALIUM was born.
The band quickly recorded a three-track demo, and didn't have to shop for long before they were picked up by Massacre. Early this year, the band entered Impulse studio in Hamburg to record "Millenium Metal." Lars and Chris produced the album, and it was engineered by J.P. Genkel, who had previously worked with Cradle of Filth. The mastering was done by Tommy Hansen (Helloween), and Alexander Krull (Atrocity).
With the album now completed, METALIUM is ready to take over the world, including North America with help from Pavement Music. The album contains many different facets, with hymns like "Forever Free"; orchestral tracks like "Metalium"; emotional, heavy semi-ballads like "Metamorphosis"; and straight rockers like "Fight". METALIUM is a groove-based, power metal band with a powerful, well-arranged sound that will blow your mind. With seasoned veterans, this troop knows what metal is all about. Fans are coming out in droves to check out this new version of power metal pandemonium that has begun to take over Germany. With METALIUM already hitting the sales charts in Europe, touring with Primal Fear, and preparing for an upcoming tour of South America in November, they have laid the groundwork for the coming of a new era in metal. Pavement Music will unleash "Millennim Metal" on August 10th, 1999.
STATE OF TRIUMPH -chapter two- METALIUM was one of the most buzzed about bands in 1999. Their debut release, 'Millennium Metal - Chapter One' attained the highest Media Control Chart entry in Germany which a heavy metal debut could attain in 1999. Expectations are high.
Indeed, this new release, 'State of Triumph - chapter two' dispels all doubts about its sovereignty after the first listen and has left even several sceptics speechless. The line-up of the three original members, Henning Basse (vocals), Matthias Lange (guitar) and Lars Ratz (bass), are now joined by two new members which has seen Metalium morph from a project into a solid band.
The two new members, German / British drummer Mark Cross, gives a breath-taking performance while American guitarist (and successor to former guitarist Chris Caffery), Jack Frost adds another dimension to the band. Jack has already made a name for himself with his other projects Seven Witches and Speeed. Jack has also spent time in the Metalium camp prior to the recording as he handled the guitar duties alongside Matthias Lange on Metalium's debut European tour in 1999. Also appearing on the new release is former Rainbow Keyboardist Paul Morris who not only handled the keyboards but also all string and orchestration arrangements as well.

DISCOGRAPHY
MILLENIUM METAL Chapter 1 1999

Track list: 1. Circle of fate (Intro) 2. Fight 3. Dream of doom 4. Break the spell
Revelation 5. Metalium 6. Metamorphosis 7. Void of fire 8. free Forever 9. Strike down the heathen 10. Pilgrimage 11. Metalians 12. Smoke on the Water (Deep purple) BONUS TRACKS (DIGIPACK VERSION) : Burning (Accept)

STATE OF TRIUMPH Chapter 2 2000

Track list: 1. The Elements (Prelude) 2. Steel Avenger 3. Years of Darion 4. Break out 5. Erania 6. Stygian Flames 7. Prophecy 8. Eyes of the storm 9. Inner Sight 10. Metalians Triumph 11. Music was my life

The albums seen here can be obtained from Dynasty Music

Dynasty Music is the Official Music Source for Masters Of Metal