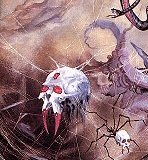 2005: November 10
If you are having trouble finding Manilla Road CDs and vinyl in the USA you should visit www.evillegendrecords.com as they distribute all availble items.
Still recent: Bands needed for a Manilla Road tribute CD/LP!!! Meanwhile Solemnity Music is working on this project and if you are in a band please contact info@solemnity.de
Mark Shelton is currently working on the Stygian Shore material for a proper CD release. More info soon!!!
2005: October 22
Bryan "Hellroadie" Patrick has left the band and Mark Shelton will do all the vocals by himself in future. We wish Bryan all the best and if he will start a new band you will know first!
Manilla Road have a new record deal. They signed with Black Lotus Records. Here´s a statement from Mark Shelton:
"Manilla Road is highly honoured to join with the ground breaking label Black Lotus. We are very excited about this partnership and are sure that only great epic things shall come about because of this union. With the outstanding business expertise of the Black Lotus staff at the helm combined with the best line-up that Manilla Road has ever been blessed with and the ever faithful support of the best fans in the world we shall raise the banners high and bring forth true epic metal thunder with our next album. It is a huge honour to have such a great label behind us."
Maybe kind of off-topic...but your webmaster has signed with his band VIRON (www.viron1.com) to Sonic Age Records. The CD will be out in January/February.
2005: July 24
GATES OF FIRE is out now and you will find a review here on this page!
2005: May 16
GATES OF FIRE, the new album will be out soon! As soon as I have a advance copy of the album I will write a review for this site. The band really worked hard on this album and I am already sure that it will be a masterpiece. You can already have a look at the artwork here:
Cover - Inlaycard - Label
The album will be released on BattleCry Records, which is the follow up to Iron Glory.
Everybody knows that the band has a strong fanbase in Greece. Here´s the proof:
2005: April 04
After some technical problems I am back to bring you the latest Manilla news!
In the meantime two more re-issues are available through Sonic Age Records (Greece, www.sonicagerecords.com ): Metal and Invasion, the first albums of Manilla Road, are released as a double CD with liner notes and pictures and of course the original coverartwork. A few weeks later another double CD was released: Out of The Abyss and Roadkill, the only official liverecording of the band. So now the whole Black Dragon/Roadster catalogue is available on CD. Vinyl freaks will be happy to hear the Metal and Invasion are released as LPs too!
Stay tuned for more Manilla news! This site will be updated regularely again!
2004: September 21
MANILLA ROAD are currently working on their new album which again will be released by Iron Glory Records. It will be the most epic album of the band ever! You can expect a release by spring 2005.
Cult Metal Classix Records from Greece are still working on the artwork of the re-releases of Invasion, Metal and Out Of The Abyss.
There are no plans now in releasing "Live - Roadkill". Most of the song were used as bonus tracks on various re-releases and so there is no need to.
Manilla Road will play a Halloween show in Wichita on October 30!!
Here are two pics of the band with some guys from the Netherlands at the Roadhouse:
Dennis from Monster Records put that obscure OUT OF THE ABYSS MC-Cover online. Some of you, including me, didn´t believe it really exists...: Mark Shelton/Out Of The Abyss
2004: April 22
MANILLA ROAD are back home. Their tour was a big success and proved that they are a band with a future and a past.
SITE UPDATES: A ton of live pictures of the KEEP IT TRUE Festival 2004 can be found on the Gallery-section (gallery 0, on top of the site). Thanks to Jowita for the great pictures.
More good news: Within the next days the official STYGIAN SHORE website will be online. Greg Marshall decided that I should be the webmaster here for truemetal.org and I am really happy to that. Stay tuned for more news of this band which shares the history of Manilla Road in many ways...
2004: April 13
MANILLA ROAD at the Keep It True Festival in Germany...were you there? If not you´ve missed the best metalshow ever! Even the whole festival was a great event with classic bands like Blitzkrieg or Halloween. MANILLA ROAD were the true headliner. With a playlist to do die for and a line-up which is able to play songs of every MR-period, it was a blast for all fans of the band. There were over 1000 people there and so many wore the red Manilla-shirt (even some young good looking girls, hell, will Manilla Road be a boygroup soon? *ha ha*) so you can say the Manilla-fans were the "red front of the KIT". You know, every active band loves to play new songs. Manilla Road too, but on the recent shows they played just classic material except two songs of Atlantis Rising (that fitted well to the older songs!). Just read what people have to say in the guestbook. I hope to receive a lot of pics of the current shows soon for the site. Mark wasn´t too happy with the gig at the Bang Your Head Festival and he was glad to present his "new" Manilla Road at the KIT. As you may know he is not able to sing all the high notes anymore since he demaged his voice while recording OUT OF THE ABYSS, so he shared the vocals with Hellroadie. This worked absolutely great. Hellroadie is not just a good singer but also a charismatic frontman. His brother on bass...well, beside of playing a killer bass he is Mr. Cool on stage (I mean that in a positive way). And the young guy on the drums? Mr. Hardcore? Hell, he really played all the Randy Foxe stuff. And again everybody was excited how nice and friendly all members are when you meet them in person...
MANILLA ROAD are currently writing new song for the next album for Iron Glory Records. The studio is not available right now so it could take a few months before they can start recording.
SITE NEWS: Finally I´ve put up the STYGIAN SHORE page here on the Manilla-homepage. As the ep of this band was produced by Mark Shelton and was released on Roadster Records I thought they have to be on the site too. Also a lot of Manilla-fans asked for it. There´s also a mp3 of the song "Tidal Waves" on the mp3-page.
2004: March 28
Just a few days are left until the Road will go on European Tour 2004! In case you don´t follow the messages from the band on the fanboard, here are the complete tourdates:
April 10: GERMANY, Keep It True Festival (see previous news entry for details)
April 12: ITALY, Porto D´Ascoli
April 14: ITALY, Milano
April 17: GREECE, Athens
Well, these dates are metallic easter eggs!
Surprising news from Monster Records, USA:
Monster Records will be bringing you another release from MANILLA ROAD this Fall. This time we have a live radio studio broadcast from 1979 featuring 100% unreleased material!! This was recorded just prior to their "Invasion" debut album, but features all songs that have never been released or heard anywhere (not even in tape trading circles!). A true gem for MANILLA ROAD fans and 70's metal fans alike!!
The last remaining reissues of classic Manilla Road albums will see the light of the day through the Greece label CULT METAL CLASSICS (www.cultmetalclassics.com) . This will be Metal, Invasion, Roadkill (Live) and Out Of The Abyss. I think it´s great that a Greec label will release these CDs because this land really is a strong supporter of the band especially since the reunion.
So 2004 seems to be a good year for the band and all the fans. If all runs well there should be available 6 new CDs this year (in case the band will release a new album this year) and we have them live here in Europe.
SITE NEWS: There are two new pics of Mark Shelton in the gallery!
2004: February 19
Here´s the new MANILLA ROAD line-up:
Mark Shelton - Guitars, Vocals
Bryan Patrick - Vocals
Harvey Patrick - Bass
Cory "HardCore" Christner - Drums
Here are two pics from the new line-up: Pic 1 Pic 2
Harvey is Bryans brother and he played with Manilla Road before between 1994 and 1997. Cory is 19 year old (!!) drummer and the band told me that he is very good, even playing Randy Foxe´s weirdest breaks! We can enjoy the new line-up at the KEEP IT TRUE FESTIVAL!
KIT: Currently the band is rehearsing for the tour and the KIT Festival. It seems like the playlist will be exactly what the fans, old and new, will expect from the band!

2004: February 18
While 2002 was a year with tons of news and Manilla Road releases, 2003 was more calm. The calm before the storm? I hope so! So why were there no updates here at this site?? Well, beside of the lack of news my computer was out of order and I had to buy a new one. All the html-files were on my old computer. Now I was able to transfer all the files to my new computer...and I am back again to keep you informed about the best US-metal band ever: Manilla Road!
The most important news first: MANILLA ROAD will play the Keep It True Festival in Germany!! Along with other great acts like Halloween (not the German kindergarden-band), Blitzkrieg, Attacker and many more. It will be on April 10 2004 in Lauda-Königshofen. Please check the official Festival-Website for further information: www.keep-it-true.de
Also there seem to be some line-up changes (bass and drums). I hope the band will inform us soon about it.
Monster Records offers "Mark of the Beast" as a double-LP in clear vinyl! Sure it is a limited edition so be fast ordering it! www.monsterrecords.com
The band LORD HAUNTED from Brasil made a cool Coverversion of "The Veils of Negative Existance". It should be up on their homepage WWW.LORDHAUNTED.HPG.COM.BR
No news about the release of METAL/INVASION right now...
2003: March 15
MARK OF THE BEAST is finally out! It is available on CD and 2LP by www.monsterrecords.com . Yes, it is a masterpiece and you can read the review now in the records section of this site.
2003: January 29
After a short holiday break the saga of the ROAD continues... First of all I want to thank the band for their great help and cooperation with this website! Also you don´t find many bands who care about their fans like MANILLA ROAD. Many bands call themselves fan-friendly but MANILLA ROAD definitely are.
SPIRAL CASTLE got great reviews in the German press! In the world of "fast-food-(metal)-music" it is great to see that a record like SPIRAL CASTLE got so much attention. A lot of bands are forced to copy their early classics to be succesful but MR are able to continue their vision of music all the time without losing any fans. The MR-fanbase is growing by the day and many young metalheads explore the unique style of MR.
SPIRAL CASTLE will be out on vinyl very very soon by Black Widow Records, Italy. This cult-label treated us with various interesting rock and metal releases through the years so please check their catalogue.
The vinyl will contain THRONE OF LIES as a bonus track and will be a limited edition. More infos about this release soon...
You expected a review of MARK OF THE BEAST these days? Well, I still got no copy from Monster Records. I hope I will receive it real soon. This is the only 80ies release with completely unreleased material of the band. There will be double vinyl of this in limited edition too!
Andi from IRON GLORY and Oliver Klemm from High Vaultage Records (re-issues of Thrust, Piledriver, Diamond Head, Riot, Rods, Hellhound, Samson....) are currently working on the reissue of Metal/Invasion. This time the first two Manilla Road albums will be complete and containing a great booklet and stuff. The Reborn Classics-version was a bootleg and there was missing the acoustic song "Centurian War Games". Next plans are the reissue of Out Of the Abyss and a first time CD-release of the US-metal band HYKSOS (I paid a lot of money for the original vinyl).
There are plans for some European shows in summer 2003...but they are not yet confirmed....
I´ve added a new section to the site: Guest Reviews. This great idea came from Bryan "Hellroadie" Patrick. Please check the message board from time to time to see what´s going on! Everybody is invited to write a review for this section!!
November 04
SPIRAL CASTLE, the new album, is out now and you can read the review here! You can also find a medley of all songs as a pre-listening. Check this real killer!!
On the mp3-Section you´ll find an unreleased MANILLA ROAD song which is an outtake from the SPIRAL CASTLE album. This piece of music is exclusive here!
Also on the MP3-Section: A coverversion of DREAMS OF ESCHATON by the band MESSIAH from Switzerland.
Within the next days I will upload a ton of pics from the MANILLA ROAD gigs in Italy and Greece. So stay tuned...
October 07
After a creative break in summer 2002 the band is back for attack! Please have a look at the "Dates-Section" where you can find out when MANILLA ROAD play live. Find the dates and the flyers for the Greece and Italy shows there!
The new album (Seven Trumpets) has a new name: Spiral Castle. It will be out on November 4th (but it seems like some dealers already have some copies. I was really wondering to be able to purchase a copy on a metalfestival I played with my band last Saturday). You can find a review along with an interview by the beginning of November...here!
On November 4th you will also find an UNRELEASED TRACK exclusively here on this site for download!
Still no news about MARK OF THE BEAST by Monster Records...
There is a new MANILLA ROAD T-Shirt available at Hellion Records. The front carries the loge, an old bandpicture (Deluge days I think) and "Up the Hammers". www.hellionrecords.com
More updates? Find two new old pics in the Classic Gallery Part 6.
Also I found this tiny little pic on the "Dragonship" 7" by the band BATTLEROAR from Greece (http://truemetal.org/battleroar)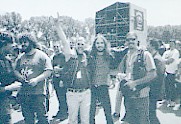 July 15
New in the Interviews-Section: We talked with Sven The Axe from the German band SOLEMNITY about Manilla Road. Why? When the lead singer of a metalband has a MANILLA ROAD tattoo on his arm then we should ask him about it. But they are also a great new metal band with a promising debut album!!
Soon: Review, Interview and detailled artwork scans of the only non-Manilla release on Roadster Records: STYGIAN SHORE!!
June 25
CIRCUS MAXIMUS is out now and you can read all about it in the discography section here on this site. The review also contains a mini-interview with Mark.
The N E W A L B U M by Manilla Road will be named "Seven Trumpets" and it is a real killer. You can ecpect a very heavy but atmospheric masterpiece which shows that 2002 is just the beginning for the band! I don´t want to write too much here in the news section because there will be a huge review along with a interview with the band when the release date is fixed (what is not done yet). Seven Trumpets will blow you away - I promise!!
May 19
In the next few days the reissue of THE CIRCUS MAXIMUS will be availble through Iron Glory Records! This is a special CD because it is no "real" MANILLA ROAD product, but a solo-project from Mark Shelton with a drummer and bass-player. But there are three tracks on the album that are of a true Manilla-sound and the rest is different, but very good too! A review will be up here soon!
Still no MARK OF THE BEAST....grrr...
The most important thing: The new CD from the band is finnished. You need a proof? Hellroadie sent two pictures showing the band at Cornerstone Studio, where the new CD was mastered. Mastering is the final step in the production of a CD so we all can hope that the no-name-yet-album will see the light of the day soon. You can find the two pics in the gallery-section.
Andi from Iron Glory told me that COURTS OF CHAOS will be out on double-vinyl soon too!! Get it while it´s hot!
After the new CD is finnished the band is rehearsing for future live shows. They also will play a lot of older stuff like Dragon Star, NinthWave,Helicon,Death by the Hammer,Veils of Negative Existence,Queen of the Black Coast, of course Necropolis and so on. I am sure the gigs in greece will be great. What about a live-recording guys??? A video?? A DVD??? Greece would be a great place for this...
May 05
Finally THE COURTS OF CHAOS is re-released by Iron Glory Records. Read all about it on the "Discography section" and also on the "MANILLA ROAD AFTER 2000 section" here! More updates were made on the Discography, Band History and mp3-section. Unfortunately MARK OF THE BEAST still isn´t available...
April 08
There is a pre-listening mp3 from MARK OF THE BEAST on the Monster Records homepage (www.mosnterrecords.com). Here is the direct link to the soundfile:
April 07:
Still no "Mark of the Beast"...but Iron Glory has announced to release a remastered version of COURTS OF CHAOS on April 22 (German release date). The Iron Glory website www.ironglory.de also has two mp3´s of CRYSTAL LOGIC...if there is anybody out there who still doesn´t own this epic masterpiece!
COURTS OF CHAOS was the album that showed Manilla Road "back to the roots" after the more thrashy OUT OF THE ABYSS, even the music still is heavier than on the early and mid-eighties releases. It was the last album in the classic line-up Mark, Scott and Randy. Black Dragon Records was not able to promote this album very well when it was officially released. It would be no surprise if the reissue would sell more copies than the original version...
February 21:
Three new pictures can be now found in the new 2002 gallery! They show the band in the studio. Check them out, they are of a great quality.
I just had contact with Dennis from Monster Records. The release of the "lost album" MARK OF THE BEAST can be expected in late March. With this CD there will be two more cool releases. One is a classic NWOBHM band called LEGEND and the other is a CD with "lost" WATCHTOWER material and the first record. Check it out too!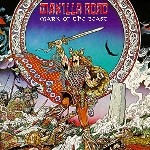 February 02:
3 months without any updates...I am sorry for the delay. Well, the music scene seems always to have a break around x-mas and so there was no news or stuff to feed this website. Unfortunately I also had no contact to the band in the last few weeks. Sure I also was busy with my (now) three bands I play in, the radioshow, writing for a magazine, etc.
But now to the really important news: MANILLA ROAD have finnished the recordings to their new album and they are currently mixing it. There is no release date yet but you can be sure you will be informed here!! I hope to receive a pre-listening copy so I can tell you more about the new CD.
Iron Glory just have released a picture-vinyl of MYSTIFICATION. As far as I know it is a limited edition again so save your copy now! Also they will release CIRCUS MAXIMUS and COURTS OF CHAOS pretty soon...
Finally there are news about the "lost album". Here is what Monster Records wrote in their newsletter: "The long-awaited release of the lost 2nd album recordings from one of the most unique and distinguishable real metal bands in the world! After some 20 years we have unearthed and restored the demo masters of what was to become the group's magnificent 2nd album "Dreams of Eschaton." This single CD and double vinyl release includes the massive 9+ minute epics "Mark of the Beast," "The Avatar," and "Triumvirate" among other all-time Manilla Road classics like "Time Trap" and "Venusian Sea." Featuring artwork by legendary Thin Lizzy artist Jim Fitzpatrick."

Seems like 2002 will be another good year for all Manilla-fans!
October 09:
Just updated the Manilla-site! On the merchandise page you now find all you can order right now! Also there are two more pages of brand new 2001 pictures of the band (most Powermad Festival). Just for fun...I added a MR quiz. You can find the link on the mainpage.
After the great new album the fans are waiting for more re-issues. Good news: Iron Glory are working on the new CD-version of COURTS OF CHAOS. The follow-up will be METAL together with INVASION on one CD. Monster Records from the USA just sent me mail:
I just wanted to let you know that all is still moving forward with the
Manilla Road - "Mark of the Beast" release. At this point, we are waiting
on the artwork from Jim Fitzpatrick. As soon as that arrives the release
will immediately go into production. I'll let you know as soon as an
official release date is determined.

Please also check out the tourdates section!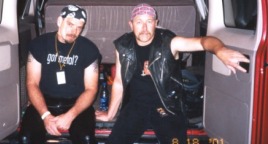 September 02:
Ok, nobody expected something different but the press reactions on ATLANTIS RISING are just....killer!! I have scanned the reviews of the 5 most important German mags and translated the most important of the reviews in English. You can find that section here.
IRON GLORY made a double vinyl of ATLANTIS RISING...you need to order it fast if you want one!!As far as I know they also made ATLANTIS-shirts.
Please: I got a lot of mails because of the Balingen mp3´s I added to the mp3-section. Please don´t ask me to do bootleg copies of it - I won´t. The sound of this tape doen´t represent how good the band is!! I just wanted to show those great reactions of the crowd with those tiny little soundfiles. Thank you!
It is possible that there is videosection on this site soon. Mark told me that they have a video of a show and that he will send it to me. I can change the VHS format into mpg´s...let´s see!
MARK OF THE BEAST should be ready soon! In the moment I had no chance to contact Monster Records but as far as I know they want to release it soon!
July 10:
Just added a new Gallery "MANILLA ROAD 2001 Pt. 1" and I added one pic to the "MANILLA ROAD 2000" Gallery.
July 05:
ATLANTIS RISING is out!! You can read all about the new CD HERE and I also added a "medley mp3" to check out the great stuff. On this page you can also find the link to MR´s record company if you don´t find the CD in your local shop. ATLANTIS RISING will also be released as double-vinyl.
The new drummer in MANILLA ROAD is Scott Peters. I will introduce him here as soon as possible!
This week I will update a couple of new MR-pics (live & band). If you run a metal-magazine (print or web) and you want to use some pics, just contact me!
New to the site is the mp3-section. You can find an interview with Mark Shelton there and some excerpts from Balingen 2000. More to come!!
June 16:
Hi! I am so sorry for the update-delay! I had a lot of gigs with my band and some other things to do but you can be sure that this was NOT because I lost interest in Manilla Road. In fact...this is impossible!!
ATLANTIS RISING, the new album of MANILLA ROAD will be released very very soon!! The first ad for the CD can be found in the German magazine HEAVY ODER WAS (Yes, those people who make the Bang your Head-Festival every year!). Click on the little pic to see the ad full-size: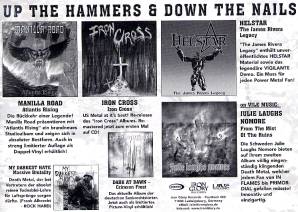 I just heard the pre-production CD yet but you can expect another classic of the band!! I promise!
April 10:
MANILLA ROAD is still not on the official billing of Wacken Open Air 2001! It seems like there are less US-bands on the billing this year and I think it is possible that they need to save money this year... But WE want to see MANILLA ROAD this year on Wacken!!!! So PLEASE visit their website, chose your language and go to "Survey" (German: "Umfrage") and answer the question which band you want to see! Do this as often as possible (maybe under different names....*grin*). Their website is located at: www.wacken-open-air.de
THANK YOU!
Just added an interview with David T. Chastain of Chastain, Cjss, Zanister (...) and of course the producer of OUT OF THE ABYSS!!
March 27:
Just found some new pics of the band on the website of Monster Records! These are probably the oldest MR-bandpics on this site! You find them at Gallery 5!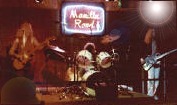 March 25:
Updates!! Interview with RICK FISHER in the interviews-section!
2 new (old) pictures never seen before! (Classic Pics Pt. 5)
March 24:
Sorry for the delay, but I was on tour with my band...but I am back now!!
After waiting way to long the reissue of OPEN THE GATES is finnished and will be out very very soon. Read all about it>>>> here! <<<<<
ATLANTIS RISING, the new studio-album is planned to be released in June 2001 as IRON GLORY told me these days.
THE DELUGE is out as picture-disc (vinyl, 500 copies!!!!) and the CD will follow soon! As soon as I have it you can read the review here!
No news about the "lost record" which should be released as CD on MONSTER RECORDS. I simply get NO replies to all my mails...
As you may have seen the message-board is new! The old board-company had to close but now we have a new one. You have to scroll down to read the newest messages (on the old board the newest were on the top of the page).
Soon to come: An interview with Rick Fisher and the next part of the classic interview with Mark Shelton!
November 24:
Updates: Part 1 of the ultimate Interview with Mark Shelton can be found now at the Interview-Section! When the whole interviews in finnished in a few months then I hope you know ALL about the band!
On the Discography-Section you can find a page with Bootlegs. Yes, not everybody is happy about bootlegs but they should be mentioned here too I think.
Find a new (old) picture of the band in the Gallery-Section.
November 04:
It´s getting rather cold outside but the news are getting hotter:
MANILLA ROAD just have signed to the German record company IRON GLORY who also put out the reissue of "Crystal Logic". It is a 3-album deal starting with the release of the new CD in early 2001 (the CD that was the SHARK project before). But that´s not all: IRON GLORY will also release CD-versions of INVASION/METAL, OUT OF THE ABYSS, COURTS OF CHAOS and suprisingly THE CIRCUS MAXIMUS! IRON GLORY has very good contacts to both the metal underground and the "big business" and this combination will help the band here in Europe. Andi from I.G. is also a devoted MANILLA-fan and so you can expect the best able quality of the releases. When the first CD is out I will put on a list which distributors or mailorders you can chose in your country to purchase the album(s).
You missed one album? Yes, OPEN THE GATES will soon be released by the Italian company DRAGONHEART. Unfortunately I wasn´t able to get in contact with this company but I will go on trying!
Confused? Here is a complete list of the MANILLA-releases avaible or to come:
Metal/Invasion - to come on Iron Glory
Mark of the Beast (Lost Album) - to come on Monster Records
Crystal Logic - out on Iron glory (CD/pic-LP)
Open The Gates - to come on Dragonheart
The Deluge - to come on Underground Symphony
Mystification - out on Sentinel Steel
Roadkill - will not be released, but the songs are bonus tracks on forthcoming re-issues!
Out of The Abyss - to come on Iron Glory
Courts of Chaos - to come on Iron Glory
Circus Maximus - to come on Iron Glory
New Album - to come on Iron Glory
Hope this helps! Stay tuned!!
October 27:
UPDATES
This site is growing and growing...find a lot of new pictures on the new organized GALLERY PAGES!
October 12:
NEWS
MYSTIFICATION IS OUT!!! Read all about the re-issue on the Discography-Page and find an interview with Denis from Sentinel Steel Records about MYSTIFICATION on the Interviews-Page!
Iron Glory just put out a picture-disc (yes - it´s vinyl!) of CRYSTAL LOGIC. Good news? Well...it is a limited edition of 500 copies!! Look at the Merchandise-Page for the contact-adress. I didn´t put this pic-disc on the list because...well...500 copies...
Some of you often visit the Fan-Messageboard because the band also uses it to communicate with you. There is one guy who keeps us updated with all the news about the band since this website started: Bryan "HELLROADIE" Patrick. Who he is? Just read the very exciting interview with him on the Interviews-Page. He also has some nice and funny tour-stories from the earlier days for us - exclusive material!!
I just got a mail from Monster Records, the company that will release the so-called "lost album". Here are some details about the CD-version:
The "lost album" from Manilla Road will be called "Mark of the Beast" and it going to be released in November. There will be ten tracks on the release, they are:

"Mark of the Beast"
"Avatar"
"Triumvirate"
"Venusian Sea"
"Time Trap"
"Court of Avalon"
"Aftershock"
"Black Lotus"
"The Teacher"
"Dream Sequence"

I will forward to you the artwork as soon as it's complete
More news soon...
September 24:
BAND-NEWS
The album recordings seem to be finnished! Let´s see which company will release this next classic and then you have to run into the CD-shops and... Hope it will be released before Wacken Open Air 2001!
MYSTIFICATION is out on Sentinel Steel Records, USA. You can order it there. I wait for my copy but they made sure I get one for a review here.
THE DELUGE is still in the process of production as it seems. I know some releases of the Italian company UNDERGROUND SYMPHONY and they always have great digi-packs or big booklets! I think the re-release will look good! How it sounds can I tell you in a few days...
I heard rumors of a picture-LP-version of CRYSTAL LOGIC on Iron Glory records!! Limited Edition - 500 copies... I will find out if this is true!
No news about the CD-release of the "Lost Album" on Monster Records. Too bad, because this release will be very interesting because this is just unreleased material.
Site-News:
Now you can find the complete MANILLA ROAD dicography reviews by....yes, Mark "THE SHARK" Shelton here: In His Own Words
The other discography pages are now easier to navigate too!
Added something more personal, my thoughts about Heavy Metal. If someone likes to read that (maybe a little off-topic on the Manilla-site, sorry!): Heavy Metal
AUGUST 30:
New!!READ THE REVIEWS about Balingen (Rock Hard, Metal Hammer and Metal Heart) New!!
JULY 17:
"The Deluge" will be out on Underground Symphony (Italy) soon (seems like late August)!! As you can see they already have it on their "new releases" page:
http://www.undergroundsymphony.com/new_releases.htm
Their site also includes a list of distributors so you can check out where you can get your copy in your country! By the way...check out their other releases (Doomsword is cool!!)
***
There are lots of people in the chatroom...but not at the same time! In the next few days you can find a chat shedule here on this site. That stupid time-zones...really a problem!
***
The first SHARK page is up here: First exlusive SHARK Information! Read about it NOW!
JULY 10:
I added two interviews with the band (from 2000 and 1985/86). Also new: The merchandise-page. Added another pic in Gallery 3.
JULY 8:
As you can see I re-designed the site totally new! I worked on it the last three days (sleep? What is that???) and still I am not finnished with it. The most interesting update should be the new live pictures of the band from the BANG YOUR HEAD Festival in Germany: BALINGEN 2000 - MANILLA ROAD live!
BAND NEWS:
MANILLA ROAD: It seems like Randy Foxe is no longer in the band. He has a real problem in finding the time for live actions or recordings due to his job at an airport. We wish him all the best!!
The band is booked for the 2001 WACKEN Open Air here in Germany. It is the "mekka" for all true metal fans...this year you can see cult bands like Angel Witch, Samson and Savage there!
SHARK: Mark Shelton gave me an advance tape of the first recording of his new band SHARK and as soon as I have the titles of the songs I will write a review here on this page. They played two SHARK songs as Manilla Road on the Balingen Open Air and they were absolutely great! And the tape? A killer album is waiting for you, I can promise! Every MANILLA-fan will also be more than lucky with SHARK! They have to record two more songs and then they are finnished. They have no record deal yet but they should get no problems in finding a good company (NOT Black Dragon!). (Please don´t ask me to copy the tape for you - I will not do it!)
RE-RELEASES:
Sentinel Steel Records have finnished their work on the CD-re-release of MYSTIFICATION. The CD contains one bonus track, a new cover artwork and of course it is remixed! You can get it from Sentinel Steel for $ 12 (USA)/ $ 15 (outside the USA): Sentinel Steel, P.O. Box 123, Rockaway, NJ 07866, USA, www.sentinelsteel.com or email: metal@sentinelsteel.com
Monster Records from the USA will release the "lost album" soon! This album was originally recorded between "Metal" and "Crystal Logic" and was never released before. www.monsterrecords.com
CRYSTAL LOGIC is out on Iron Glory Records, Germany with a better sound and one bonus track! www.IronGlory.de
THE DELUGED was signed to Underground Symphony, an Italian company (Doomsword, etc.)! It will take a few months until the CD will see the light of the day...
IF YOU HAVE ANY SUGGESTIONS OR JUST WANT TO MAIL...
...shotgun28@hotmail.com or neuderth@debitel.net
BATTLE PRODUCTION
z.H. Andreas NEUDI Neuderth
Kirchstr. 17
67578 Gimbsheim
Germany